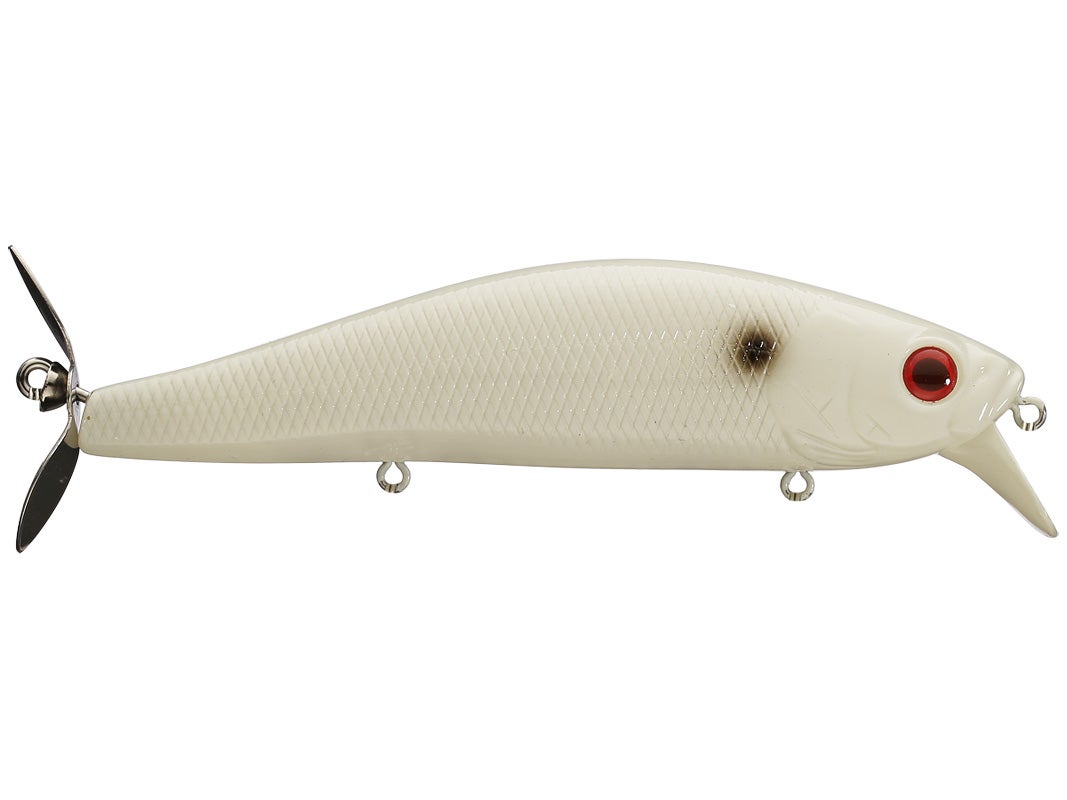 The DEPS Spiral Minnow redefines the concept of a wake bait. Very effective on the surface or just beneath it, it has an uncanny ability to get fickle bass to attack. Its flatter sides produce a sharper and quicker wobble-and-roll when retrieved, and the prop continuously causes a ruckus with an enticing clanking sound and bubble trail.
On a slow retrieve, the Spiral Minnow will roll back and forth on the surface, flaring its sides like a wounded baitfish under attack, and on a speedier retrieve, its action widens and the roll is enhanced with the bait tracing just beneath the surface. Another effective technique for the Spiral Minnow is to use short quick jerks. These sharp rips cause the bait to dart erratically, producing intermittent noise from the prop, and allowing it to dive quickly, leaving behind a bubble trail. On the pause, the minnow slowly floats back to the surface.
The patented Variable Balancer System also provides additional sound as the weight transfers back and forth. Sporting three super sharp Owner ST-46 #4 treble hooks as well, the DEPS Spiral Minnow is a bass catching machine that is already one of Japan's top wake baits.
| | | | | |
| --- | --- | --- | --- | --- |
| DEPS | Length | Weight | Class | Hooks |
| Spiral Minnow | 4-1/2" | 7/8oz | Topwater | #4 Owner ST-46 |
9 Colors
More From Deps Hardbaits
Customer Reviews
Comments: Not even close to a Shimano Triple impact. The sprial minnow is also a sub surface bait. Not JUST a top water, like the Impact. And it's only about $10 more than an Impact.

From: Eric: Dallas, TX

Comments: save the extra $10 and get a buzzjet

Comments: Once again DEPS made a good lure, but it's just a cpoy of the SHIMANO "triple impact 110" for just 3 times the price of the original lure...If you want an exclusive lure from DEPS, get a "killer Kompass" !

From: Froggyangler: France

Comments: This bait has an action like no other. My son was using this bait and caught fish when no others would. Fast or slow it has that fleeing bait action. And do not be intimidated by the size. He was catching 1 lb. to 4 lbs. The flicking action of the tail prop is what I think really draws the fish to it. Get one, you won't be disappointed.

From: Eric: Dallas, TX

Comments: i have this in a jdm version,its a good lure but i still think the buzzjet is deps "golden" lure.so save yourself $10 and just buy anoter buzzjet.

From: Steveo: Chi City