Dirty Jigs Finesse Swim Jig - $4.29

The Dirty Jigs Finesse Swim Jig is a Northern-style swim jig with a 50-strand half-cut skirt for a small and slender profile designed to perfectly match that of a small baitfish. Its bullet head also allows for better movement through vegetation and its 3D eyes provide added realism. Available in a variety of proven colors, a Mustad Ultra Point 1X Strong Jig Hook with new 4.3 Microsharp Point technology seals the deal for the Dirty Jigs Finesse Swim Jig.
View Large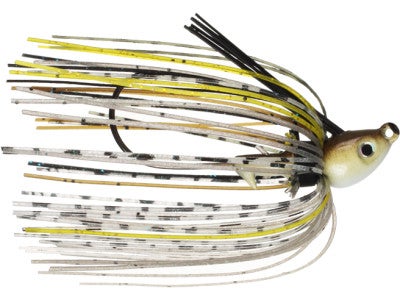 Comments: This thing will catch fish. Just put a rage craw on it and reel it in like a spinnerbait. I can go behind people throwing a spinnerbait in a tournament and catch fish. This bait has made me more money in 2014 than everything else I have thrown combined.
From: Matt: Moweaqua, IL 8/22/14

Comments: Fantastic swim jig ! Paired mine with a skinny dipper. Came through the grass great ! Caught an absolute ton of bass on em.

From: Chris: TN

Comments: THE BEST swim jig out there! for fishing grass! highly recomend it, no complants u just have to get some and see how good they are! i just wish they had a color to match the rage craw in falcon craw color!

From: Trevor

Comments: After fishing swimming jigs for many years, this is by far the best that I have thrown. Paired with Reaction Innovations Little Dipper, it produces its own swimming action. I'm not sure this combo can be matched with a steady retrieve.

From: Bruce: Whitesburg, KY

Comments: There's absolutely no need to look any further for a quality swim jig. It has every feature that I look for in a swim jig. The Crappie and Dill Gill colors are unbeatable.

From: Hale: Middle, TN
Comments: I have fished virtually every swim jig out there, and in my opinion the Dirty Jigs Swim Jig is the best one out there.

From: Paul: Germantown, WI
***Note: If you have questions about this product or need assistance with an order please email your questions to info@tacklewarehouse.com