Dirty Jigs No-Jack Swim Jig - $4.99
Designed to pull the biggest bass out of the thickest cover, the Dirty Jigs No-Jack Swim Jig delivers all of the fish-catching attributes of their original swim jig – now backed by Dirty Jigs' super-strong "No-Jack" Gamakatsu hook. Molded with a bullet-shaped head and paired with a matching fiber weedguard, the Dirt Jigs No-Jack Swim Jig moves through heavy cover with minimal resistance.

Made using a full 50-strand skirting, the Dirty Jigs No-Jack Swim Jig features a bulky, naturalized presentation that bass won't be able to resist. Underneath the skirting, a barbed baitkeeper grips tight to soft plastics as you explore your favorite big fish haunts. Offered in a number of highly-developed color patterns, the Dirty Jigs No-Jack Swim Jig delivers the power needed to haul tournament-winning fish out of the hairiest environments.
Comments: this jig is best jig ever used.. the detail in different colors are best ever seen. The nice stout hook always hooks up and these jigs hold up better then any ive seen.. 5 star quality
From: Andy: USA 9/17/14

Comments: I found Dirty Jigs while scrolling through TW and figured I'd give them a shot (never fished with a jig before either so I figured why not). I am so glad I went with Dirty Jigs as there jigs a built with quality components. I recently had the best bass fishing day in my life and DJ was a big part of it. Switching back and forth from Rapala's DT lures and DJ Crappie and Yellow perch colors I was wearing the bass out all day. I matched the crappie color with a Zman smoky shad paddle tail minnow and they were hammering it non stop. Buy them they work very well, match them with your favorite trailer and hold on.
From: Danny: Ladson, SC 7/10/14

Comments: I have all the swim jigs dirty jigs offers. So, when they released a coosa style head with the heavy hook, I scooped them up. That heavy hook sticks them so well. I didn't hook up with the small fish. But the fish I Hooked up with were hooked good. Great addition to the lineup.

From: Ben: Becket, MA 6/19/14

Comments: Best swim jigs out there ! Hooks are fantastic and the colors are perfect. Those TN river bass can't turn em down! Keep up the good work !
From: Chris: Ooltewah, TN 6/19/14

Comments: Finally a HEAVY hook! Dirty jigs makes the best jigs on the market and some of the most realistic skirt combinations I have ever seen! There bluegill and perch colors are amazing. Well worth the $5!
From: CJ: PA 6/10/14

***Note: If you have questions about this product or need assistance with an order please email your questions to info@tacklewarehouse.com
View Large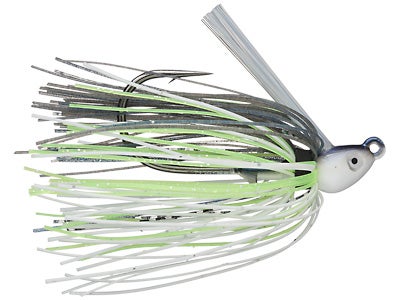 20 Available Colors