Dirty Jigs Swim Jig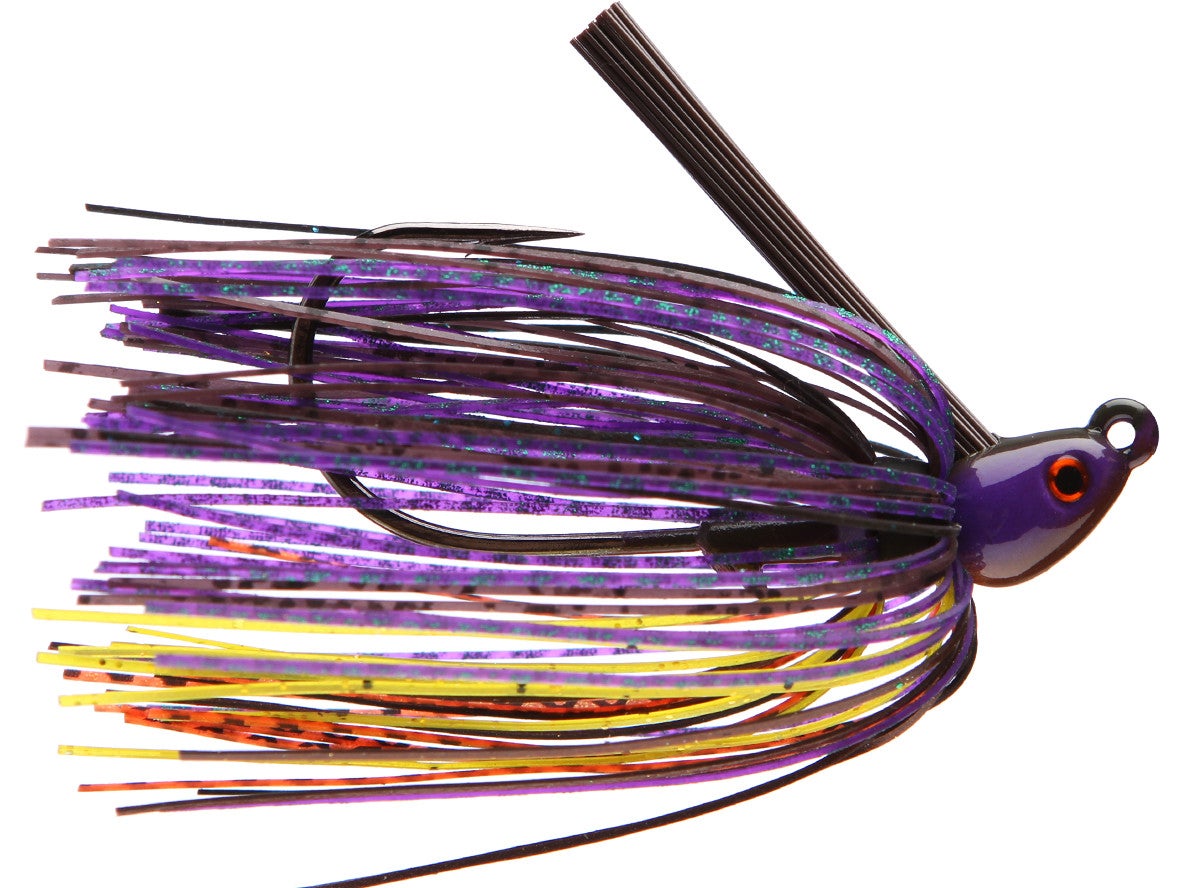 Dirty Jigs Swim Jig feature the Coosa River design. A 50 strand full skirt gives the Dirty Jigs Swim Jig a bulky profile for use in dirtier water or any time bass are targeting large shad or bream. There is no light wire hook here, the 5/0 3X Mustad hook is sharp enough to stick fish with little effort, but has all the strength of a heavy wire flipping hook. A large lead barb trailer keeper will secure any soft plastic. Dirty Jigs Swim Jig offers a bullet head and vertical line tie for better movement through vegetation. The Dirty Jigs Swim Jig's head is multi coated for durability and matches the skirt perfectly, offering a very realistic look.
45 Colors
More From Dirty Jigs
Customer Reviews
Comments: Great paint job on these, but the thing fell apart after the first use! Emailed the company & they said they would replace it, but then stopped responding to my emails. Waste of money & they don't stand behind their products.
From: D: NY 7/19/16

Comments: Caught 5 bass, that were under 2lbs & the thing exploded. Good paint job, but the durability is just not there. Save your money.
From: D: NY 7/18/16

Comments: Awesome! I'd have to say perfection. I happened across these down at a bait shop in okeechobee. Bought one and used it back home here in Indiana. Loved it. First time I caught on a swim jig with any real success. Caught 7 then broke off! So had to hunt them down. Found them here and the rest is history. Match with any rage tail product or maybe a vile craw from bio spawn and you'll have great success
From: Andy: IN 7/23/15

Comments: A great looking jig with a really nice skirt. However, I wish the skirts were tied with thread or wire instead having the rubber band collar. They last much longer when they are tied. Also they have WAY to much weed guard. Had to trim it way back. Overall a great fish catching jig that could use a few improvements.
From: Matt: WI 7/5/14

Comments: First off I love the jig. Swims straight with just the right flex in the weed guard. That being said the hook really stinks. I have straightened quite a few. Wish they would go to the gammi hook they have in there flipping jigs and i would never buy another swim jig.
From: Phillip: AL 5/19/14

Comments: I have had no problems with these swim jigs, paint does not chip, great skirt colors, sharp hook, and good weed guard. Due to the large amount of fish I have caught on these, and the lack of problems, these are the only swim jigs I throw.
From: Ryan: Chantilly, VA
Comments: The weed guard issue on these has been taken care of. Don't let that stop you from buying these jigs.I bought some of these in the Spring because of the hook and the awesome colors. Had a weed guard fall out while fishing, so eventually I sent an email late one night to Dirty Jigs Tackle. The owner answered me early the next morning. He said they had a batch of these swim jigs produced in the Spring that went out without enough glue on the weed guards. He apologized for the error, thanked me for contacting him, and within 2 weeks he replaced my jigs and threw in a few extra. It took me a while to get around to emailing him about the problem. Long enough that I wasn't sure what kind of response I would get, but they stood behind there product and did right by me and then some. Get some, you won't regret it.
From: Thomas: Chattanooga, TN
Comments: if you're gonna throw this, don't use braid. the hooks are big but i bent them like they were lightwire hooks. decent jigs though, catch me a lot of fish

From: J: IL

Comments: Best colors and color selection, large hook - It just works!

From: Allen: Fort Worth, TX, USA

Comments: These jigs are not made very well. On the first fish I caught on one of the jigs the weed guard came out. You could stick the whole thing back in. They were not glued properly.

From: Terry: Jacksonville, FL

Comments: 5/16 Citrus Shad + Darkstar swimmer in hot fish color gets big fish in dirty water... every time.

From: Joe: TX, USA.

Comments: Dirty Jigs definitely produces a good jig, in the best colors of I've seen offered. Its just that the weed guard is a little too stout on these for me. I recommend trimming them a little.

From: Sam: IL

Comments: solid swim jig. The hook is great, the paint is invincible, and it catches fish. What more can you ask for? Put a grub or a 4" swimbait on the back and this jig becomes unstoppable. Caught 15 today in 3 hours on the bluegill 1/2 oz with a green pumpkin/chartreuse swimming caffeine shad.

From: Cullen: Ashburn, VA

Comments: I fish an 11 acre Pond in Norman OK...The Bayou Bluegill is working great!

From: Paul: OKC, OK

Comments: There is nothing i could say bad about these jigs the quality and colors are awesome i've caught countless fish on these!

From: Dan: Cali

Comments: Sorry to hear any one has had a problem with a Dirty Jigs, they stand behind their product so if you have had a problem contact them. I'm sure they will take care of it.

From: Ted: WI

Comments: THESE JIGS ARE HORRIBLE I GOT MINE AND THE TIP WAS BROKE OFF THE HOOK RIGHT OUT OF THE PACKAGE, WILL NOT BUY ANOTHER DIRTY JIG

From: IA
Comments: I originaly bought these over the california swim jig to save a dollar. These baits are amazing I use a Big Hammer 4" swim bait as a traler and the colors match perfect! It took a little while to find the right color trailer but man do they rock!

From: Dylan: CA

Comments: These are great jigs and I do love the color selection, but do not leave out NorthStar Custom Baits in the discussion for best swim jig/color selection on the market. Both are great companies that offer great handcrafted products.

From: Lanny: ND

Comments: AWSOME SWIM JIG! Fishing these jigs on Toledo Bend, Sam Rayburn, and Red River. Good compact head, comes though cover and grass good, and hook holds up to braided super lines.

From: Big Bass Dude

Comments: A 3.5 lb smallie nailed my gizzard shad imposter. this lake isn't even supposed to have them in it! this jig is great. countless largemouth and now 1 nice bronzeback. Tipped with a SK rage grub, this jig is unstoppable!

From: John: WI

Comments: At least one guy from WI loves these jigs. They're durable, have good hooks that stay sharp and come in ENOUGH colors. Tie one on see for yourself.

From: John
Comments: Mike your from wisconsin and hating on a great company with hands down the best colors and best quality

From: Louis
Comments: At Gary from Louisiana, Brovarney makes over 100 different colors... I feel much safer using Gamakatsu hooks on those than I did with mustads on these, thats just me though.

From: Mike: WI

Comments: These are by far the best swim jigs, and I dare say all around jigs and skirts available. They are all hand made and please name another brand with such a variety of colors. Throw any kind of paddling or twirling trailer in a similar color on the back, cast, and hang on. Dill Gill, Baby bass, alabama craw... The list goes on. Customer for life and won't try another brand.

From: Gary: God's Country, LA

Comments: This is a great product. So far I have no complaints. Hook up ratio is good, colors are good, and the price is pretty good. Matched up with the right trailer and you will definitely catch you plenty of largies!

From: Zak: Manhattan, KS

Comments: I first started buying these jigs from Marks Outdoors about a year ago and seem to be my go to jig. That citrus shad is beast.

From: Jared: Pell City, AL

Comments: i got the green sunfish color in my first ever order to tw and i went down to my pond and caught 3 bass over 2lbs then i caught one over 7lbs and one over 5lbs i was using the 3/8oz

From: Nick: Montgomery, TX

Comments: Good jig haven't caught anything with it because i think im using the wrong color I think but from what I can see the skirt is like running your fingers through silk its really soft, but its also durable. I usually have problems with other jigs skirts' coming off but this one I have had no problems with it. Weedguard is nice I trimmed mine a little but it's really personally preference. All around a High Quality jig and I will not buy another brand another unless its like a Buckeye Mop Jig because those are very nice jigs also. I highly recommend this jig, the price cannot be beat for the quality components of this jig. Last but not least, the hooks. The hooks are Mustad hooks and they are really sharp.

From: Robbie: FL

Comments: these swim jigs are AMAZING... they put fish in the boat day after day. the paint is very durable and the skirts look awesome. these with their skirt trimmed and a kalins grub of a matching color look great. already have 5 in assorted color, especially black and blue(my personal favorite. buy 'em up but leave some for me.

From: Justin: Washington, D.C.

Comments: no contest the best detail in skirts and paint on the heads, the shad imitators are all spot on. just wish that they were hand tied. i tie my own and mimic these colors because their amazing

From: Jiggin: NJ

Comments: These use to be my favorite jigs till I found out the only ones that they hand tie seem to be Alabama Craw and Bream. Seriously, if I am paying close to $4 a jig I want them to be hand tied.

From: Josh: Virginia, USA
Comments: Contrary to a previous comment, I have not had any issues with durability of any of the Dirty Jigs' products. The paint finish is durable and unlike other brands of jigs, the eyes actually stay attached. The color schemes and detail of the skirts are unmatched by any other swim jig I have come across - and I've used close to all of them. No knock on TW intended, but the pictures on the site just don't do these jigs justice. Some of these patterns have 5 or 6 different colors in the skirts. Even the standard Black and Blue pattern has 4 different variations of black and blue.

From: Paul: USA
Comments: A pretty good swim jig, comes through cover pretty well but it doesn't have great durability
thats why i started using Brovarney baits, much much better, but this is still a good jig.

From: Joe: Wisconsin, USA
Comments:The Dirty Jig Swim Jig is in my opinion the best swim jig on the market! If I were going to design a swim jig it would be a carbon copy of this jig. The head design is perfect for its application and the hook is super harp and has a large enough shank to accommodate just about any trailer you could imagine. The weedguard has enough strand to coustomize and trim it to your own liking but will get the job done straight out of the box. The skirting is high quality silicon and come in awesome colors. The sac-a-lait, threadfin shad, and gizzard shad are spot on and great shad imitators. Overall, I give this jig a 10 out of 10 and will continue to purchase them in the future.
From:Justin: Oklahoma, USA
Comments:It's a great thing that you carry this line of jigs because they are by far the best I have ever used. The paint and skirt detail in umatched in the industry. All the jigs in the Dirty Jigs line have helped me catch more and bigger fish.
From:Troy USA