Dirty Jigs Tour Level Pitchin' Jig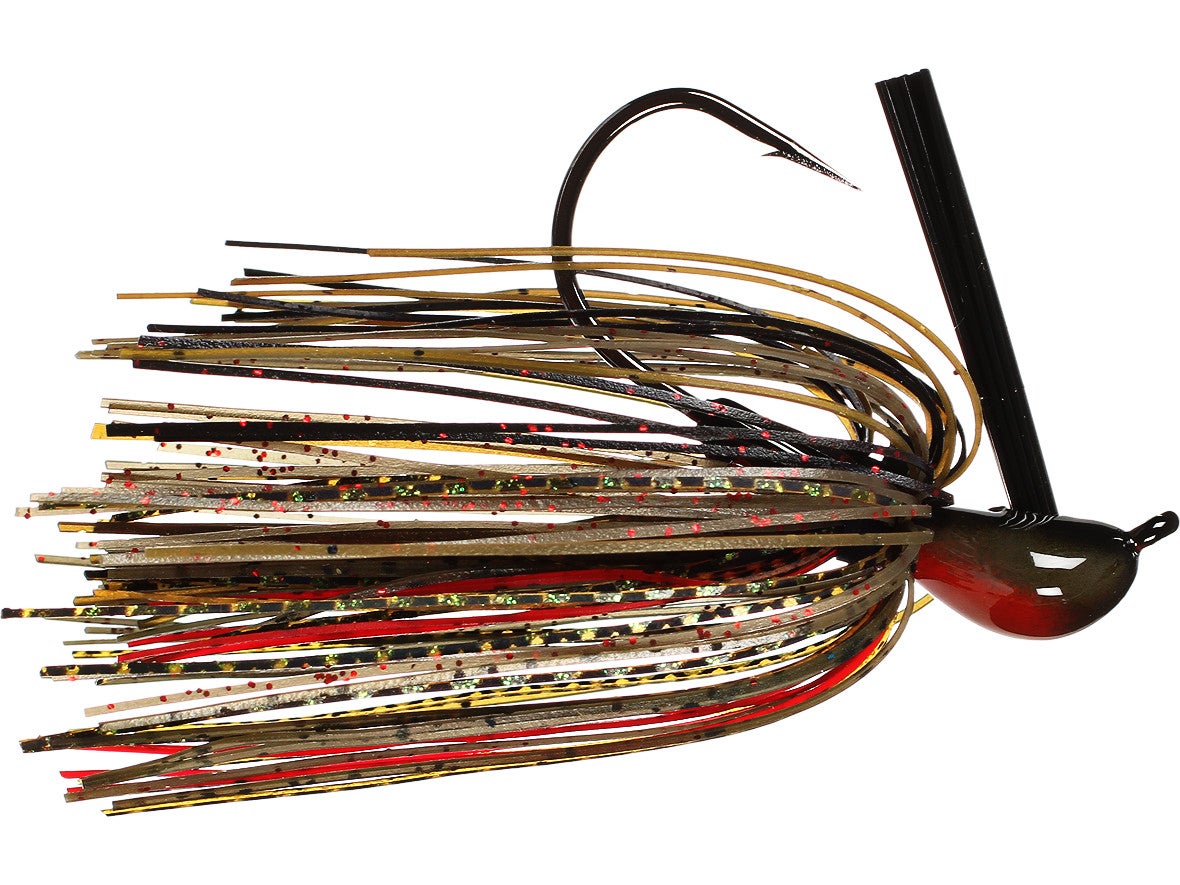 Due to the demand for Dirty Jig's Tour Level colors and the success of the original Pitchin' Jig, Dirty Jigs is excited to release the Tour Level Pitchin' Jig. Perfect for fishing around rocks, docks, and wood, its Arkey-style head keeps it in an upright position on the lake floor to best mimic a crawfish. Each jig also features a skirt, which contains as many as ten different colors for maximum realism, and every jig head features an airbrushed, three-tone paint job, as well as an epoxy clear coat for maximum durability. Available in a variety of colors for all types of fishing conditions, the Dirty Jigs Tour Level Pitchin' Jig also comes equipped with a stout, super sharp Mustad Ultra Point 60-degree, flat-eye, 3X Strong, Jig hook with Mustad's new 4.3 Microsharp point technology, as well as a large lead barb plastic trailer keeper to keep your favorite trailer from slipping down the shank.
Recommended Trailers: Uncle Josh #11 Pork Frog, #1 Jumbo Frog, #37 Phantom Craw, #36 Phantom Finesse Craw, #10 Big Daddy Frog, #25 Crawfrog, #7 Hank Parker's Pro Cut Frog, #23 Kicker Frog, and the Kalin's 3" Scrub.
You can find these trailers and more in our Trailer Section.
45 Colors
More From Dirty Jigs
Customer Reviews
Comments: Couldn't be happier with these jigs! First time out caught a personal best LM over 8 lbs. Colors are sick, paint is pretty durable, hooks are strong & you can skip them a mile! Thanks to Matt Allen at tacticalbassin on YouTube for all the help. Tackle warehouse service & shipping is so awesome!
From: Jacob: San Antonio, TX 11/24/15
Comments: If you like a rattle in your jig please note that the tour level pitchin' jig DOES NOT have a collar to add a rattle. These jigs are silent. Other than that, Dirty Jigs in general are amazing. Great skirt detail, paint does not chip from the head and the hook is fantastic!
From: Jason: VA 10/8/15

Comments: This is the best jigs on the market. The Greenpumpkin Craw & Rusty Craw are great. Hematoma is great for night fishing or stained water.
From: Scott: Arab, AL 6/1/15

Comments: Just got this Jig and it looks absolutely amazing paired with xcite baits raptor tail chunk in okachobee craw! Good looking Jig
From: Jake: Pell City, AL 5/12/15

Comments: Awesome Jig! Check out the Bayou Bluegill color paired up with a Berkley Havoc Pit Boss in the June Bug Color. The two color patterns are a match made in bucketmouth heaven. U may doubt me, judging from the picture, but trust me...It's like the two were made for each other. I'm Hooked! Oh, and the fish seem to likey as well;-)

From: Matt: OH

Comments: Great jigs! Coloring detail is amazing! Caught many fish on these, all times of the year. I have had great customer service from them. Very knowledgeable rep.

From: Nate: Lake Toho

Comments: Totally agree with Shannon..great jigs but terrible customer service if you order direct from the guy...get em from tackle warehouse.

From: Ryan: So Cal

Comments: If you buy these jigs, buy them from Tacklewarehouse. The Dirty Jig Company has the WORST customer service on the planet. I placed a order with Dirty Jig back in May 2012 and as of Sept. 2012 I've still not received my $40 order. I've emailed them and received NO RESPONSE - I've called and left messages and received NO RESPONSE. Tacklewarehouse is the place if your going to take a chance on a Dirty Jig! Happy Fishing!

From: Shannon: Bossier City, LA

Comments: Man this is the best jig going, wicked detail in the head and color of skirts. Flows through weeds effortlessly Every fish hooked came up with the hook up in the roof of mouth, no chance of coming off, hookset was deep as well. Put on a rage tail chunk and get ready, every fish caught practicality pull rod out of my hand, the strike was so hard!

From: Jim: South GA