Don Iovino Instructional Videos - $19.99 to $29.99
Doodling for Bass
Learn the Doodling Secrets from the master, Don Iovino, as he fishes a very tough bass lake - Lake Mead, near Las Vegas in the winter. This is a one-of-a-kind video because Doodling is explained and shown in its entirety - with an emphasis on the various ways of Doodling and the hardware to use. See underwater aquarium shots with live crawdads and nightcrawlers so that you can learn how Don's Doodle baits are fished, and so that bass think they are the real thing in deep, clear water.
Finesse Fishing for Bass
Don Iovino provides anglers with a look at the techniques responsible for his success. Featuring "unstaged fish catching scenes" on California's Lake Castaic, outside of Los Angeles, as well as, convincing "home video" footage shot at a fishing seminar where bass are shown refusing to let go of Don's finesse baits, Iovino lets the viewer in on how to catch bass under adverse factors such as heavy angling pressure, storm fronts and changing weather conditions. Don uses electronics, light line and tackle with small baits, as he takes the viewer through rigging and use of finesse baits. This video a must for the serious and novice angler.
Sonar and How to Use It
A comprehensive, on-the-water video that takes the mystery out of fishing electronics. No matter what brand of sonar you own, this video will help you catch more fish. From liquid crystal units to paper graphs, sonar expert Don Siefert gives you a step-by-step program in the most effective use of your fishing electronics. Special guest, pro bass angler, Don Iovino, also offers his unique insights - from basic to advanced techniques - in making your electronics produce more fish.
Doodling For Bass DVD $19.99
Finesse Fishing VHS $19.99
Sonar DVD $29.99
View Large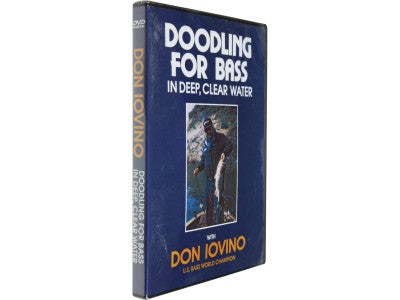 More Don Iovino Books & Videos
No customer reviews have been added yet! Be the first to write something about this product.
***Note: If you have questions about this product or need assistance with an order please email your questions to info@tacklewarehouse.com