Don Iovino Hand Tied Nujig Casting Jig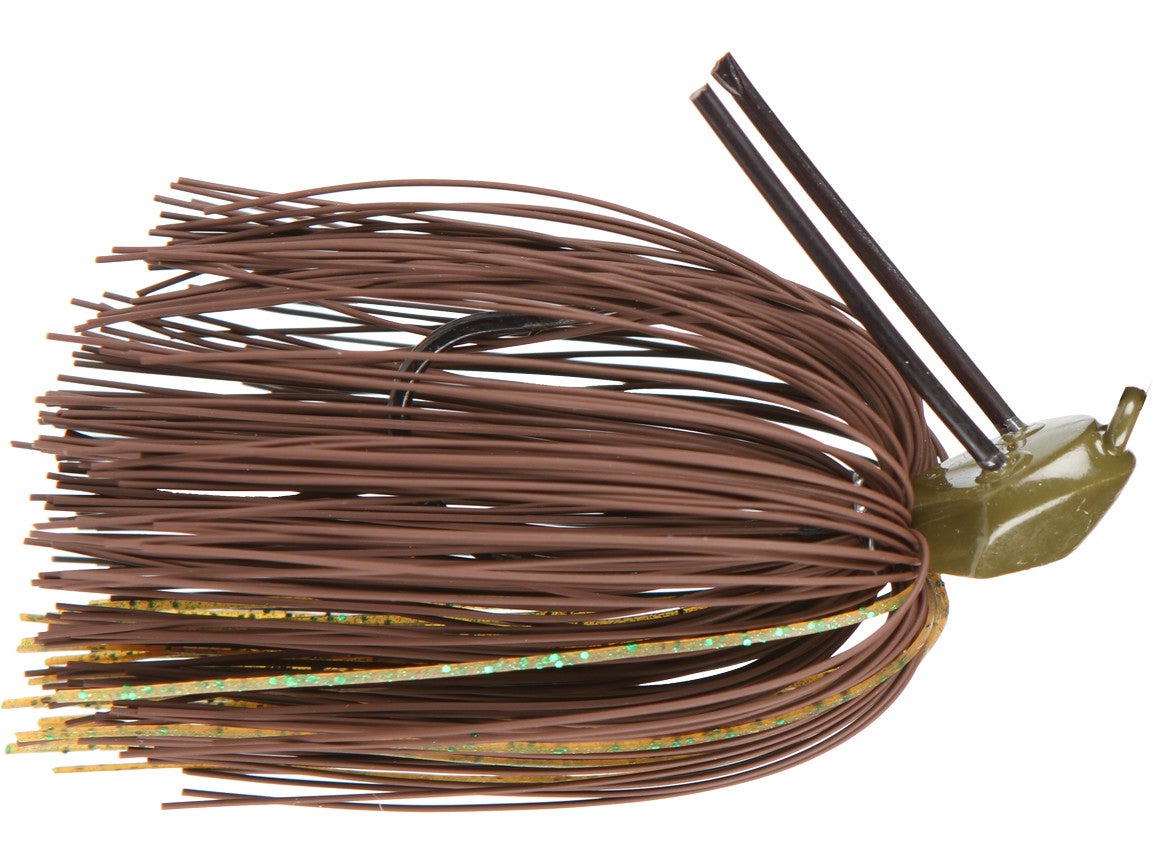 TW Exclusive

The legendary finesse angler, Don Iovino, imparted his fifty-plus years of fishing knowledge into the building of the Don Iovino Nujig Casting Jig. Made with extra-fine cut living rubber, the hand-tied skirt is paired with Nutech's premium Pro Series Casting Jigheads to create a full-bodied jig with breathing action that drives bass nuts. The unique head shape of the Don Iovino Nujig Casting Jig is molded with precise angles to create a contoured surface, which forces the jig to maintain a constant upright position. Equipped with two solid rubber weedguards, the Don Iovino Nujig Casting Jig fishes completely snagless and allows anglers to move through the densest cover with confidence. Additionally, the "V" shape of the weedguard enhances hook sets by folding around the hook point, unlike traditional fiber weedguards, which make contact with the hook when set. Available in a variety of custom color combinations, the Don Iovino Nujig Casting Jig also comes with a barbed bait keeper along the shaft to keep your trailers firmly in place. Crafted with expertise gathered throughout a lifetime of fishing, the Don Iovino Nujig Casting Jig delivers a trifecta of quality, detail, and performance.
4 Colors
More From Don Iovino Jigs
Customer Reviews
Comments: Either it was just bad luck or this jig hangs up more than what is being listed. Thought I was crazy paying $5 for a jig when I fish a lot of rocks but tried it because of the comments about it working great in rocks. Lost the jig in the first half an hour used. I did catch a fish with the jig but not sold on it not hanging up.
From: Wayne: Dieterich, IL 7/27/15

Comments: Best jig I have ever used. Ordered 3 to try out last year and I have only lost 1. All other jigs I've tried, they constantly hang up. Haven't lost a single fish yet on these jigs and EVERY single fish always gets hooked on the roof of the mouth. These also skips well and the live skirt is more durable than I thought. I wish they would have these live skirted ones in 1/4 as well.
From: Noah: Wausau, WI 4/27/14
Comments: This NuJig is undoubtedly the finest jig ever made and it fishes through the gnarliest brush, weeds and rocks imaginable. For fun cast it over a tree in your backyard and then reel in back in. No hang ups. How many jigs have you lost in riprap banks? NuJig fishes right through the heaviest rocks without snagging. You'll lose two dozen of your jigs and still have the first Nujig tied on! Make sure that you work the guide arms to loosen them up a bit before fishing. I recommend braided line for a great hook set since the jig hook is nearly always driven through the roof of the bass mouth by design. This jig will not turn on its side while being drug or hopped along the bottom, and it's even designed to fall through the water column in a slow natural spiral. I've had the opportunity to fish with its creator, Bo James, and he knows more about lure building and dynamics than any other angler alive.

From: Nick: Chesterfield, MO USA

Comments: These are the greatest jigs ever designed. Positive hook-up 98% of the time and due to the cam design and weed guards they almost never get hung up. It should be noted that Don Iovino did not design this jig and actually had no input into its design. It was designed by Bo James who owns the patents.

From: Doug: Glendale, AZ, USA