Don Iovino's Splash-It - $12.99 to $14.79
MSRP: $14.99
The Don Iovino Splash It was designed to catch fish when all other baits fail to produce. The Splash It splashes water instead of the standard chug produced by most popping baits. The Splash It creates a Splash that shoots far in front of the bait creating a lifelike dying baitfish action and sound. The Splash It was also designed to be affordable to most anglers and uses all of the high quality craftsmanship and components you would expect to find on much higher dollar offerings. All Splash It baits come with a super sharp hand tied chicken feather dressed rear treble.
| | | | |
| --- | --- | --- | --- |
| Don Iovino | Length | Weight | Class |
| Big Splash-It | 2-3/4" | 3/8oz | Topwater |
| Splash-It | 2-1/4" | 1/4oz | Topwater |
Comments: Big killer shad lives up to its name, from Va to Vermont.

From: Frank: PA

Comments: These are nice baits with unique colors but I just didn't find it to be any more productive than a regular Rebel Pop-R. It's still nice to have some in my collection.

From: MaxZmus: San Diego, CA

Comments: Picked up a Splash-It in Baby Bass many years ago from Don himself at a show in Ma. Super guy and one super bait. My go to bait in tournys whenever a top water bite looks possible. catches a larger average size fish than most poppers too. I am very glad you carry these. They have not been easy to find.

From: Gino: Putnam, CT

Comments: Best topwater I ever used. Have replaced hooks several times, still going strong. Bluegill favorite color, quick walk-the-dog favorite retrieve. Got my first one from Don himself from seminar.

From: Mike: King, NC

Comments: What a great bait. Not just for super smart West Coast fish, either. Bill Bass jump all over it. Whooped up on my non boater who was giving me crap about throwing a '$20 bait'...he went home an ordered one.

From: Meathead: southern sandwhich

Comments: i love this bait, my go to topwater, i actually caught a largemouth and a smallmouth at the same time

From: Jeremy: Jefferson, NC

Comments: this just a pop-r with a shaved bottom lip on the cup. there are several spitters on the market and this is a good one but not the only one. the color choices are the best.

From: Wes: Salinas, CA

Comments: Great bait caught 10 LMB in about 2h ours best being 4.5 lbs.

From: Pat: Fox Lake, IL

Comments: This is a great popper, one of my favorites. bass love this thing!!

From: Jeff: Toccoa, GA

Comments:Without a doubt the best top water out there. Large Mouth, Small Mouth Bass both will eat them up! Stripers also.
From:Will: Alabama, USA
Comments:Simply the best cupped face topwater out there. Perfect of amount of buoyancy that straddles the surface tension of the water just right. Caught hundreds of LMB and some striper.
From: Hemet, CA
***Note: If you have questions about this product or need assistance with an order please email your questions to info@tacklewarehouse.com
View Large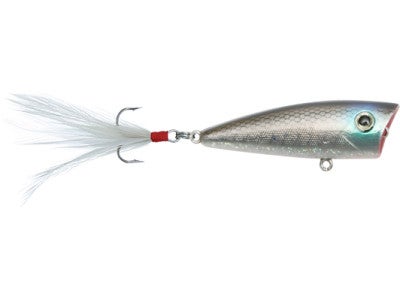 14 Available Colors
More Don Iovino Books