Duo Realis Crankbait M65 - $13.99

Crafted by global fishing icon Hajime Murata, the Duo Realis M65 Crankbait is a sleek, new crankbait made for targeting bass that inhabit deeper waters. Designed to dive from 10-12 feet, the Duo Realis M65 11A Crankbait alerts bass to its presence with its finely tuned, metallic rattle, which consists of an internal metal plate and steel ball. Replete with intricate detailing, the Duo Realis M65 11A Crankbait features an incredibly lifelike scaling pattern and big bulging eyes that bass love. Ready for tournament action straight out of the box, the Duo Realis M65 11A Crankbait possesses an unmatched aesthetic that bass outside of Japan have yet to see.
| | | | | |
| --- | --- | --- | --- | --- |
| Duo Realis | Length | Weight | Class | Depth |
| M65 11A | 2-1/2" | 1/2oz | Floating | 11ft |
| M65 8A | 2-1/2" | 1/2oz | Floating | 8ft |
Comments: Crushed them on the M65 11A out on Squaw Creek the other day. We were cranking them through standing timber in 6-10 of water with 12lb floro. Once you got it in the limbs you just wanted to slowly work it through the tree tops...It usually didn't make it through the top without getting swallowed. Great action, great sound and bass choke them!
From: Walt: TX 5/20/14

Comments: Sorry Ed, but Yamamoto has dreams about his hard baits being as good as duo. This crank is hard bait perfection as usual. Nice tight shake and the colors are jam up!

From: Nyquellis: Straight crankin'
Comments: September 12, 2013. A nice crank that has a slithery wobble like the Mann minus1, but with more depth. I got the "prism gill" 8A, 6-8ft. Hooks are top quality sticky sharp and will not foul, loud metallic rattles. It handles rocks really well, flying over them even in 2-3ft. water on 17# copolymer. All that said, I think you can probably catch just as many bass with a Bomber 6A--you'll have to swap out the hooks for something sharper, and the finish won't be as brilliant, but you'll still load the boat and save the different between $12.99 and $4.89. Gary Yamamoto has a new line of cranks and topwater lures out which rival the finish on the Duo at only $7.99.

From: Ed: Champaign, IL.

***Note: If you have questions about this product or need assistance with an order please email your questions to info@tacklewarehouse.com
View Large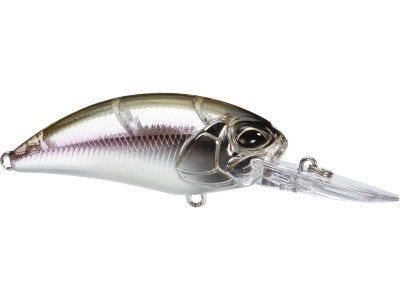 More Duo Realis Hardbaits