Duo Realis G-Fix Spinbait 80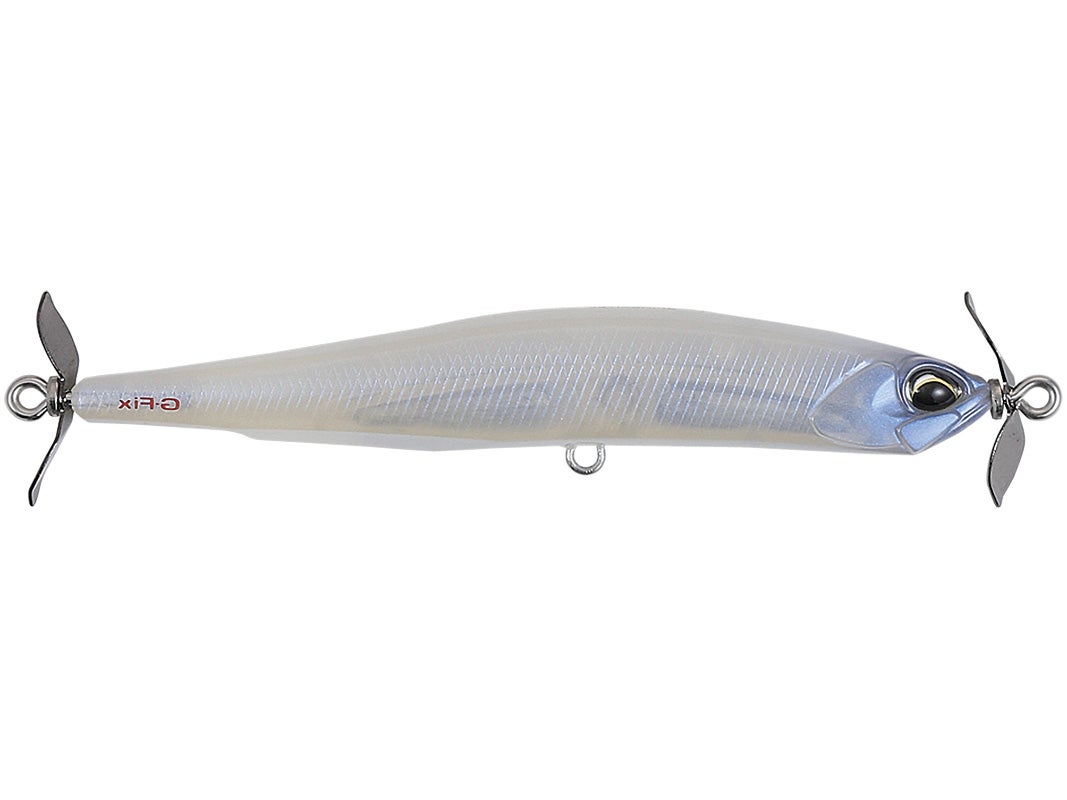 Experience spy baiting on steroids with the Duo Realis G-Fix Spinbait 80. Pro-tuned and perfected for use with baitcasting gear, Duo Realis increased the weight of the G-Fix, while still maintaining its finesse profile. This allows you to reach deeper bass, stay in the deeper strike zones longer, and also cast further - even in windy conditions. Still unmatched and unchallenged in the spy baiting category, the G-Fix delivers the signature Spinbait action and it also features down-sized propellers which further enhance its signature micro-pulsing appeal. Designed for tournament fishing and casting gear, the Duo Realis G-Fix Spinbait 80 has what it takes to reach fish other spy baits can't.
| | | | | |
| --- | --- | --- | --- | --- |
| Duo Realis | Length | Weight | Class | Depth |
| G-Fix Spinbait 80 | 3-1/8" | 3/8oz (10.5g) | Sinking | 10-18ft |
18 Colors
More From Duo Realis Spinbaits
Customer Reviews
Comments: One day of fishing the spinbait 80 G-Fix & I understand the power. Multiple smallmouth bass & 12 sauger w/ 3 walleye. I RARELY catch walleye & sauger on our river and literally couldn't keep the 1-2lbers off of this (Ghost M Shad color). I also catch 2 good crappie. They look amazing and are a presentation fish haven't seen in the water. I used a Stradic Ci4+2500 with 8lb InvisX and a TFO Shakey Head rod. I do think they fish better on a softer dropshot like rod, but some don't recommend that. I also think for river fishing or more power applications, 10-12 Fluoro would work fine because these things have razor hooks and love to hang.
From: Weston: AR 6/20/16

Comments: I live on the island of Kauai, where the milkman Jared Lintner did some videos for TW. Bought a couple of the duo spy baits & used the grass minnow color to catch some big 4 plus lb., peacock bass, they absolutely crush them, they are the real deal, because normally peacocks are hard to catch here with lures. Most people use live bait to seduce um, get'em they really work!
From: Hawaiian Tucman: Kauai, HI 5/2/16

Comments: I bought the Prism Gill color and tied it on one day when there was no activity and I couldn't get a bite to save my life. Once I started using it I caught 7 fish in the next hour. It does not discriminate. I caught catfish, crappie, bass, and this thing cuts through the wind amazingly. The only problem was I could NOT keep anything hooked except two crappie. The hooks are sticky sharp so I couldn't understand what my problem was. I haven't been able to find the sinking rate anywhere but in my personal experience when fished on 8lb line was it sinks ~1ft/sec. I will definitely be buying other sizes and colors. Great lure, the way it shimmies on the fall is unlike anything else.
From: Daniel: MD 7/26/15

Comments: I absolutly love these things! My only problem with them is you'll catch every spicies of fish in your waters. Crappie kill this thing! It gets the largies pretty well though. Think highly pressured lakes, bluebird sky's... Try it!
From: Ryan: Newburgh, IN 7/27/14

Comments: Bought one of these to try out after watching few youtube vids. During a tournament me and my partner had fish blowing up everywhere around us chasing minnow and shad schools. We were tossing flukes and kept getting short strikes even with a trebel trailer hook. So I tied this on and caught 3 fish consecutively to find out they were white bass and not the mean greens we were looking for. So it does catch fish and im pretty sure largemouth and especially smallmouth will absolutely crush this thing.
From: R.D.: Manchester, TN 6/26/14

Comments: Love this bait, when it sinks it shimmers from side to side flashing it's patterns. Successful on first trip out with it. Used six lb fluorocarbon, which may have inhibited the shimmer action a little.
From: Paul: Chula Vista, CA 6/21/14

Comments: Fished it for the first time last weekend and caught some fish despite tough conditions. Fished it on 8 lb line and a spinning rod. Casts like a bullet. Have not fished a spybait before last weekend and I think I will like this technique.

From: Brandon: Liverpool, NY 6/13/14

Comments: Bait works well on my casting rod. ML Rod with 8 lb seaguar fluorocarbon line. Colors are great especially wakasagi and prism gill. Spybait all the way.
From: Jammin Outdoors: TX 6/12/14

Comments: Very, very, very cool bait. Just learning about the Spybaiting but the Duo brand is way better than the ohters.
From: RC: Benton, WA 5/22/14