Duo Realis Jerkbait 120SP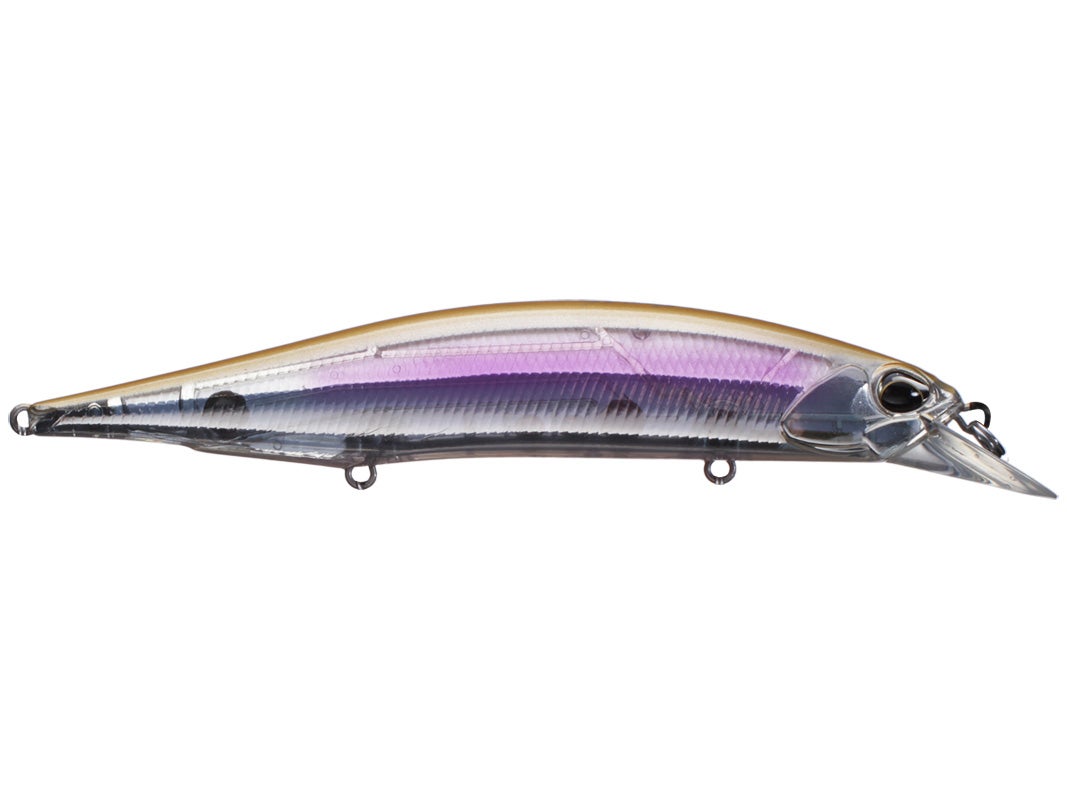 Made in Japan with high quality components and advanced engineering, the Duo Realis Jerkabit 120SP means business. Built with a bold, flat-sided body, the Realis Jerkabit 120SP produces an intense flash that will be sure to gain any fish's attention. The sound performance of the Realis Jerkbait 120SP is also second-to-none. Included in each bait are four rattling weights, two tungsten for a low pitch tone, and two steel for a high pitch. Together they produce a unique sound bass can't resist. Molded into the bait's anterior is also a fixed weight, which ensures optimal balance and long casting capabilities. To bring the Duo Realis 120SP Jerkbait to life, simply snap or quickly twitch the rod tip for a sharp darting and flashing action. Available in a variety of realistic colors, the Duo Realis 120SP Jerkbait is premium bait that you will be fishing for years to come!
| | | | | |
| --- | --- | --- | --- | --- |
| Duo Realis | Length | Weight | Depth | Class |
| 120SP | 4.75" | 5/8oz | 5 - 6 ft | Suspending |
20 Colors
More From Duo Realis Jerkbaits
Customer Reviews
Comments: purchased the prism gill and the ivory halo, by chance the DUO jerk caught my eye after picking out a couple other jerks to add to my jerk box tossed the other baits on the shelf and grabbed the DUO 120sp & took em out for stripers near nimbus dam & Wow! it has crazy unpredictable currents and the 120 still had excellent action as well as suspension even in tough water!! second cast on the ivory halo and Bam! 12b striper. i had the gill on my 7'4" spinning setup & about 4 casts in another 8 lb striper. can't wait to hit the feather river with these bad boys. i would highly recommend these baits i will be buying another storage box just for Duo jerks in 120sp and 100sp 13.99 is nothing for this bait. oh & i hit the dam a few times getting between wall gaps & the paint held up no problem!!
From: Axeman: Sacramento, CA 5/15/16

Comments: You want big bass? Get the 120sp. My favorite colors are Ivory halo, Midnight black for nighttime (work this on a full moon and it's ON, the flash reflects well in night light!), prism smelt, prism shad, and morning dawn. Another great color is the Indigo halo, but they only have it in the 110 size...Its sold out as I write this, so make a 120 indigo halo! These are great jerkbaits, premium finishes, and most notably quality hooks, unlike some lucky craft products. DuoRealis-Nippon quality :) Weight transfer system, swims true, bombs casts, my favorite jerkbait used to be the LC flash pointer, but now it's the Duo 120 SP
4/18/16

Comments: Excellent suspending jerkbait. Good action and castability. I bought it in the sexy shad color and worked excellent for bass and sea bass at dawn and dusk.
From: Quino: Sevilla, Spain 5/5/15

Comments: great jerkbait went fishing to the aqueduct the other day and caught four striped bass amazing jerkbait recommend American shad color for aqueduct depending on water too
From: Isaac: Bakersfield, CA 9/14/14

Comments: I recently hooked a hog of a striper with the duo realis 120sp ghost minnow and it broke my rod. First time a fish ever broke my rod. I wasn't sad but impress that this jerkbait was producing fat stripers. I give this jerkbait a 10/10. I would love to see more color selections!
From: Striper Man: Fresno, CA 6/26/14

Comments: Just returned from Canada and Rat-L-Trap is one of my new favorites. I hadn't used them much in past years but tried Apricot and Fire Tiger colors this year and the Pike and Bass loved them. Easy to fish and proved to be very productive when other lures were failing. I think the vibration and rattle noise helps a lot, especially on days when we were fishing in stained or muddy water.
From: Harrison: MD 6/1/14

Comments: The 120sp is my go-to jerkbait simply because it out fishes everything else! I've owned them all, Megabass 110's & Magnums, Evergreen Faith, Deps Balisong, Jackall Squad, Zip Orbit 110's, Ima Flit, you name it I've tried it. But if I had to only have one jerkbait in my box it would be the Realis 120sp. In the past 2 years I've won more money on the 120sp than all the others in my box combined. Guys your getting a JDM hard bait for less than $20, that's unheard of! There is no need to spend $25-$30 on one bait anymore...DUO is doing it right, quality craftsmanship at a reasonable price.
From: Walt: LA 4/28/14
Comments: I had the pro prism duo 120 for 4 days before it was lost on a stump this afternoon. I caught 8 largemouth in four different locations this week. Its late april so were getting enough rain to make the water cloudy. Great action. Great flash and shake. I'm about to buy a new one.
From: Eli: IN 4/26/14
Comments: These things look awesome. They are indeed high quality and cast a mile. However, I tried fishing these in the fall on St. Clair. I was not able to get the same success I had with the old trusty Rogue, or a Jack-It products jerkbait. The baits are high quality, and the finishes look great, I just couldn't get them to produce the smallmouth on St. Clair like other baits. I am not giving up, because they look like they SHOULD be strong, just have not figured out the best way to fish it yet I guess.
From: Jesse: Detroit, MI
Comments: I was a pointer guy until i discovered these. I wish the 100 size had a weight transfer system. Hint hint. Need all bait color in 120 size.

From: Ben: MN

Comments: duo has some amazing colors I am very impressed with with their lures: please expand color selection so I don't have to buy off ebay.

From: Brett: NY

Comments: best casting 120mm bait! this thing looks back after every jerk. don't buy it, save it for me instead

From: Striper Team: CA

Comments: Great ripbait. This is the "flagship" lure in the Realis line-up. It has a great side to side darting action and comes with very strong Kishida hooks standard. Look out for the 100SP as well.

From: KBullington24: Ca

Comments: It's hard to explain other then this jerkbait flat out catches them. It's unique sound and action really drives the smallmouth crazy from Minnesota to the New York Finger Lakes. If your talking largemouth then this bait just as good, I was catching cold water largemouth on Lake Minnetonka in 39 degree water. Great bait in all conditions.

From: Jason: Tonka Bay

Comments: great lure. But tw needs the "all bait" pattern. I'll pick that one up for sure if Yal carry it

From: striper team: flezzno

Comments: duo realis, anything less is uncivilized.

From: Dustin: Sugar Land, TX