Duo Realis Minnow 80SP Jerkbait - $12.99
Made in Japan with high quality components and advanced engineering, the Duo Realis Minnow 80SP Jerkbait is a killer suspending jerkbait. Made with a fixed weight for a sharp and quick darting action, anglers can use a steady retrieve, twitch and jerk, or a variety of other retrieves with great success. By carefully setting the weight at the end of the lure, the Duo Realis Minnow 80SP Jerkbait allows for superior casting distance and accuracy. The realistic profile of the lure accurately imitates a variety of baitfish, and is designed to produce in highly pressured situatlons. Available in a variety of realistic colors, the Duo Realis Minnow 80SP Jerkbait is premium bait that you will be fishing for years to come!
| | | | |
| --- | --- | --- | --- |
| Duo Realis | Length | Weight | Type |
| Minnow 80SP | 3.14 | 0.17oz | Suspending |
Comments: One of the best small jerkbaits out there. Killed the walleye and trout in 45 degree water. Cant wait to use it on spring smallmouth.

From: Ray: CO

Comments: This lure is awesome. It's small, 1/8 oz to be exact but put in on a light action rod with 6 pound test and you'll be happy. Brown trout love this along with bass, pickerel and just about everything else in the water. The all bait color is killer.

From: Jeff: Toccoa, GA

Comments: Way to small this thing is a crappy bait , brake off 3" off a pencil and thats what it is same size . If you are fishing for tiny bass then this is for you other wise go to the 120 . very sad when I got it here .But thats one bad thing when you order and no hands on .Awesome looks and any bait Duo Realis makes is top of the line , just this ones to small for the bass I need to catch . Duo Realis has the best Poppers made .

From: Kevin: Paintsville, KY

Comments: Ordered me the 120 on ebay and this bait looks amazing... face and gills looks like a shad... Bill is built tough, looks like it will bring easy limits. @tw get the 120s in, i cant wait untill you guys carry it!!!

From: Gerkbait fanatic: Fresno

Comments: This lure is perfectly balanced with an action that drives fish of all species wild. Has proven valuable for Sauger, Walleye, largemouth and smallmouth In Ohio and in the Florida Keys the Barracuda, and Jack as well as a grouper found it irresistible, comparable lures of other brands literally struck out. Actually out-fished shrimp in Keys. Best Jerkbait I've ever used bar none!

From: Jonathon: Ft Myers, FL

***Note: If you have questions about this product or need assistance with an order please email your questions to info@tacklewarehouse.com
View Large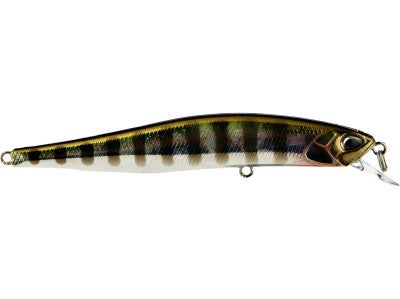 11 Available Colors
More Duo Realis Hardbaits