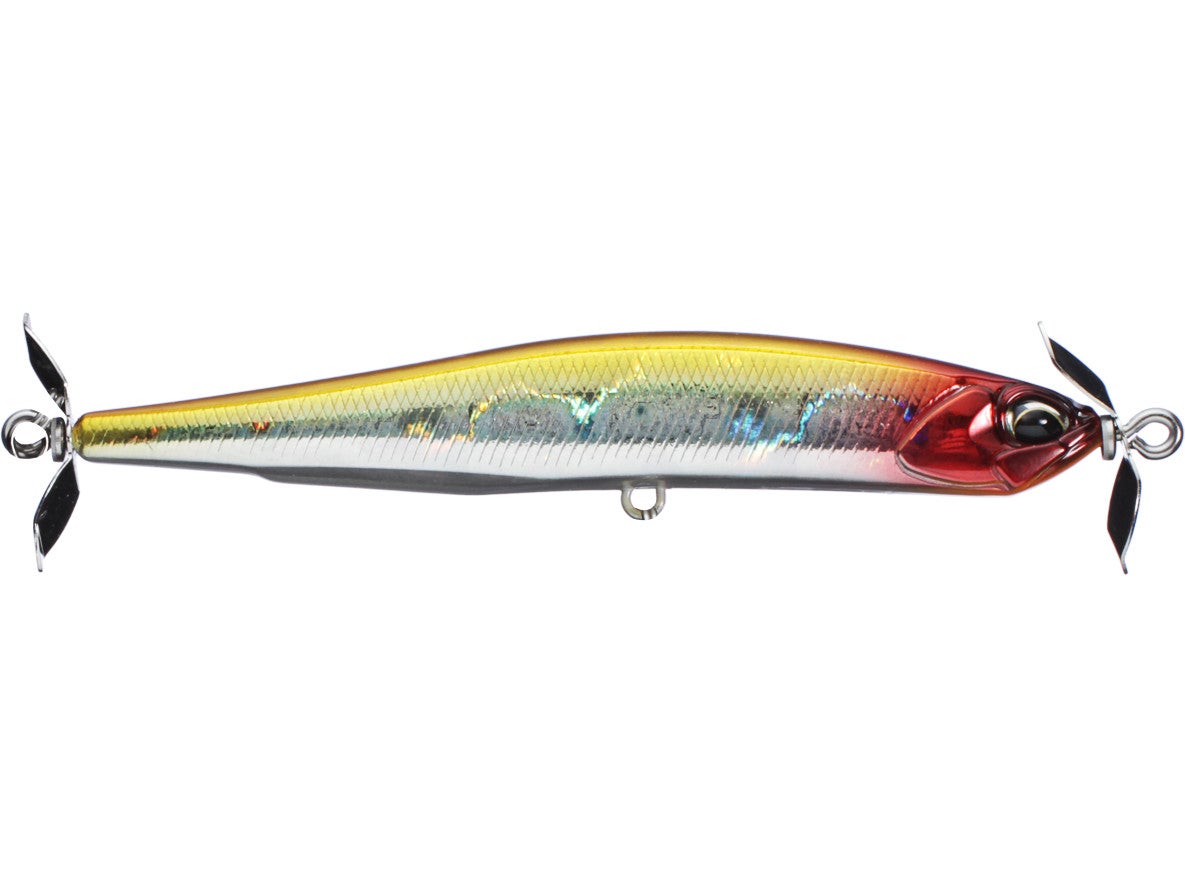 Built to with two smooth-running props, the Duo Realis Spinbait 80 is perfect for light line finesse techniques, including the new Japanese technique of "spybaiting." The technique of "spybaiting" (also referred to as the "silent capture") requires light line, a long distance cast, and a sinking style bait that can be crawled back to the boat. It takes patience and refinement, but is rumored to be incredibly effective.
The Duo Realis Spinbait 80 is ideal for "spybaiting" because the compact body casts incredibly far and provides a heavy rolling action, even on a slow retrieve. Built with an internal fixed ballast, the Duo Realis Spinbait 80 stays deeper for a longer period of time than a traditional propbait, and also sinks on the pause with a tight wobbling action. And if that wasn't enough, the props add another element of attraction by producing a strong pulsing as they whiz through the water. Complete with two razor-sharp treble hooks, the Duo Realis Spinbait 80 is another example of how Duo Realis remains at the forefront of bass fishing.
| | | | |
| --- | --- | --- | --- |
| Duo Realis | Length | Weight | Class |
| Spinbait 80 | 3-1/8" | 3/8oz (9.4g) | Sinking |

Click on the logo to read their review.
26 Colors
More From Duo Realis Spinbaits
Customer Reviews
Comments: Went to DVL last week with two buddies and caught a couple in the morning on the jig. It hit about 98 degrees by 10am and the bite slowed way down. Super clear waters and the bass were suspended. They weren't hitting anything we threw at them, that's when my buddy pulled out the 80. A couple cast later, he sticks a 4 pushing 5 pounder and then stuck a 6.2 pounder a couple minutes later. He lost his 80 to the rocks, pulled out another one (different color), stuck a giant thinking it was the lake record and it was a 12 pound Cat! This bait is was what they wanted. 10lb flouro, let it sink to the bottom and slow roll. Buy a couple, you will lose them
From: Tee: CA 10/11/15

Comments: Spybaiting has been popular in Japan for the past 10 years. It doesn't meant to be used by spinning tackle with fine lines. Many of them use a bait casting tackle with heavier line & bigger spy baits for post spawn bass. I thought these "finesse spybaiting" was popularized by Duo to sell their small baits. But hey, it gets you a lot of bass...
From: Hiro: USA 7/28/15

Comments: This bait rocks when the bite has slowed down and when the fish are suspended. Used this spybait at a BFL event on Lake Russell and it helped me limit out and cull. Most people have the mentality of throwing this on 10-12lb test line but you need 6-8lb test for it to really shine. Made spybaiting unbelievers actual believers that weekend.
From: Neil: Hephzibah, GA 3/25/15

Comments: Ive been spybaiting for a while now...there are others on the market but I keep coming back to the 80. All the info on the net is nice, but adapt it to your own style and you will do just fine. Knaw-mean?
From: Jay6: USA 9/19/14

Comments: This bait really does catch more fish. It's terrific when it's hot and you're getting short strikes, fish are fussy, pressured, clear water or just generally a challenge. Buy a couple, you will get hung up. At this point, I'd recommend using a line that's a bit heavier than the recommended 6 or 8 pound test. Maybe like 10lb floro. I'm sure it would compromise some of the action but at least you'll keep your lure. They're expensive. Thought about getting in the water a couple times.
From: Chuck: NH 7/21/14

Comments: Started the morning out throwing the usual baits that always get me some fish. Nothing was working, pulled out this spinbait, I had only tried it once before and had dismissed it. Well its a good thing I had it, for about two hours I was on a steady bite of largemouth bass and a few big bluegills.
From: Jaime: Ca 6/14/14

Comments: Recieved this lure in the mail and couldn't wait to get it in the water. Went down to a local pond around 4:00 in the afternoon when it was about 90° outside. Tried frogs, worms, etc. You name it, I tried it. So I pulled out my new Spinbait 80 and tossed it about 5 times before I got my first bass. It wasn't 3 casts later before I had my second catch of the day. Awesome lure, it works wonders. Will defiantly be purchasing more in the near future!
From: Ryan: TX 6/7/14

Comments: Great bait for finicky fish... it's a great follow up bait for fish that are short striking or missing top waters...Florida Crush has been a great color for me. The shimmy the bait has on the fall is deadly...in my experience the fish hit it on the fall as much as they do during the retrieve. If I have a fish miss my top water I immediately cast the spinbait80 the the boil and let it flutter down and watch for my line to jump. Usually by the time I've let it fall a couple feet they are on it!
From: Walt: TX 6/5/14

Comments: Awesome bait. Great during the day. Works even better at night. Have caught all kinds of fish in all sizes from panfish to bass, pike and muskie. I've heard people say fish it really slow. But it's a finesse bait. Do whatever you want. Slow troll, jerk it, jig it, or rip it. It falls horizontally and maintains its wobble on the way down. Sinks at about 1 foot every 2 seconds. I easily cast this thing into the wind 40+ yards with my Lew's Tournament Speed Spool on a Fenwick Silverhawk. This lure is absolutely killer in a slow current.
From: Thor: Central Valley, CA 5/9/14

Comments: Killer bait. Have been fishing it clear lakes that contain shad, the fish cannot stand it and smash it. If they miss it once, they will hit it again and again. I could only imagine this bait over brushpiles on Lanier. Great stuff!
From: Kyle: Saint Simons Island, GA 5/1/14
Comments: love and hate the bait at the same time. The bait is amazing and fish will eat it without hesitation. The only drawback is keeping a fish hooked. I had 12 fish come off on the spin bait. I'm not sure if my rod was too stuff or if it was the hooks or just the bait in general, but I'm going to try again with a softer rod and better hooks.
From: Kendal: GA 5/1/14
Comments: I bought some of Duo Realis 80SP's to use for river smallmouth and they worked great. What I did not expect was to also catch 7 brown trout 21" to 26 inches in the same river. The flash and actions of this lure really provoke savage takes and I had bass and trout literally chase the lure down and pounce on it due to this lure's great attracting and triggering capabilities. I had concerns about the thin hooks, but they were strong enough to hold large smallmouths and huge trout with no problems and they were sticky sharp so be careful. Even though they are small they casted surprisingly well.
From: Jay: White Hall, MD 4/30/14
Comments: The bait has an awesome shimmy on the fall as well as during the retrieve. It is suggested that you use extremely light line for the technique but I have actually gotten away with using 8-10lb line, which is much heavier than suggested yet I still had success! It's also effective on a multitude of species. I was catching crappie on Chickamauga last week using the spinbait80. I was seeing a large school of fish on my graph but couldn't get them to bite until I pulled out the spin80. I quickly boated about 10-12 large crappie. At first I was somewhat disappointed because I was looking for staging presawn bass then I thought about how good those crappie were going to taste when we fried them up that night!
From: Unknown: USA 4/28/14
Comments: These things catch fish. The action is amazing and fish will kill it on the fall. I have sadly lost both of the ones I got both due to snapped line. I will be buying more for sure.
From: Unknown: Pittsburgh, PA 4/10/14
Comments: yes it worked and worked well, any other questions? If you like separating fish from their schoolmates than you ought to getcha some.
From: Spitwad: Hailey, ID 4/7/14
Comments: tried it today at the favorite hole where I fish. Worked an area with keitechs, cranks and drop shots all worked really well. AND THEN, something happened it seemed to shut down, just stopped. Not so fast, pulled out the spinbait80 and boom! On go the lights, the bite was back on, caught some nice ones in an area I thought was worked over. Look how wrong I was. This thing is living up to the hype. If you like separating fish from their schoolmates you might give these a try. I will be buying a few more.
From: Spitwad: Hailey, ID 4/7/14
Comments: LOVE IT! Fishing Lakes Erie, Ontario & Simcoe for big smallies, the 7'4" MF rod paired with a Pflueger Supreme XT or Patriarch is heaven. Previously used a G.Loomis drop shot rod with a CI4 & although a quality set-up, the Elite Tech is comparable in sensitivity but with more length & power to handle the 1/2 weights & deep smallmouth. Next buy - Smallmouth Elite Tech 6'9" ML to use for my first time spy baiting!
From: John: Mississauga, Ontario
Comments: If you get it hung just keep a little tension on lure and troll up to it and jiggle a little and 9x outta 10 it pops loose. dont just tug on it as the hooks will dig into whatever you stuck it in. Key word here Finnesse...
From: Unknown: East Tenn
Comments: I'm back! It's pretty simple...cast, count it down to where the action is, and wind it back slowly. I stop and let it flutter a little. It worked on a tough day in an area I just made 3 passes through with cranks and rip baits. AND, I never lost it!

From: meatwad: finesse with powahhhhhhh
Comments: WOW. Got my bait, spooled up some 6lb line on the little spinning rod, motored out to the spot, made two cats, then lost it 12' down in something. Lure retriever couldnt get it. Lame. Of course, I'm dumb and will buy another one. It looked to have a cool wobble but if I lose the next one so quickly, spybaiting will not be something in my arsenal.

From: Meatwad: losing stuff
Comments: Finally figured out how to use this bait with sucess. It took a few trips to the lake to try different retrieves and ways to fish the Spinbait. Now that I have confidence I have been connecting with big smallies on days when no one is catching anything. The day I figured it out, it actually out fished my Vision 110.

From: Pete: IL

Comments: If Your New to Spybaiting as I was( Unheard Of !) Thought It's Just a PropBait Like a Develhorse Topwater. Think again Grasshopper LOL! Just Over 3 inches and weighs in at 3/8 OZ. On a Spinning Outfit that is 6 foot and Lite to UL Action Rod 6 to 8 ib test line. this Baby Minnow will cast a Mile. I feel a need In Clear water. then Count it down One foot Per sec and then Reel it In at the speed and Minnow would swim.. First time Out with One ( Natural Ayu ) with one of the first Cold Weather of the Fall ( OCT 19 , 2013 IN Missouri Almost First Frost That morning 35 F Degrees , Full Moon) In the Afternoon On one of the Ozark Streams Near me. ( Big Piney River) I caught and released 2 Bass . I was surprised to see 2 Largemouths come from No where and Go Nuts after this Lure. Being kinda shocked to even see a fish but see 2 going after it so I think I stop the Lure then Bang. A Hook Up of One and Landed and then pictured / let go .. I saw 2 I cast again half way in BANG ! Got the Other One about the same size. and the same thing happen landed and Let go.. I Tryed other places in the river but No Luck but I think there is a spring In that part of the river. It Just Looks Like a Minnow Swimming ..

From: Marvin: Houston,Missouri,USA

Comments: These lures are absolutely insane, I use it for multiple situations and produce good fish most of the time... Over grass flats, suspended fish, and on boiling fish this thing is killer. I recommend using a super light line and drag, however I lost a donkey fishing 4lbs fluoro so I bumped it up to 6. When you think you are fishing this thing slow enough... Fish it slower!

From: Barkley: San Diego

Comments: This thing gets bit but as stated before must work it slow.

From: Louis: Green Bay

Comments: Everyone complaining about the hooks is probably using the wrong rod, this is a finesse technique and needs to be geared accordingly. I'm not saying you need to go buy a custom rod but it is very important to fish this bait on a soft rod or even parabolic rod, Duo's stock hooks are top notch. I have caught literally hundreds of fish on numerous spinbaits including fish over 5lbs. I personally use a NFC 7'6'' medium light rod that has a moderate fast action. It's like fishing a crankbait, if you want to do it right you need to match your gear to your presentation. Light rod, light drag, and light line and you won't be pulling hooks. I don't recall any of the hooks on one of my spinbaits being bent out of shape.

From: CP: USA

Comments: This thing is so boring to fish But it flat out catches fish , Seems the cast a mile and slow slow slower reel it in is the best way here for the most bites .It is a great bait , looks like the minnows that the bass are chasing . The hooks are small and sharp as a razor . they may bend but if they do then most likely you are using way to big of line .

From: Kevin: KY

Comments: Tried the lure this weekend at Darwendale dam. It gets the bites but I had problems with the hooks - They are just too soft and are easily bent straight. I landed a 4.3kg large mouth but had to be super careful on the retrieve. If the fish gets into any weed the hooks will bend

From: Colin: Harare Zimbabwe

Comments: Amazing lure. Excels in every situation. Two tips: reel it. In very, I mean very slooooowly. 2- change treble hooks. Big smallies bend them easily.

From: Patrick
Comments: We throw deep jerkbaits for our suspend fish so I did an little experiment... Jerkbait, then Spinbait. I caught more keepers with the spinbait. I caught bigger fish after watching two videos and realized to slow down. I caught my biggest bass on spinbait and I caught more on it. My jerkbait nailed 2 real nice fish. Score this time out 6 to 2 Spinbait but I will say this slow way down. There were a couple of colors that were killer but that I am not saying. Tournament time!

From: Mike: AL

Comments: All I have to say is it catches good fish. If you know how to schooling bass and isolated fish, you are going to get them. It isn't a common lure. Not a jerkbait but will catch late summer suspended bass. Its not a Sierraminnow but catches those wary fish. Its not a topwater bait but will catch schooling fish that refuse topwater. I wonder if they will come out with another size?
From: RH: CA

Comments: Three of us in a boat, one throwing a proven jerkbait 9 ft down...no luck... One throwing a tube and a grub had a few fish.. I threw that Spinbait had 8 fish...on pressurred water. What was kick butt we did this 2 days in a row.. I don't think this bait replaces anything it just gives you another finesse angle. that we haven't been privy to. I personally like the build. The lure is refined. I have seen the other JDM screw baits and several of them.. Also this isn't the serierra minnow... it isn't the LC wander...the dude that mentioned that obviously hasn't studied the actions. Smart bait by a JDM company.

From: Dan: Great Lakes

Comments: Another way to rig this way is to get this Megabass Okashira Jig Head Screw Head Flashing Blade then just use a fluke at the end kinda like jackall i-motion rig. started the roots back in japan my boy told me before they made hard bait version

From: Mike
Comments: Dude this kills me. This tiny lure has incrediable detail. Its sick. I give props where props are due. this thing has insane action. I know they were talking about clear water finesse but I am banging a ton of fish in the shallows in the night. This company thought out of the box. they are definately innovative.

From: T: CA

Comments: Just another variation of I-Motion that never caught on here. Sure, there have been a few prop sinkers like this one but it's not going to be earth shattering like Duo claims. So once everyone starts to throw this, what's next? Propless silent version? Did everyone forget about the Jackall Sierra and LC Wander?

From: Rob: NJ

Comments: Spybaiting... I.E goofball sink and retrieve. I have been throwing other JDM sinking propbaits for a while now after seeing one on a trip abroad. I can't get bit. A few small fish on pressured water, but that's it. These baits aren't really made for a jerkbait style retrieve, so unless you are just counting them down and reeling them back... you have a bait you will never use. Stick to 70 to 115 sized quality suspending jerkbaits in the same situation (Down to 15 feet) and you will have a better bag. Nothing about the retrieve triggers fish... the bait looks "vulnerable" but that's it.

From: Joe: Upstate, NY, USA.

Comments: I want this bait but just want to say Duo Realis= absolutely TOP QUALITY lures...quality like Megabass and Jackall and better than Lucky Craft. One of my favorite "new" companies to hit TW/US market from the JDM.

From: Tanner: S.E. MA

Comments: I heard about spybaiting about 4 months ago, researched it and have been applying it in high pressure situations on my local lakes. Let me tell you, it's gonna change the finnesse fishing world. 30 plus fish days in my lakes is pretty good on a beautiful day. And I had 30+ fish days in 50 degree water temps back in march. I drilled a hole in a crawfish colored shad rap so it would sink. I can't wait to get some of these and use a bait actually designed for the technique. 6lb flouro is a must. I sometimes ran as low as 4lb if the water was really clear. It seems extreme but it's a must. Research the technique and master it. You'll need it! Trust me!

From: Jason: TN