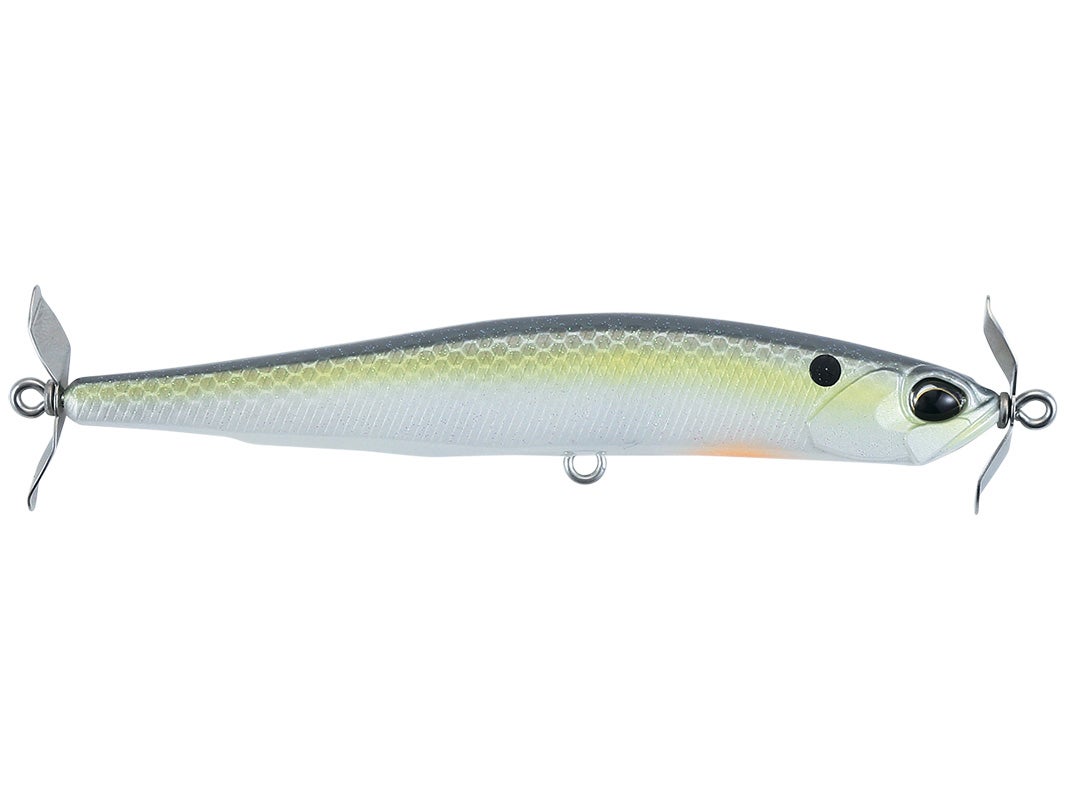 Tackle Warehouse Exclusive Color: Ghost SX Shad

The latest addition to Duo Realis' famed Spinbait Family, the Duo Realis Spinbait 90 offers the same highly effective finesse presentation as its predecessors – now in a slightly larger, baitcaster-friendly version. Sculpted with flatter sides and a taller profile, the Duo Realis Spinbait 90 delivers more flash than ever before, but still maintains the signature rolling action that makes it so effective for spybaiting.

Although finesse in nature, the Duo Realis Spinbait 90 is designed with a reinforced internal framing that makes it capable of withstanding crushing blows from large predators. As with any spybait, long distance casts are imperative, which is why the Duo Realis Spinbait 90 is made with a precise internal weighting that delivers the furthest and most accurate trajectory possible. Available in a number of highly developed finishes, the Duo Realis Spinbait 90 allows anglers who prefer baitcaisting gear to cash-in on the incredibly productive spybaiting technique.
| | | | | |
| --- | --- | --- | --- | --- |
| Duo Realis | Length | Weight | Class | Depth |
| Spinbait 90 | 3.5" | 1/2oz | Sinking | 8-17ft |
25 Colors
More From Duo Realis Spinbaits
Customer Reviews
Comments: I just opened my 90 in American Shad and funny how it looks just like a LC Staycee or Pointer. Color and shape looks great and I'll be throwing it in a week. Stay tuned...also add an extra split ring to the rear hook and it will swivel almost 360 degrees. Makes it tougher for the bass to throw the hook.
From: John: Gaithersburg, MD 1/13/17
Comments: So I decided to try 90 and man oh man is this spybait awesome I use it basically like a spinnerbait only flaw is I upsized front treble & any time I kill it it tangles the line but other than that I love it it's like a grub on roids for those deep fish
From: JB: USA 2/6/16

Comments: I have been spybaiting for a couple of months and I have one thing to say about these lures. Impressive. They say this technique is best for clear water suspended fish, but you would be suprised how we'll these thing catch schooling fish and shallow water cruisers. I will definitely get more and soon.
From: Noah: Springville, AL 8/4/15

Comments: The guy whose bait sank nose down and didn't shimmy on the retrieve must've had it tied to a heavy crane swivel or got a rare defective one, because this thing is pretty much identical to its little brother. There's only a minimal difference in size and it's the same shape. Mine works fine. Also, it has excellent hooks. They are very sharp and the eye is in line with one of the points like an owner stinger.
From: Tony: Yukon, OK 6/19/15
Comments: I love rigging the spinbait 90 on my jerkbait rod with 10-12lb test line & target suspended fish around docks. The added weight and size of the 90 enable it to be fished at a faster pace while maintaining that rolling action. It gives those highly pressured dock fish a different look since they've seen every spinnerbait ever made run over their heads.
From: Walt: Ft. Worth, TX 11/7/14

Comments: The Spinbait 90 is a great bait for covering water, quickly looking for active bass & heavier than the original spinbait 80 and gfix 80. This bait can be fished faster and on baitcasting gear and heavier line. This is a great alternative to the other spybaits in the line up. I have caught multiple species on the bait and is killer for smallmouth bass.
From: Casey: New Hope, AL 11/6/14

Comments: If you've been hesitant to throw the Spinbait 80 because it requires spinning tackle then start with the 90. It weighs a 1/2oz and with its compact size you can launch it on a med or med-hvy action casting rod with 10 or 12lb fluoro. You can't go wrong with Ghost Pearl color. I've found it works excellent in many different water clarities. This is a great bait for schooling/busting fish and suspended fish.
From: Kevin: Guntersville, AL 11/6/14

Comments: The snow is flying and smallies are chewing. I have been using the 90 here in Ontario. It falls a little faster but it gets down to the hungry smallmouth faster also little trick wind a little faster then the 80 and let it fall those curious smallies will hammer it. Color of choice: Morning Dawn and Ghost Pearl!
From: Brian: Ontario, Canada 11/6/14

Comments: The 90 falls head first with no rolling action, unlike the 80 or g-fix versions. It does not fish like the originals, seems to dive downwards on the retrieve rather than horizontally. Tossed it for a few minutes and switched back to the g-fix version and caught fish instantly.
From: Larry: Elk Grove, CA 10/15/14

Comments: Purchased The Spinbait 90 and really like. I am new to Spybaiting and this is a bait that is easy to use. Have caught some nice SM and even a 34" Pike. It is a good purchase. I'll buy some more.
From: Tom: Lac Du Flambeau, WI 8/29/14