DuraSafe MotorGuide Bow Trolling Motor Lock - $21.95
The Durasafe Bow Mount Trolling Motor Lock is a unique locking knob that fits most MotorGuide bow mount motors. The Bow Trolling Motor Lock allows you to make height adjustments as you normally would but with the turn of a key, the mount is locked securing the motor inside.
* Security for MotorGuide Bow Mount Trolling Motors
* Locks the motor to the mount
* Acts as a knob replacing the factory knob from the mount
Comments: Awesome product, I recommend a little grease on the threads before install. Definitely worth the money for the peace of mind knowing your trolling motor isn't going anywhere!
From: Daniel: LA, CA 3/19/14
Comments: thought this would be really cool and was easy to install, just one problem: i went to tighten on my motor and it stripped. Was an unbelievable pain in the a$$ to remove after that and I really wasn't turning that much harder than hand tight. very disappointed

From: Willis: Panama City Beach, FL

Comments: Very easy to install, and now I have peace of mind when I leave my boat unattended.

From: Darlene: Montebello, CA

***Note: If you have questions about this product or need assistance with an order please email your questions to info@tacklewarehouse.com
View Large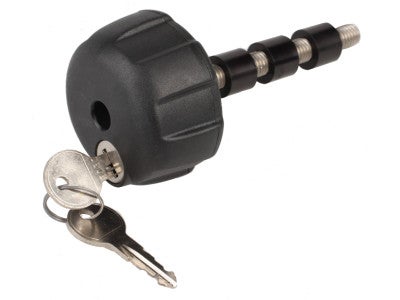 Place Your Order
More Durasafe Accessories
More MotorGuide Accessories