Eco Pro Tungsten Heavy Weight Flipping Jig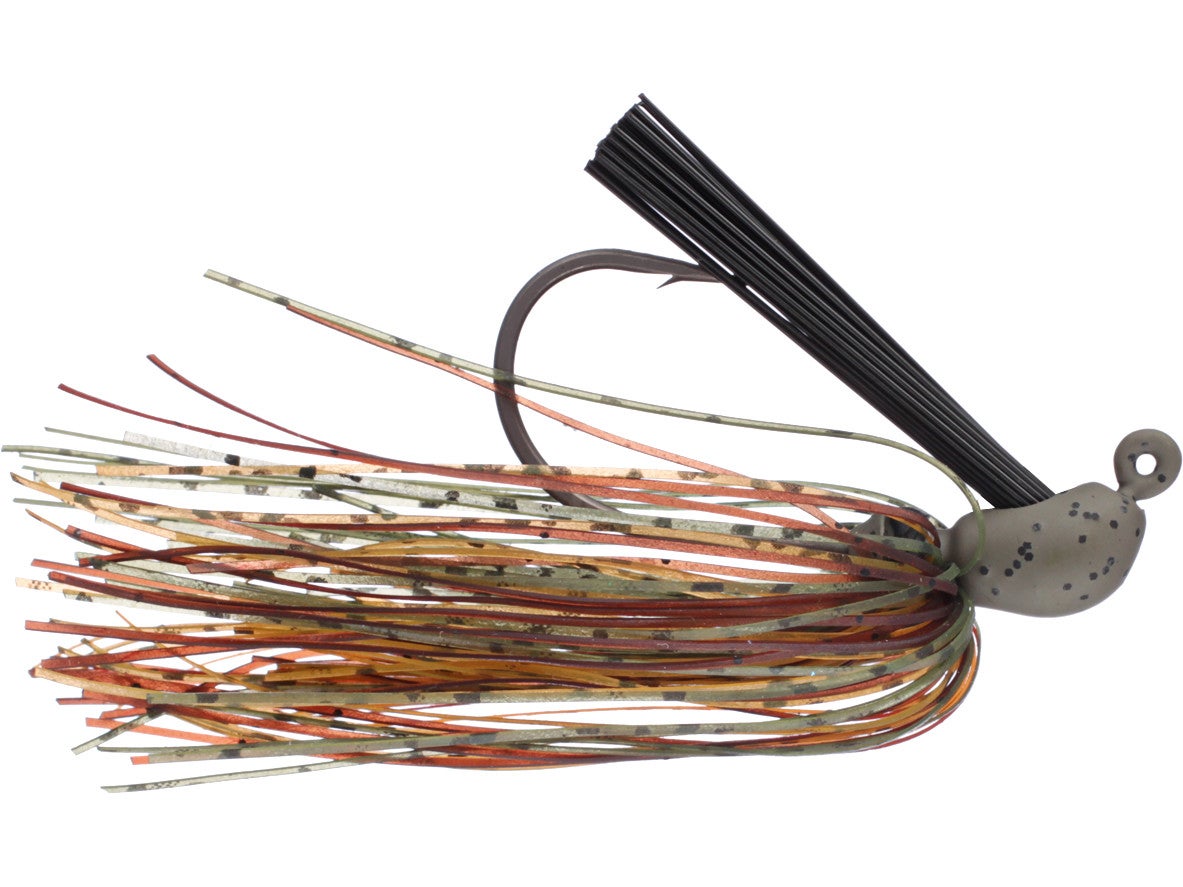 Flipping enthusiast and BASS Masters Elite Series veteran Jared Lintner collaborated with Eco Pro Tungsten to create the Eco Pro Tungsten Jared Lintner Heavyweight Flipping Jig. Built to slide through heavy cover and timber to entice bass tucked underneath, the unique properties of tungsten also gives anglers the ability to fish a jig with the same weight as its lead counterparts in a smaller and more compact offering. This makes it easier to work through thick grass and dense structure. Additionally, tungsten also possesses a higher level of sensitivity than lead and allows anglers to more accurately decipher between strikes and structure. Constructed with a premium needlepoint hook, specially sealed paint coating, and a high-end weedguard, the Eco Pro Tungsten Jared Lintner Heavyweight Flipping Jig is just what you need to help you get onto the podium.
6 Colors
More From Eco Pro Jigs
Customer Reviews
Comments: This is hands down the best skipping jig I have used. The hook is beyond adequate and the weed guard does its job, although it has to be trimmed when out of the package. My only suggestion is the with the skirt and the variety of colors - I end up re-skirting these because of the lack of colors. Very impressed with the EcoPro brand, will purchase again.
From: Ryan: WI 6/19/15
Comments: Great jig. I wanted to fish tungsten for the sensitivity and for the fact that I won't be leaving ounces of lead in my lake (you're jig fishing, you're going to loose a few) Love how the eye of the hook is closed so when my line gets turned around it wont slip off. Only time I lost the weed guard was after catching a 34" muskie pitching and then a small pike. Pegged them both right in the corner of their mouth. Here in Northern Wisconsin, that's bound to happen. But no problems with bass, pegs them good, great hook size.

From: Trev: Hayward, WI

Comments: these things are sick!!! i always have a black 1/2oz version with a black super chunk on it for when i come up on a point. cast it out, let it fall(which is alot faster than a lead jig)and slowly drag it with hops every once in awhile. catch a ton of fish doin it and fish up to 5lbs just flippin it.

From: Joe: Spokane,WA

Comments: These jigs are awesome! I can't imagine using anything else after using these tungsten jigs. The skirt colors are great and the hook is the perfect size. The only thing I did was trim the weedguard a little.

From: Tyler: Spokane, WA

Comments: Love the tungsten jigs. I appreciate that these jigs have a great hook and weed guard. However, I received 4 of them and all 4 had all the skirt material shifted to one side of the hook. I had to spend some time attempting to pull and distribute the skirt material evenly around the hook. For a $6 jig, I would have expected a little better quality control. Also, I'm surprized that they have not figured out a good trailer keeper system for this jig head. I'm not sure how well a trailer will stay in position unless I'm simply using a chunk style. Overall, I'm thrilled to have a good tungsten jig though!

From: Mick: Rolla, MO USA

Comments: Hook is outstanding and trim the weed guard, enough said. These flipping jigs are great they hold a trailer perfectly, never had a bass "pull my pants down", and the weed guard collapses real easy when getting bit and that thick gauge hook pegs them real nice. I like to trim my weedguard just about right at the point of the hook. 3/8oz size is MONEY, unless you're flipping deep water (15+) there is no need for a flippin jig to be that heavy.

From: Mike: GA

Comments: Hook is too short and the guard is too long. Poor design

From: Allen: Fort Worth, TX, USA