Eco Pro Tungsten Heavyweight Football Jig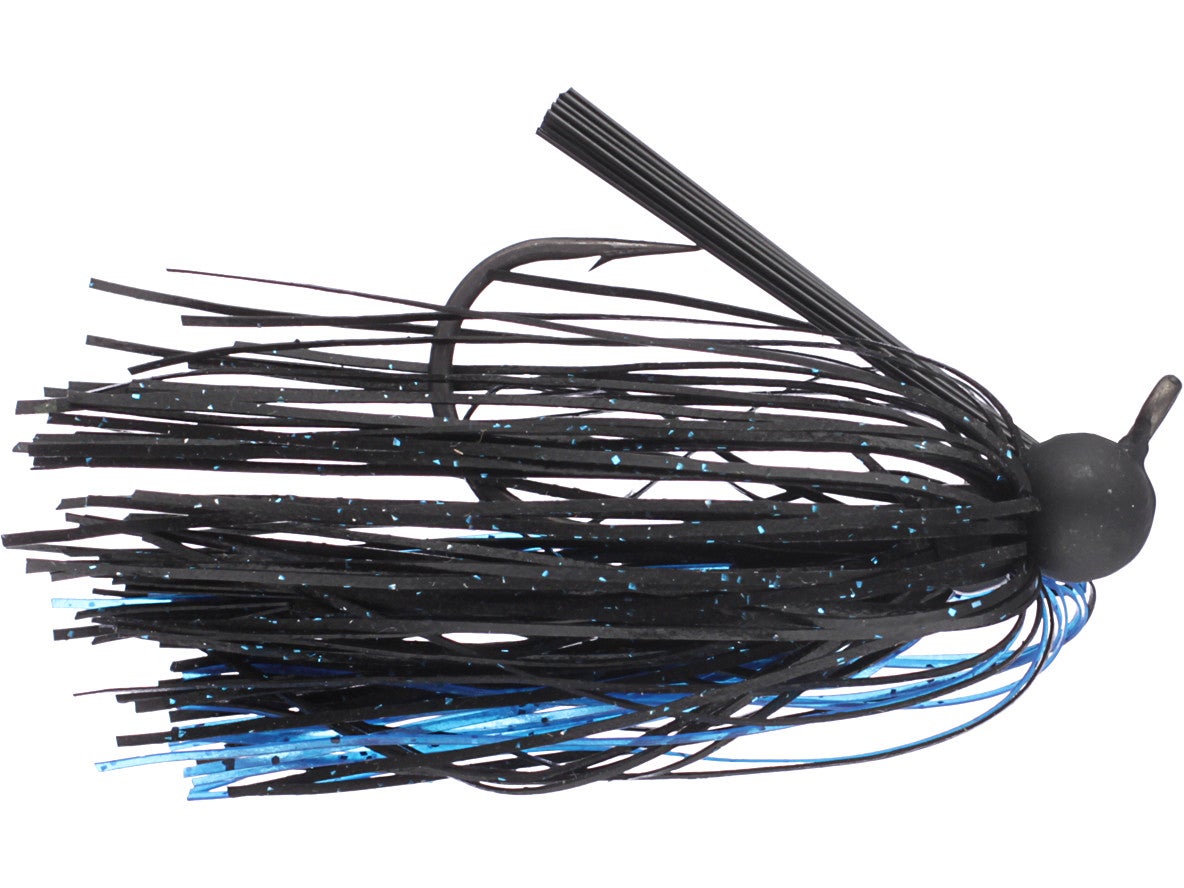 Designed by BASS Masters Elite Series veteran, Jared Lintner, the Eco Pro Tungsten Jared Lintner Heavyweight Football Jig is packed full of sensitivity to give anglers the ability to feel exactly what's on the bottom. When fishing a football jig, sensitivity is the key in determining subtle changes in structure and surroundings. With the Eco Pro Tungsten Jared Lintner Heavyweight Football Jig anglers can feel faint changes in contour, and even some lighter strikes that might normally go unnoticed. Built with a premium weedguard, super needlepoint hook, and Eco Pro Tungsten's extra durable paint job, the Eco Pro Tungsten Jared Lintner Heavyweight Football Jig's unmatched level of quality keeps pace with the demands of todays most competitive tournament bass angler.
8 Colors
More From Eco Pro Jigs
Customer Reviews
Comments: I love the feel of these jigs, they are very sensitive, but the keepers will break off on these on a hookset. When I got mine in the mail the weedguards had fallen out of the jigs, I fixed that, but the heads will break in two pieces as well. I put one on one night, got to the lake the next day and the entire head of the jig had just broken in half and fallen off the hook. I like the t-rig weights, but these jigs have major problems.
From: Ron: Rome, GA 12/5/15
Comments: I fish for a living and the last thing I need is unreliable equipment. These jigs are garbage! I ordered 10 & the bait keeper on all 10 broke at the base of the hook. Started making my own jigs with Vike tungsten jigheads & I haven't run into a single problem after 5 months of fishing. Stay away from everything Eco Pro Tungsten makes except their flipping weight. It's pretty hard to screw one of those up.
From: Ogden: GA 9/25/15

Comments: These jigs are great in the fact that you can feel everything with the tungsten, but I have had almost all of mine come apart. If you skip under a dock and hit anything with it, hit a rock, or even get hung up then tungsten will break in half. The heads are in 2 halves that are glued together and the keeper is in two halves. I do not know if I got a bad batch that the glue was faulty or if it is a flawed design because out of the 12 i got i still have 2 that have stayed together after taking a beating.
From: Logan: TN 7/27/15

Comments: Theres no flare to the skirting material on these jigs. Its flat in the water like wet hair. I do like the Tungsten jig heads for sensitivity. My advise is to remove the stock skirt material and add something with more life.
From: Big J: NY 6/22/15

Comments: Great jig for the money with the exception of the hook, I found it to be a little on the weak side, I've bought both the Kira jig and the Football head and have experience the hook straighten a bit on both jig, not bad but enough that I had a good fish come unbuttoned due to the hook angle. I would still recommend these jigs especially for the money, They have great hand tied skirts and look great in the water. I fish them on 12 to 17 lbs Fluro and you can feel everything with them, I will buy more but I will keep a close eye on the gap of the hook after landing a good fish.
From: Jack: South Point, OH 5/26/15

Comments: Love the thin wire skirt and hefty hook...can't say enough good things about these FB jigs.

From: Gary: TX

Comments: Theres a reason they never have these jigs in stock! They are 100% the real deal and hands down the best jigs right now on the market and the tungsten is just amazing! Keep these bad boys in stock TW so the rest of us can order some? thanks

From: CJ: PA

Comments: TW please order more of these!!! this is the hottest jig on the market right now hands down! I've been killing them on my local lake here in southern PA with the PB&J color with a zoom super chunk or berkley chigger craw on the back! It's frustrating though every time I log onto the computer to place and order there always out of stock!!! TW please order more of these and keep them in stock!!!

From: CJ: PA

Comments: These are the best jigs out right now. I just hope people stop buying them and TW will order more of them so they'll stay in stock longer.

Comments: I was throwing everything I had at them today on the lake and it all the sudden dawned on me I had that new jig I ordered from TW so I proceeded to tie it on (3/8oz PB&J) flipped it with a zoom super chunk on the back into some brush and a 4lb LMB slammed it!!!! The lake where I fish its only 60 degrees so I didn't think the fish would be up that shallow. This jig performed flawlessly and I did not modify it all straight out of the package. Goodluck and tight lines

From: CJ: PA

Comments: If you wanna make these jigs twice as lethal get some scissors and cut the weed guard down about a little less than an inch away from the point of the hook, just to where the jig will still slide through brush, trust me I'm tellin you that's all you need from that guard and I'm telling you if you know how to fish a jig your hook up ratio will go through the roof. It really gets the most out of that beefy hook on these jigs, I've done it to all 12 of my eco pro footballs and to all of my eco pro flipping jigs as well. Puts that much more confidence in these bad boys.

Comments: Caught a smallie with a 3/8oz Missouri craw at guntersville, freaking hammered it! I'm talkin when offense meets defense! Guess anything is possible.

From: Blake: Guntersville, Al
Comments: Hook is fine get over it and trim the guard, problem solved. These jigs are great! Just like the football jigs.

Comments: tigger craw and pb&j are the two best colors that i've caught fish with and i have all colors but black and okeechobee. i love these jigs they're the best i've ever fished with!

Comments: Awesome Jig! Head is crazy small....the hook is heavy duty, and Jared killed it with the skirt ... Love the fine cut...

From: Jeff: AZ

Comments: Freaking hate the weed guards on these jigs, after a couple fish and dragging jig through brush the weed guards seperate and are all flared out and they're so stiff that you can't bend them back into place. Rule of thumb, if its too good to be true it usually is, knew there had to be something wrong with these jigs.

Comments: Me and a buddy were fishing a real short stretch of boat docks and I got a little too excited about tying one of these on and without even thinking I grabbed my green pumpkin brown and just threw it in the water without even tying it on thinking it was already tied on. Needless to say, my excitement turned into border-line depression instantly. So I went ahead and ordered 3 more. My favorite jigs of all time!
Comments: These jigs really are great quality jigs. The weed guard sits right on top of the hook for maximum weedlessness but collapses very easily when fish hit it and paint is very durable. Went out and caught four fish on these day after I got em' that were just stacked on a rock bed and that thick heavy gauge hook just sticks em' so good that they aren't going anywhere, pegged down on the roof of the fishes mouth beautifully everytime. Paint got barely scratched and skirt looks completely in tacked still. Definitely going to order some more.

From: Chris: AL

Comments: what I can tell Jared Lintner loves to throw jigs, so if he's finally designed his own I'm willing to bet money that it's a top of the line bad ass jig with real quality components or else he wouldn't put his name on it. Plan to be throwing these jigs a lot and year round all on 3" chigger craws!

From: Kyle: GA

Comments: I really hope these jigs stay under the radar for a long time.

Comments: These things do look sick! I too have ordered five in my prefered colors and various sizes, and despite them having Lintner's name on em' I think they're gonna be killer on them big jawed beauties. Can't wait to get em' and get out on the lake, I'm ready to drag these jigs over some beddin bass!

Comments: Just got mine today! Unreal how small the head is on these things....Just awesome!

From: Jeff: SoCal

Comments: just bought 5 of these in diff weights and colors and they look great and the tungsten heads are half the size of lead heads!!! Cant wait to try them out!!!

Comments: I must say I am glad to see there are finally tungsten jigs out. However, I don't know how I would feel throwing a jig the price of a crankbait in jagged riff raff

From: Josh: IL