El Grande Lures Boom R Ang 6pk - $4.49

The El Grande Boom R Ang is the signatures series jerkbait of Bassmaster Elite Series veteran, Fred "Boom Boom" Roumbanis. Measuring in at 6-inches in length, it features a long, serrated forked tail, as well as a larger profile. A convenient belly hook slot and indentation along the back also make for easier rigging, and decrease the amount of plastic the hook point has to penetrate on hook sets. Available in a variety of colors, El Grande Lures recommends rigging the Boom R Ang with a 5/0 or larger EWG hook. Extremely versatile, it is a great choice fished weightless, on a Texas-rig, a Carolina-rig, swimjig or even on a shaky head or drop shot.
Comments: BEST!! fluke out there. Fished it in 30+ feet of water on main like points. With a 3/8 Tungsten Bullet Weight and 5/0 Lazer Trokar MagWorm Hook. Hopping it off the bottom. 8 good keeps came off one fluke, I would recommend to a friend.

From: Nate: Clarksville, TN

Comments: these are good flukes, but still not better than the zoom flukes, that being said these are the next best thing if you can't find the zoom ones. Both are way way better than the strike king kvd flukes those tear up before you even catch fish.

Comments: Bought these (Foxy Fred and Tilapia) at a Bass University seminar. Fished them weightless using Trokar Magworm 5/0 hooks. The heavy gauge wire hook was perfect for these flukes. Both colors worked like a charm! Darn things are fish magnets! The 6" fluke is hard to beat. I'm gonna get more of these things!

From: Brian: Lower Alabama

Comments: the best fluke out there! heavy enough to make far cast and darts like a champ. not to mention it stays together very well and doesnt tear up from hook sets.

From: Nicholas: Harvest, AL

***Note: If you have questions about this product or need assistance with an order please email your questions to info@tacklewarehouse.com
Color:
Baby Bass
View Large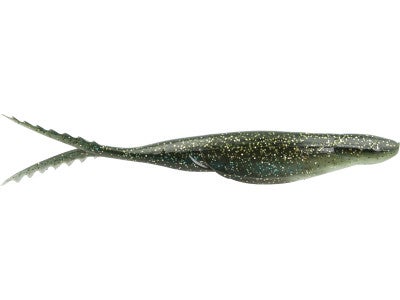 More El Grande Softbaits