Evolve Mad Mouse - $4.79

Finally, a realistic, weedless buzz mouse. The Evolve Mad Mouse will draw attention when they've seen everything else. Featuring a keel shaped belly and upturned nose, the Evolve Mad Mouse swims the surface just like the helpless rodent it mimics. Available in a range of colors, the Evolve Mad Mouse comes complete with kicking feet and a living tail.
Mice: Full of Protein. Easy Prey. Bass Devour 'Em.
Color:
Brown Pumpkin
View Large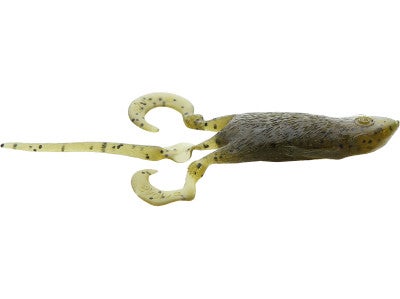 More Evolve Soft Baits
Comments: Killer with a 2/0 gamakatsu i also add some kvd sick stix scent garlic. The bass kill it

From: Fluffy Panda: the bass pro shops

Comments: I've had my hands on these since iCAST this year. This bait is now where I start when I'm frogging. It's quiet. But not too quiet.. you can see it pushing a little wake and the little legs do flutter and kick... it really looks like a little mouse swimming. It's also super detailed. Saw this on bassmaster recently so I guess people are starting to use it. It looks way more natural then a buzz frog or hollow body. Only complaint is durability of the legs, but whatever they are a 4 pack.

From: Jeff: Western PA

***Note: If you have questions about this product or need assistance with an order please email your questions to info@tacklewarehouse.com