Evolve Nervous Walker Frog - $7.19
The Evolve Nervous Walker Frog features a durable soft plastic body that collapses easily for solid hooksets yet can also withstand aggressive strikes. Engineered to be as close to natural amphibian prey as possible, Evolve's designers study the habits of both predators and prey to develop baits that will trigger strikes - even in heavily pressured habitats. The belly of the Nervous Walker Frog features incredible detail to trigger mature, intelligent fish, and it also comes equipped with internal beads for added sound. Available in a variety of realistic color combinations and equipped with an incredibly sharp, Japanese engineered, double frog hook, the Evolve Nervous Walker Frog delivers a superb walking action and the wherewithal to land those big frog fish.
| | | |
| --- | --- | --- |
| Evolve | Length | Weight |
| Nervous Walker | 2-1/2" | 5/8oz |
Comments: LOVE THIS FROG! I use these instead of koppers. the have a nice rattle in them and walk very well. my go to frog. caught bass on these when koppers couldn't. I think the details on the belly make a huge difference but who knows. bottom line great frog.

From: Ryan: Nebraska

Comments: Good Frog. Only problem I had was my loop knot would slip out of the the eye of the hook. It needs to be welded.

From: Tom: Sacramento, CA

Comments: Walks perfectly, Body is soft like koppers frog. The only issue I would say would be the hooks. Because they are rounded tip points they rolled on me after catching a few fish.. Besides that its good to go!

From: Andrew: SJ, CA

Comments: This is a sweet frog. Big boy. I haven't had any issues with it... I own about 4 of each color... the paint holds up well, great 3D eyes, and the hooks are bomb. I haven't rolled a point on any of mine. Also walks really well... a tight walk... but it's perfect. ask them to make all black.

From: Blake: Ohio, USA

Comments: knock on wood no issues with weights for me. I love this frog and I own like 7 different models. For the price and what u get,mill take this cause it's an easy walker and affordable and detailed.

From: Preston: LA

Comments: Have also had problems with the weights falling out of the back. If they could fix this it would be a perfect frog.

From: Joe: Nashville, TN

Comments: Caught my biggest to date out of some heavy, heavy grass. i guess it was the fish, but after that, i had to retire the poor frog, as the weight behind the hooks at the back end of the belly came off, i lost all the rattles and most of my weight, and i could not work it anymore. but still, as a buzzbait guy, this was an amazing expiereince. love leopard brown evolve frogs

From: Jake: TX

Comments: Best frog ever!

Comments: Realistic and tough. Best frog I've thrown.

From: Andre

Comments: Very good bait. Walks well and has the realism that I have been looking for in a frog. Great price as well.

Comments: Super Soft! Cast A MILE! Looks Sexy! ....But... The hooks seem to be a bit small for me.. Ive missed plenty of fish off of this frog. Havent landed one! I do better with hook ups with my spro. It might just be me, cuz nobody else on here seems to be having a problem. But Over all its a great frog!

Comments: This frog is softer then any frog out there... period. I fish florida, south carolina, and all over the east coast. I have a near perfect hookup ratio.. I went 9/11 on my last trip. I wish it had a wider walk, but it does have a SUPER easy tight walk. 9/10. Heard from them at the classic they have an all black coming out. It'll be killer.

From: Brad

Comments: Won't use another frog. Softest hollow body out there, period. These things have beads in the body, and sweet detailing. Cast a mile. Also, I've never used a frog that's easier to walk- you can't make them not walk. Good stuff from evolve.

From: D-Rok: FL/PA

Comments: just like the koppers live target frog, but with rattles and walks better, take the time to peel the eyes off and super glue them back on, the glue they use isn't the best. Overall, not a bad bait, but I will have to say I like the koppers live target frog better.

From: Mrbond007 East Lansing, MI

***Note: If you have questions about this product or need assistance with an order please email your questions to info@tacklewarehouse.com
Color:
Ghost
View Large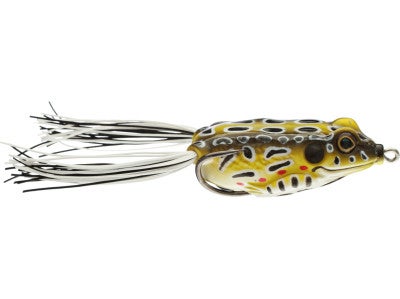 4 Available Colors
More Evolve Hollow Bodied Frogs