Extra Edge Balance Beams 14.5" - $27.99
We looked for a long time before we found this tournament grade balance beam. This is the finest balance beam we have handled and we've looked at a bunch! Everything about the Extra Edge Pro Balance Beam says quality and thoughtful design. The Extra Edge Balance Beam is constructed from heavy-duty aluminum flat stock that will not bend under a heavy load. The oversized snaps are easy to manipulate even with gloves on and will go through the gills of the fish instead of punching holes in their jaws. The holes in the beam that take the snaps are lined with a Delrin grommet for friction free swiveling and no wear on the aluminum stock, there is a bubble level for really close culls. Maybe the best part of this beam is the beefy t-handle that allows you to hold wild fish firmly until they calm down enough for the balance to work. This Extra Edge pro model balance beam has all the features you'll need on the water and the quality to last a lifetime.
Extra Edge offers a Lifetime Warranty.
Comments: Awesome balance beam. By far the best I've come across very accurate and the balance bubble really comes in handy for those close ones.

From: TJ: Gonzales, LA

***Note: If you have questions about this product or need assistance with an order please email your questions to info@tacklewarehouse.com
View Large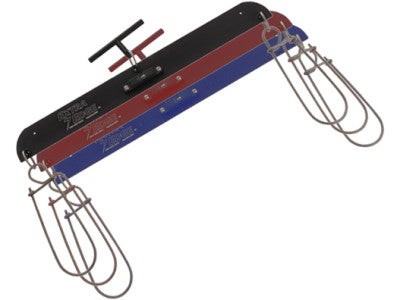 Place Your Order
More Extra Edge Accessories