Fish-n-map - $8.95 to $9.95

The Fish-n-Map map series offers one of the most detailed maps available. Each map features one or more lakes, rivers, or other bodies of water and gives you detailed topography. All Fish-n-Maps feature a description of weedy and rocky areas, flats, deep drop- offs, and other important fishing information. In addition, the map will point out areas on the lake where fish concentrate, so if you've never fish a particular body of water before, you can have some good starting spots. The Fish-n-Map also gives marina, dock and campground locations and contact information. Want to locate the river or creek channels? They are clearly marked on the Fish-n-Map. Need road information? Fish-n-Map offers an extensive road map of the area around the lake with road names clearly marked. Find creeks, bays, islands, underwater structure, boat ramps, underwater roadbeds, grocery stores, RV dump stations, fuel docks, and other important local destinations with these detailed Fish-n-Maps.
*All items that list in stock 10 Days are non-stock items. Once an order is placed for a non-stock item Tackle Warehouse will have the product in 10 days dependent upon availability from the manufacturer.
View Large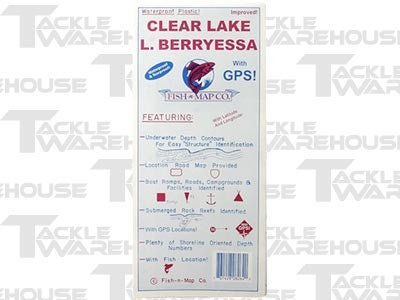 More Fish-n-Map Topograhical Maps
Comments: These are by far the largest necessity for any tournament and recreational fisherman. The details and side notes are more efficient and Fish'nMaps are always up to day.

From: Kyle: Eugene, OR

***Note: If you have questions about this product or need assistance with an order please email your questions to info@tacklewarehouse.com