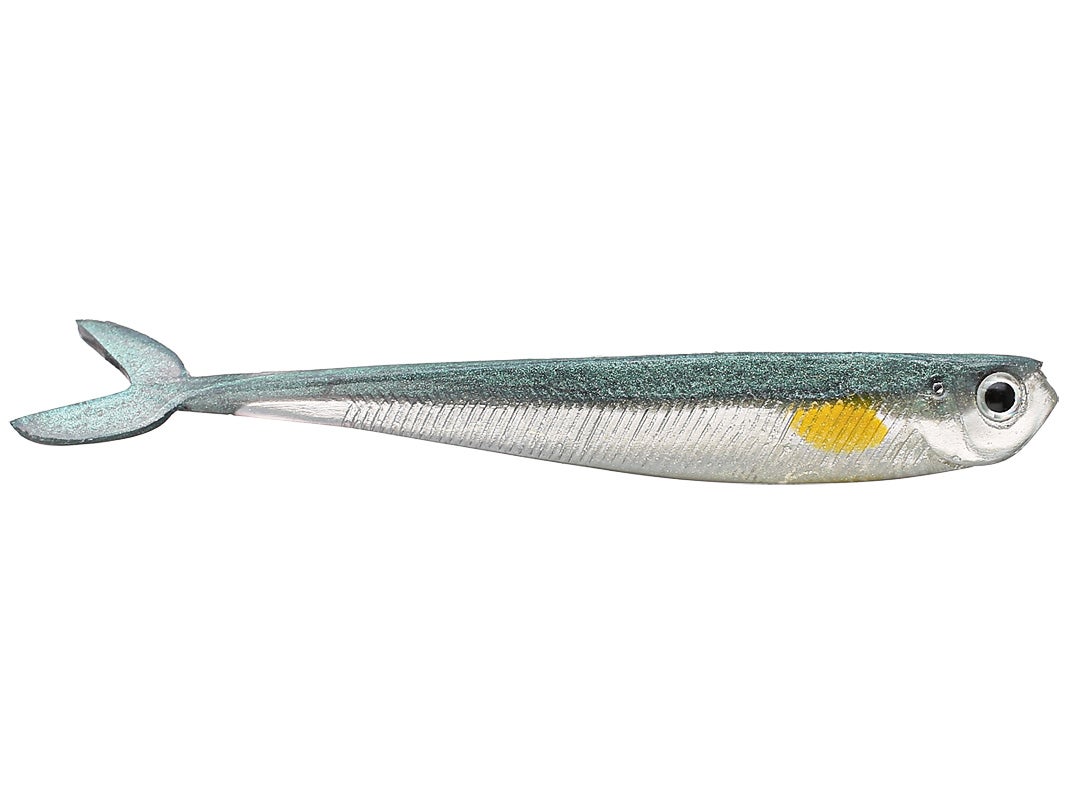 The Hawg Shad, from Fishbelly, is a Japanese designed soft bait line that is uniquely realistic, and ideal for catching a broad array of fresh and saltwater species. The Hawg Shad looks so lifelike, they could have been dipped out of your minnow bucket. The enlarged eyes and natural finish will fool any fish. Since Hawg Shad is designed to swim like live bait, the lure is irresistible to a predator fish as well as the angler who fishes it. Fish cannot resist hitting these baits and they refuse to let go.
All Fishbelly hand-poured soft lures are made from supple silicone material that perfectly imitates real bait fish. They all feature big, natural eyes, full-body shapes that match live bait, and colors that radiate with an iridescent sheen.

Please note: 3.5" version actually measures 2.5", 5" version actually measures 4".
| | |
| --- | --- |
| Length | Quantity |
| 3.5" | 7 |
| 5" | 5 |
7 Colors
More From Fishbelly Softbaits
Customer Reviews
Comments: was highly recommended this product by a club member for dropshotting. Bought both sizes in a couple colors. They are soft and have great colors. The eyes will fall out fast though. The smaller version is really small and while it may catch bass I have little confidence. The larger size is about the proper length but it is extremely bulky for finesse dropshot but would be better on a heavy cover dropshot rig.
From: Montanaro: USA 9/22/15

Comments: Been using the 3.5" for over a year and they were awesome dropshotted for spotties/halibut. I recently purchased a couple more packs and was very disappointed to find out the baits are now 2.5", but still marked as 3.5". That's way too small and now even more fragile. Returned, contacted TW and it looks like they're all 2.5" now. No good!
From: Collin: San Diego, CA 9/21/14

Comments: Thank you fishbelly . Just got from a fishing trip from upstate ny . I threw everything at the smallies bass minnows , bento's , paddle tails and keitechs i caught some . Then the 3.5 hawg shad came out crushed smallies 2 guys 100 smallies in two days 50 over 4lb 10 over 5lb . I also caught perch , walleyes , stealheads and a giant brown trout . Amazing bait thank you for the memories .
From: Will: Milford, NJ 5/24/14

Comments: This my go to bait when im fishing on beds. if the bass isn't hitting my senko, they are def gonna bite this almost 99% of the time. I nose hook it with a drop shot hook with no weight. it has a buoyance to always stay upright when it falls.
From: Big: Nor Cal
Comments: Awesome baits, really soft yet durable and with great action. My only caution would be to avoid the "milky" versions, as their opacity is achieved with tiny air bubbles which greatly weakens the plastics and they get beat up much faster than their non milky counterparts.

From: Matt: WMass

Comments: Fished a few of the different colors in salt water applications - had quite good luck with these baits. Primarily drop shotted the 5" baits. First time fishing these caught a very nice sand bass, as well as the targeted species of halibut. If you make a 7" bait or something a little larger - I will definitely fish it!

Comments: We use the whole range from fishbelly Hawgshads, kick S shads and tri finn, they all out perform many other baits for sure in the winter when fish are slow, they create the action thats hard to resist. For the dutch sanders whe have the spearing scent made by fishbelly, many of my fishing buddy's won't go to the lake without this.

From: Bennie: Netherlands

Comments: i went ahead and used this at a rock quarry , where the water was crystal clear and the bass are very wary. casting by brush , rocks or in open water ,it didn't matter.when they came to see the fuss ... bam!!

From: Ruben: Los Angeles, CA

Comments: i fish the 3.5 on a drop shot and on a darter head w/ good results especially w/ smallies and use the 5 in for a jerk bait

From: Jiggin nj

Comments: 1/4 oz scrounger head, matched with a 3.5 inch hawg shad. glue it on and get ready guys. not just a drop shot bait. smallie killer.....but what do i know! i just helped someone win a tournament this summer! chow!

From: Mr. Perfect: Chicago

Comments: Agree with the last guy...terrible durability, and not that great of action.

From: Tamaya: Texas

Comments: best bait ever ,you'll catch everything out on the shallow grass flats in blueback herring greenback and milky green back you'll catch any snook tarpon reds and nice sea trouts,even when the snook wouldn't hit on any other things out on the fender at night those same colors will work o and also catch sea trout and reds with it to. over all a very good bait.

From: Corey: Sarasota, FL
Comments: Since I started using this bait, the amount of fish I catch has sky rocketed. Its so life like how can they not eat it!! I love Ayu, Alewife, and Yellow Perch!

From: Tay: Ontario, Canada
Comments:The Hawg shad is just great! Since I have been using them my results at contests have gone up. Drop Shot rig the 5" Hawg Shad, you can catch multiple big fish on it! My favorite colors are Milky Ayu, Grandma, Alewife & Marsh Killer. The 3.5" Hawg Shad is perfect to drop shot for Perch and Pike!!! Sometimes the water is just full with 3" baitfish, during this time pike just eat smaller size baitfish... Just try it!
From:Steven: Melsele, Belgium
Comments:The Fishbelly Hawg Shad soft bait makes a great drop shot. Very realistic in the water. Just a little twitch. I used colors: Alewife, Greenback and Pearl-blue.
From:Craig: Morristown, NJ
Comments:Awesome bait!!! I finally found the bait that "matches the hatch" of my home waters. If there is a color you are looking for Fishbelly has it. I guarantee it. This bait is super soft and amazingly buoyant. On a drop shot the 3.5 inch almost suspends. Not sure what they make it out of but it's definitely not regular plastic. First time out with the "Milky Ayu" 3.5" my wife and I doubled up they were both well over 5 lb bass but of course hers was bigger. These Ray Roberts Bass just eat it up!! Cant wait to get back out
From:Kevin: Denton, TX
Comments:Great looking bait, horrible durability. One fish and ripped.
From:James: Lafayette,LA