Go where other bladed swim jigs can't with the Frenzy Baits Frenzy Vibe. Designed by touring professional, Greg Gutierrez, the Frenzy Baits Frenzy Vibe is extremely weedless and can be fished through the thickest of cover to trigger bites. Perfect for stained or muddied waters, the Frenzy Baits Frenzy Vibe is built with a vibrant hexagon blade that makes it incredibly visible in the water. The Frenzy Baits Frenzy Vibe also features an innovative pivoting hook system with a 4/0 wide gap hook for maximum hooking and fish fighting potential. Available in a variety of colors, the Frenzy Baits Frenzy Vibe is the perfect tool for tempting bass in and around thick cover.

-Backed by Frenzy Baits Limited Lifetime Warranty
View Large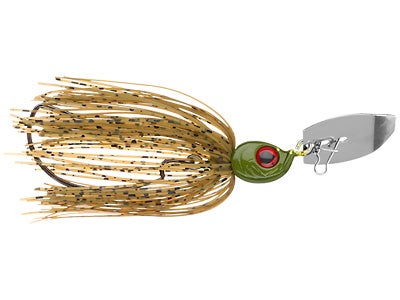 More Frenzy Jigs
Comments: Got one of these in bluegill. Overall it looks like a quality jig but look closely at the pictures. If you look at the jig connection with the blade, you will see it is an open jig eye. The edge is sharp, so if the line ever wraps around the jig head, it will definitely go through the open eye, nick the line, and most likely break. The skirt was also not completely cut, so I had to separate many of the skirt tentacles. Not a big deal, but for an $8 version of a chatterbait, you would expect more attention in the details for any jig claiming to be tour quality. The paint started chipping before the first use, so I don't expect this jig to hold up for long. Lastly, the jig connection between the hook and jig head is very tight, not allowing the trailer to swing freely. Overall, I think that poor manufacturing killed what could have been a good design. On a positive note, the jig head design and skirt colors are excellent. If quality issues were addressed, this could be a great jig.
From: Enrique: Austin, TX 6/17/14

Comments: I liked the first one so much I ordered 3 more but was VERY disappointed in the blades on the recent order. The high quality plated blade on my first one and shown in the pics, had been replaced with a cheap, oval, unfinished blade. For $8, I expected the same level of quality. I won't buy them again until I know what blades I'll be getting.
From: Tom: Broken Arrow, OK 3/11/14
Comments: great concept and will catch quality fish. Only complaint is when casting, the hook sometimes rolls over fouls on itself. Esp. The heavier bait making long casts.

From: Casey: Dover, Ohio

***Note: If you have questions about this product or need assistance with an order please email your questions to info@tacklewarehouse.com