Gamakatsu Finesse Heavy Cover Hook 4pk - $4.99

The Gamakatsu Finesse Heavy Cover Hook delivers all the attributes of the original Gamakatsu Heavy Cover Hook - now with a medium wire construction. Perfect for throwing Roboworms and other soft plastic baits on 8-12lb line. Gamakatsu worked with their top bass pro's to design the improved bait keeper. Instead of a bulky heat shrink barb, it features a small wire keeper. The keeper has a small compact profile, and is strategically placed for superior holding power and consistently straight rigging. It also comes equipped with a welded line eye. Available in a range of sizes, the Gamakatsu Finesse Heavy Cover Hook delivers the sticky sharp performance and application specific engineering that has consistently made Gamakatsu an industry leader.
Click on the ICAST 2011 icon below the main image to check out video of Bassmaster Elite Series veteran, Aaron Martens, discussing the Gamakatsu Finesse Heavy Cover Hook at the 2011 ICAST Show in Las Vegas.
View Large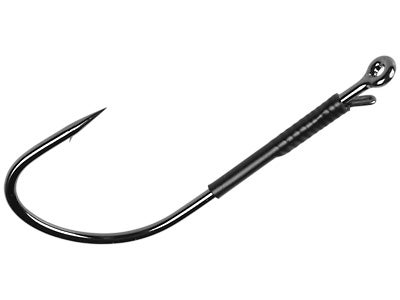 More Gamakatsu Worm Hooks
Comments: Hooks are very strong and sharp, only problem, The bait keeper on the back keep falling apart and breaking off...

From: OMD: SWFL

Comments: Tired of straightening out the so called strong hooks? Try these. You WILL NOT straighten this beast out and you will be happy. They hold the bait so well too.

From: Mike
Comments: Finally a stout straight shank that will fit a Smallie Beaver or similar sized bait. In pressured areas flipping small stuff can grind a limit when bigger modesl get ignored. Problem small EWGs or offsets have lighter wire, which makes it hairy in thick cover. Not only it this hook stout, with a snell knot and the proper rigging the hookup rate is much better!

***Note: If you have questions about this product or need assistance with an order please email your questions to info@tacklewarehouse.com