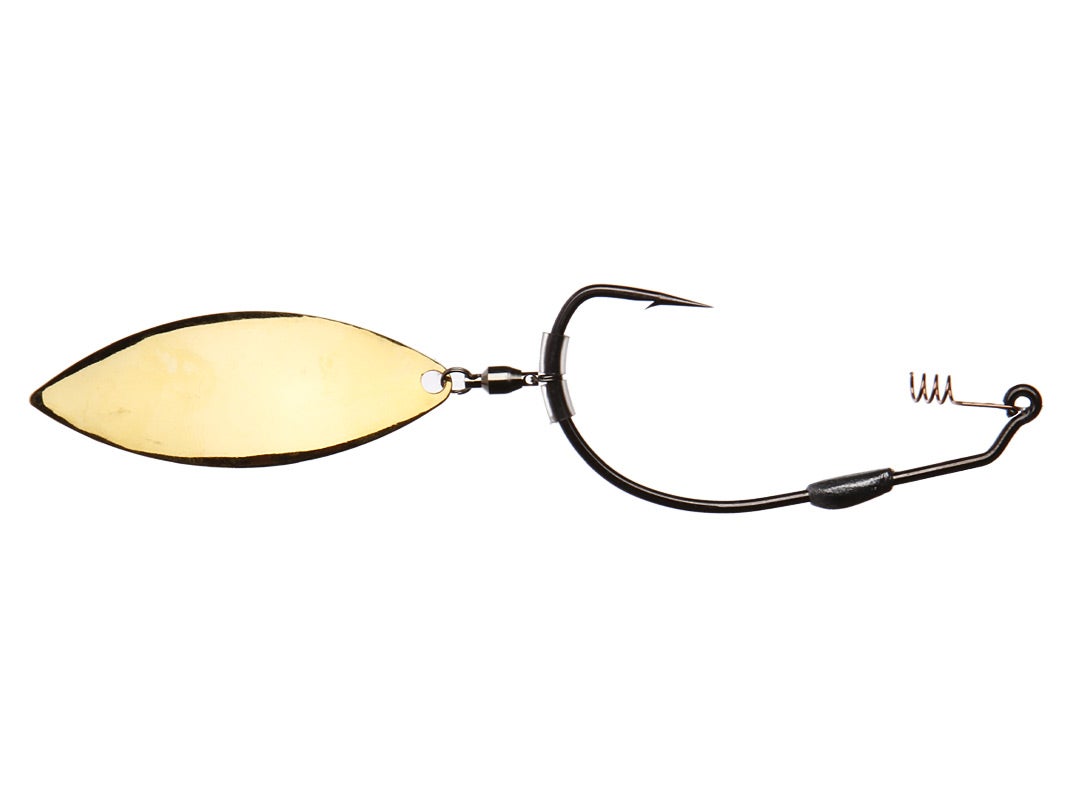 Ideal for dirty water or windy days, the Gambler Duz-It allows you to fish a swimbait or other moving bait weedlessly, and it also features a premium willow blade for increased visibility. The flash and vibration of the willow blade helps fish zero in on the bait, and the screw-in bait keeper combined with the super sharp EWG hook mean you can throw it up into the grass and bring it back much more easily than a spinnerbait. You can even add a weight to the nose and slow roll it down deep through timber. The premium willow blade is held in place with two rubber grommets and easily adjusts to accommodate any shape swimbait. Add another dimension to your swimbaits with the Gambler Duz-It.
Fish the Gambler Duz It with the Gambler Big EZ or Gambler EZ Swimmer to create a Big EZ Duz It and an EZ Duz It.
4 Colors
More From Gambler Terminal Tackle
Customer Reviews
Comments: The duz it does not do it for me. While whacking the dog snot out of them on a different style head, I tried this one. I figured the bigger blade would get a bigger bite or at least give a different look. Nada. Back to the other head and FISH ON again. These will sit on the bench.
From: Jay6: USA 10/13/14

Comments: Hope they start making these with a smaller sized hook. Would like to use some smaller sized swim baits with this setup. Other than that it works well. I use a Keitech swing impact fat. Action is really good!

Comments: I was fishing 11/2/13 in a local township pond using craws when I was done I used the gambler duz it. I took the hitch hiker off when I got the hooks replaced it with medium owner cps coil spring that TACKELWAREHOUSE SELL IN BULK A 50 PACK HOOKED IT TO A TRIGGER X SLOP HOOPER RAN PERFECT. HOOKED A 4.25 GAMBLER EZ SWIMBAIT UP WITH A 6/0 ALSO WITH THE OWNER CPS COIL SPRING RAN PERFECT.THE BEAUTY IS YOU CAN ADJUST THE BLADE FROM THE WEIGHT TO THE END OF THE HOOK IF NEEDED THE BLADE SITS IN BETWEEN TWO PIECES OF PLASTIC JUST MOVE THE PLATIC WITH YOUR HANDS TO ADJUST THE BLADE.THE BLADE AND THE BLADE SWIVEL ARE VERY DECENT QUALITY.SO A COIL SPRING IN MEDIUM ABOUT .30 CENTS A TWO MINUTES IN LABOR WITH installing THE COIL SPRING.I rate it a ten cannot wait for spring time in new jersey to use it TACKELWAREHOUSE IS RESPONSIBLE FOR 90% OF ALL MY BASS GOOD FISHING GUYS

From: RICHARD: MOUNTAINSIDE NEW JERSEY