Gambler KO Hook 5pk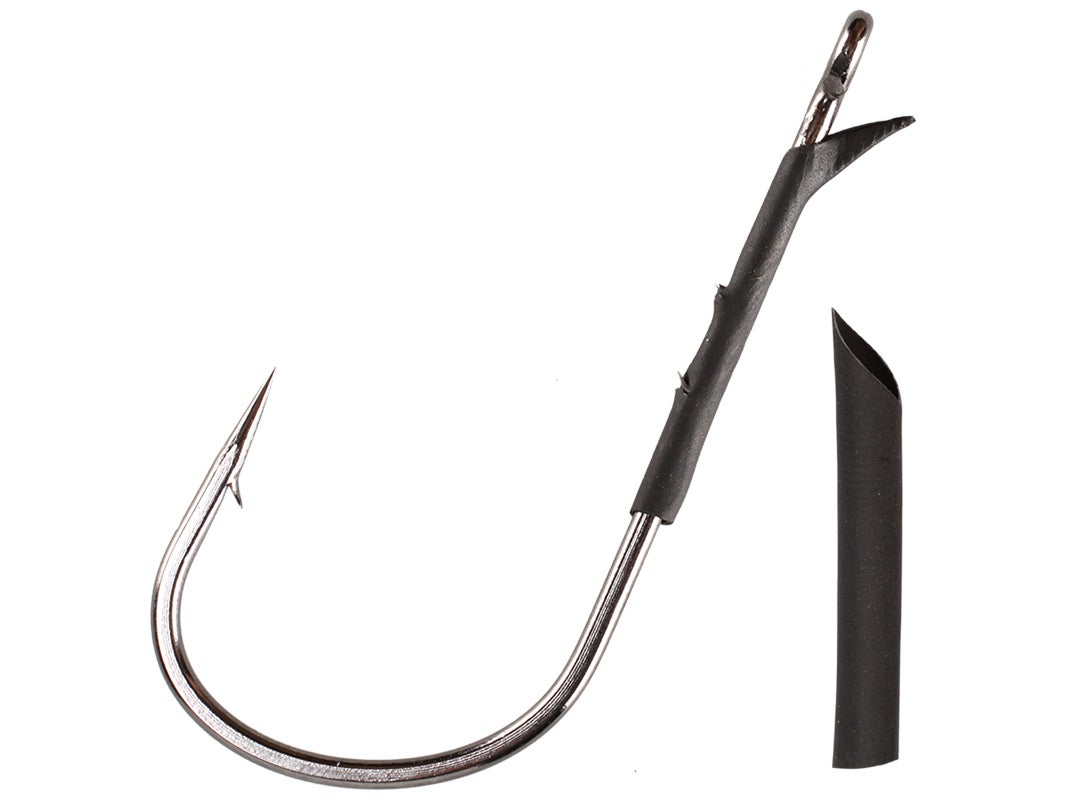 Designed to stand up to the rigors of punching and flipping big fish, the Gambler KO Hooks are built super sharp and super strong. Featuring welded eyes, exclusive heat-shrink KO Keeper barbs, and black nickel finishes, the Gambler KO Hooks are up to the task of hooking and hauling big fish out of the slop. Available in 3/0 and 4/0 sizes.
Comes with 7 KO Keeper Barbs.
BASS Elite Series professional angler, Chris Lane recently credited the Gambler KO Hook as a key component of the flipping rig he used in route to his January 2010 victory in the Bassmaster Southern Open at Florida's Lake Okeechobee.
Place Your Order
More From Gambler Terminal Tackle
Customer Reviews
Comments: Im glad a buddy of mine gave me one of these hooks to try. Because coming onto here and seeing the terrible reviews would of made me a doubter and i would of bought something else. But these hooks are great! The barb doesnt tear your bait up and it sits better in the bait than a trokar or a strike king. Infact i gave up on flippin hooks and just started flipping EWG hooked snell knotted instead until i came across these babies! They even send you a couple replacement barbs incase one was to start falling down. In my opinion, they are great hooks and i will buy more!

From: Brad: Lakeland, FL

Comments: Bought a couple packs of the 3/0 and 4/0. The 3/0 were sticky sharp but, the 4/0 were pretty dull. After touching them up with a file, they were good to go.

From: Kyle: Charleston, SC

Comments: I don't know what the dull hook complaints are from, every hook I've purchased is pretty sharp. Plus, if you are using this w/ braid, it shouldn't be a problem. The eye is welded, and the keeper is nice that it doesn't tear up your bait pulling it through the plastic initially

From: Dave: Elburn, IL

Comments: No where near as good as the paycheck/reaction innovations punch hook. The bend is too wide and will straiten out.

From: Stinkypinky: FL

Comments: Beware! Hooks are extremely dull. Good bait keeper and welded eye. Putting fish in the boat will be a problem.

From: Greg: LA

Comments: i bought 2 packs of these ko hooks i flip 90% of my tournaments they are a supreme hook no problem handleing 6lb plus fish.and sharp

From: Frank: Santa Maria, CA

Comments: I was kind of down on the hook sharpness deal. But, it didn't matter with the XH rod and heavy braid to me. I tried the more expensive straight shank flip hooks. All of them. I switched back to the KO. I like the barb better, I will touch up the point if needed, I simply keep more fish buttoned on the KO!

From: Brandon, Athens, AL

Comments: So..."Learn how to set the hook like a man", and "know how to sharpen a hook." It sounds as though you are confirming the lack off sharpness these other insightful post are highlighting. Thank You and everyone else for your feedback.

From: Sherry: Camus, WA

Comments: I know brandon mcmillan of the flw tour. He won on the big o this year using these hooks to catch over 105 lbs of fish in 4 days. Maybe these guys leaving bad reveiws should put their kiddie poles up and learn how to set the hook like a man. Also its amazing how many people dont know how to sharpen a hook, quit crying and do your homework.

From: Jason: Clewiston, FL

Comments: I bought these hooks in spite of the bad reviews on the dullness of these hooks. Well...they were right. Spend the extra buck or two for the BMF, paycheck or gamakatsu hooks. Plus the tubing is like rubber and does not hold up. I add superglue to mine to stiffen them. Don't trust them in a tournament.

From: Tim: Medford, OR
Comments: Wow! Let down on the sharpness of these hooks. Fish are either hooked way back in their mouth, where its hard not to get a good hook set, or not at all. Has a hard time getting through the bait and the fish's mouth.

From: Craig: Belle Rive, IL
Comments: Strong wire and good quality eye but not sharp at all.

From: John: North Idaho
Comments: I love Gambler.... but these hooks were awful. You couldn't hurt yourself on purpose with the dullest hooks I've ever seen. Wish I didn't buy two packs to test them :(

From: Pat: Palm Beach, FL
Comments: Incredibly DULL!!! I bought these as a cheaper alternative to the Trokars - but I wasted my money. Every hook point in three different packs were rolled over and the ones that weren't, we dull as a door nail. The Trokar Flipping hooks and those are the real deal. I don't like their other hooks, but the flipping hooks rock.

From: RT: Minnesota, USA
Comments:These hooks are the real deal. Super sharp and super strong. No point rollover at all. I couldn't be more pleased. Save your money on the Trokars and buy 2 packs of KO.
From:Kevin: Dover, FL