Gambler Southern Swim Jig - $3.39
Gambler Lures introduces the Southern Swim Jig. Gambler Lures designers and pro staffers noticed when fishing other swim jigs they just didn't hold up to what big fish can dish out or to the conditions of heavy grass or timber. The swim jig technique originated up North in open water around docks and areas without an abundance of heavy cover. When catching big Southern bass in heavy cover the original swim jigs needed some improvement.
Gambler Lures designed the ultimate heavy cover big fish swim jig. A 6/0 heavy wire hook is the basis of Gambler Lures design. This hook will hold up to braid, big fish, and any heavy cover imaginable. The head design of the Gambler Southern Swim Jig keeps the jig running true and coming through grass without hanging up. The weedguard is the perfect thickness to deflect cover but still allow excellent hook penetration. Couple the Gambler Southern Jig with the Gambler Flappy Daddy, Twin Tail Craw Grub, or MegaDaddy and start swimming a jig to see what you have been missing.
View Large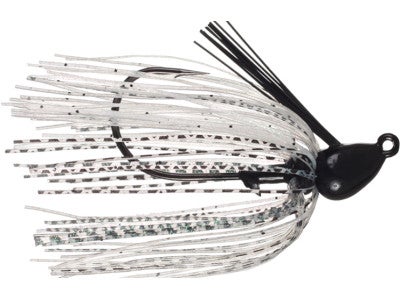 More Gambler Jigs
Comments: I have to agree with J from AL. This is almost the perfect jig but the weed guard is too soft. Doesnt protect the hook from cover at all. Throw some more fibers in there and let the user trim to their liking. Otherwise the hook is awesome.
From: T: TX
Comments: This is not a bad jig if you are not fishing heavy cover, but the weed guard on mine is very soft and hangs in water willows easier than some jigs. It does have a great big, sharp hook which is why I bought it in the first place.

From: J: AL

Comments: Top of the line swimjig! Very strong and stout hook. I pair it with a Gambler Mega Daddy as a trailer, just bite the first 1/2 inch off and hook it through the beefy part of the body. The legs on the Mega daddy push some serious water and definitely cause a reaction bite!

From: Brad: Lakeland, FL

Comments: Great swim jig with a wide gap, sharp, stout hook. I pair it with a 5" Kalin grub and burn it close to rip rap banks. I've had a lot of reaction strikes from spots while fishing rivers.

From: Aaron: Arkadelphia, AR
***Note: If you have questions about this product or need assistance with an order please email your questions to info@tacklewarehouse.com