Gan Craft Jointed Claw 178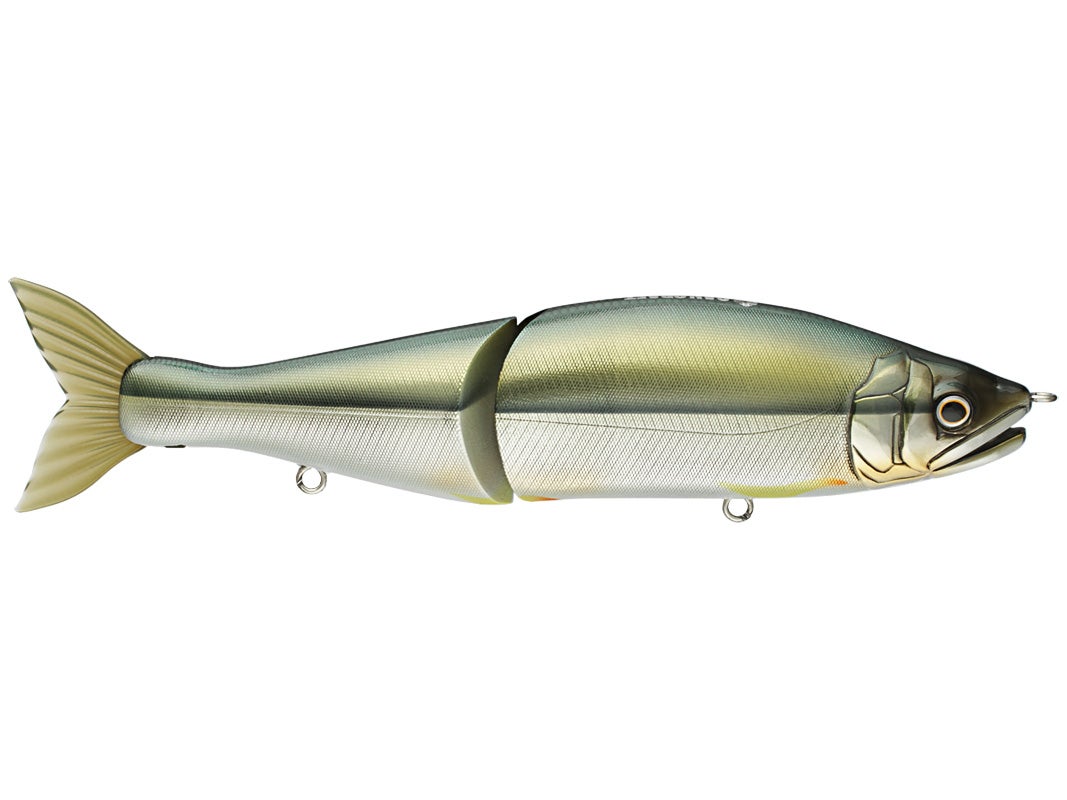 Known around the world for its undeniable "S- shape" action, the Gan Craft Jointed Claw Series has been the focus of magazine articles, DVDs, books, and multiple YouTube videos. Bursting with lifelike detail, the Gan Craft Jointed Claw 178 is the base size in the famed Jointed Claw Series. Providing an unmatched action and versatility, it's available in both a slow-sinking and a floating version, providing you with the ability to track down bass at any depth.
On a steady retrieve the Gan Craft Jointed Claw 178 produces one of the most graceful S-curves on the market. With a slower retrieve, you can produce a slightly more erratic presentation by mixing in some light twitching. When fishing the slow-sinking version, drop it all the way to the bottom, and give it a healthy pull to create a hopping effect that's identical to foraging prey. Built with premium materials, the Gan Craft Jointed Claw 178 is the epitome of quality and precision. Fitted with Owner Stinger Hooks, a replaceable rubber tail, 3D eyes, and elaborate scaling, the Gan Craft Jointed Claw 178 will be one lure that stays tied up for years to come.
| | | | |
| --- | --- | --- | --- |
| Gan Craft | Length | Weight | Class |
| Jointed Claw 178 F | 7" | 2oz | Floating |
| Jointed Claw 178 SS | 7" | 2oz | Slow-Sinking |
13 Colors
More From Gan Craft Swimbaits
Customer Reviews
Comments: Great bait, well balanced and can be fished relatively fast. Unlike the S Waver, you don't need a direct line to the bait to get good action from the bait. More importantly, this company backs their products. I had a 178 with a few fish on it after two trips and I noticed it was leaking in the front half of the bait. Contacted GanCraft via their site, they had the US rep send me a Fedex label & they had a new bait at my door in a week flat from the time I sent it out.
From: Chris: Tustin, CA 5/12/16

Comments: The Gan Craft Jointed Claw 178 is the perfect size for a glide bait! S-curving with a wide searching motion is impressive, especially when you consider this is achieved by straight reeling, no twitches! Sometimes the tail fits loosely, in this case I brush a vinyl adhesive over the exit belly slot to ensure that the tail will not back out. Do not place any adhesive in the shaft, otherwise the tail will become permanently part of the bait. Tackle Warehouse has the replacement Gan Craft Jointed Claw Magnum Spare Tails ready for purchase. Keep on fishing, this lure has a largemouth bass ready for the record books!
From: William: Thomaston, GA 3/23/15

Comments: Yesterday I lost one of these and watched in terror as it sunk to the bottom of the Delta. I would have cried if not for my buddy watching holding back chuckles. It hurts to lose. Sad morning.
From: Adam: CA 12/8/14