Gear Grabbar Lure & Tool Holder - $20.99
Featuring a revolutionary magnetic system, the Gear Grabbar Lure & Tool Holder can hold up to 9 lures with its lure magnets, 8 lures with its magnetic top shelf slots, 1 tool and any number of loose hooks, jig heads, swivels, line snips or pocket knives on the magnetic top shelf. The super strong Neodymium magnets hold your lures and tools firmly, but also slide off easily when pressure is applied. This means you can worry less about getting snagged as you move by the lure holder, or when you have kids and pets on the boat. By storing and organizing your lures and gear with Gear Grabbar Lure & Tool Holder, you can have confidence that you are being proactive to reduce hook injuries. The Gear Grabbar Lure & Tool Holder can be mounted on the rail of your boat, on your kayak or dock - magnetically (included), adhesive sticking dots (included), or by pre-drilling holes into the unit and screwing to boat, dock, etc.
Dimensions: 13"L x 1.75"H x 1.25"D
Magnetic Safety Warnings - Click Here
Comments: I placed mine by the driver console. I keep my pliers, clippers, spare trebles, snaps and swivels on the top and my got to baits hanging on the bottom. I know where everything is at and sharp things aren't laying on the boat floor.

From: Andy: Mooresville, NC USA

***Note: If you have questions about this product or need assistance with an order please email your questions to info@tacklewarehouse.com
Color:
Black
View Large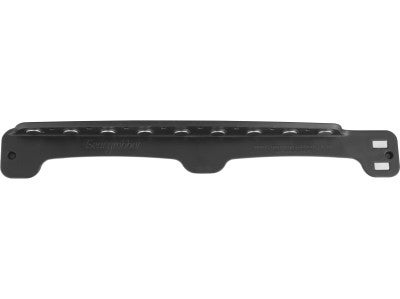 2 Available Colors
More Gear Grabbar Lure Holders