Gene Larew Biffle Bug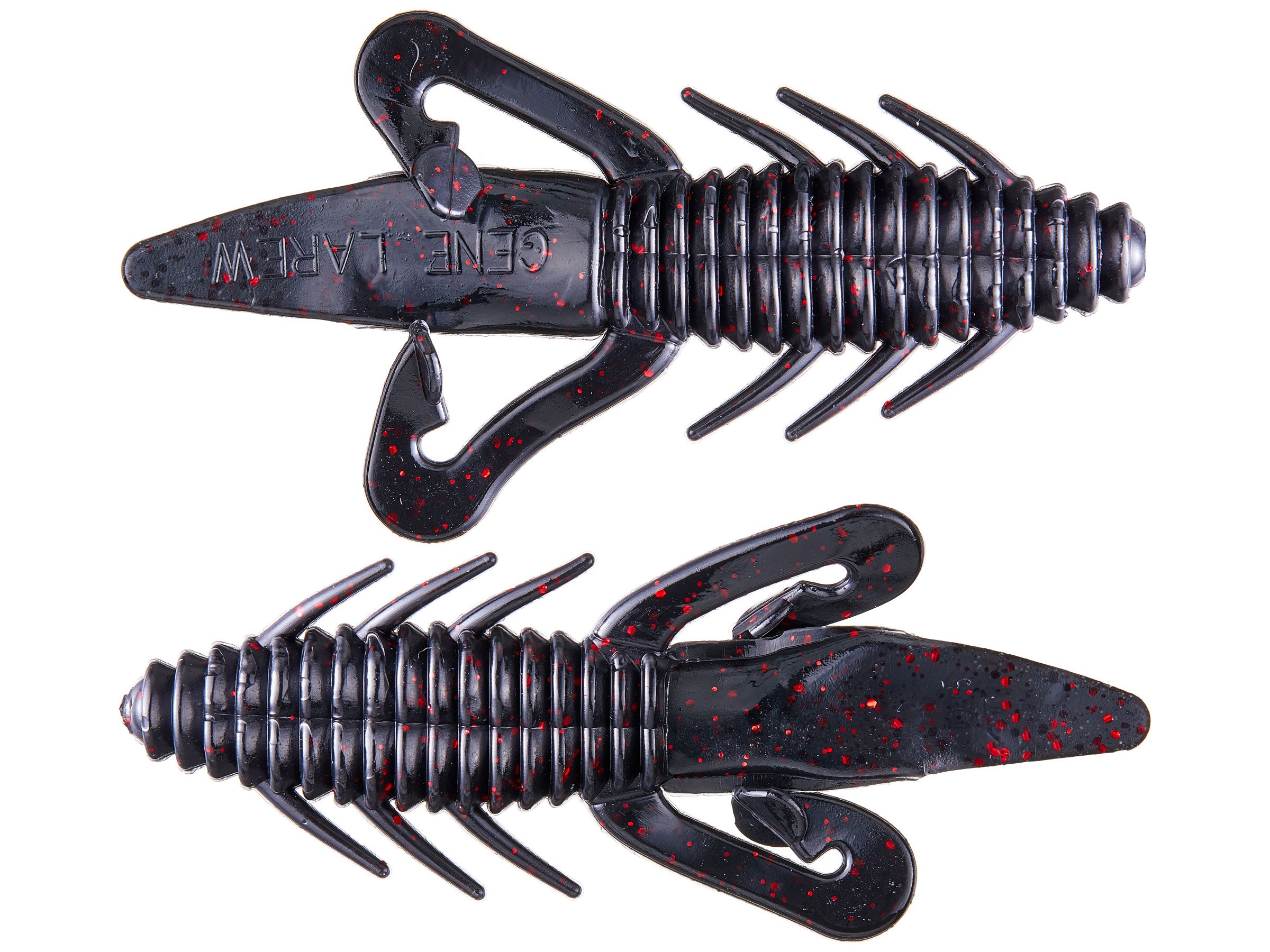 Please Note: Bama Bug & Okeechobee Craw Are Imaged Correctly.
The Gene Larew Biffle Bug incorporates the best features of several top baits into one compact design. The Biffle Bug's body is slim yet wide, and covered with concentric ridges. The first 3/4 inch of the Biffle Bug is solid for hook support, while the rest of its body is hollow like a tube. The cavity is oval, not round, better fitting the shape of the body and also serving to hold a rattle in place simply through natural compression. The Biffle Bug's hyper-active swimming legs feature a special foot-pad to make them come alive with the slightest movement.
Pinch the legs off and the Biffle Bug becomes the perfect glide bait. The cupped tail provides unmatched action to the lure's descent. Although more compact and streamlined with the legs removed, the Biffle Bug retains an enticing profile that screams "easy meal."
Tommy Biffle won the BASS Ft. Gibson Elite Series throwing the "Sooner Run" colored Biffle Bug.
| | |
| --- | --- |
| Length | Quantity |
| 3.5" | 8 |
| 4.25" | 8 |
| 5" | 6 |
51 Colors
More From Gene Larew Soft Baits
Customer Reviews
Comments: I tried the Biffle Bug in okie dokie, sooner run, and bama bug in the 3.5" and 4.5" versions texas rigged, and used this setup all summer long because it kept catching fish. The hardhead never worked for me, mainly due to the fact my homewater is a marsh will lots of grass, brush, and weeds, and not many flats or gravel. I chose the biffle bug over other baits because I felt there wasn't many people using this, while they were using all the other popular baits.
From: Marcus: Canton, IL 11/26/14

Comments: Buy some. These things rule! Semi hollow body allows you to stuff the butt with scent. The rear legs have a medium swimming action. The bait is pretty durable too, at least three fish per bait- at least. I've had success with the regular size and the big one (4.5"). Peanut butter jelly is my favorite. These really are the only soft plastics I feel I need for punching.
From: Matt: MA 10/8/14

Comments: Awesome baits. I was extremely late to the party with the Biffle Bug, but now that I've fished it, it's just flat out amazing and a staple in my arsenal. They are durable, come in some great colors, and have a hollow body so you can insert a rattle and a cotton ball soaked in JJ's Magic. Fish flat out kill this thing. Fish it on a 7/16oz Hard Head and you're in business.
From: Jason: Dandridge, TN 10/4/14

Comments: I am very particular about my plastics for whatever use, esp jig trailers. I gave this dude a shot and I'm super glad I did! The Biffle rig is legit but I find my most diverse use for the bug is on a 1/2 Booyah jig. Skip's great, pitch it, stroke it, swim it, drag it, yadda, yadda... THUMP!!! The colors are excellent, the action gets bit and it is very durable. I went through 7 fish bg on 1 today to 4#'s and there is zero signs of the plastic coming off the jig or tearing. A++ in my book guys!
From: Ryan: Evansville, IN 9/17/14

Comments: These things catch fish. When the football head bite slows, throw one of these bad boys on a swinging tungsten FH and get ready. Action is great, and the hollow body opens up so many options- rattles, cotton ball+scent, etc. Fairly durable, and maybe a little more $ than other creature baits, but save your $1 a bag while I keep dragging hogs to the boat.
From: Dallas: GA 8/27/14

Comments: These are great fish catching baits. I have used them for a year now on the hard head in all types of places and they catch fish at any depth. The surprising thing is that when rigged on the hard head they are more durable than I would have expected. I can catch four or five fish per bait in most cases and having a leg tear off is quite rare compared to most baits. I have also had great success swimming them on a texas rig as well as flipping. I opt for them is clearer water scenarios with more depth so that the legs can work and they are not particularly weedless in really heavy cover as they are really soft. The Smoke silver color is no joke. I was skeptical, but it has become my go to color on the hard head.
From: Billy: Washougal, WA 8/9/14

Comments: This bait is a great option for days when fish want something swam along that is not too wiggly. I find it works best for me in post spawn and post front when other things aren't working. Regarding those guys who think a d-bomb or any bait is better because it worked better on a given day, well, great! You will find on different days that some baits work better than others. Or on some waters some baits are a better match to what the fish eat. That doesn't make one better than the other beyond that one day or that one water. To think these aren't worth keeping in your bag because one day another bait worked better is to limit your upside on days that other bait isn't getting bit and these might get em going..... you are only limiting yourself with that thinking. Bring your d-bombs, fish your d-bombs, but keep some other styles handy if needed.
From: Eric: 8/6/14

Comments: This has become my go to bait for catching big fish. It is deadly on docks or ledges. I caught a 8.2lb and a 4lb. on docks in a tournament that only 8 anglers caught fish. It is great on ledges also. The 4.25 oz. purple bug has been my best producing bait.
From: Carl: Hunterville, NC 7/17/14

Comments: I have no clue of what in the world this thing resembles or how it got to the drawing board but believe one thing buddy this is a fish catching machine in a Bag. Dark Watermelon Green And Purple Flake with a 3/16 Spot Remover head and send it to the bottom or Carolina Rig it stuffed with a Cotton Ball full of Smelly Jelly.
From: CJ: Gretna, LA 7/9/14
Comments: There is no question about the fish catching ability of this bait! Any conditions this bait can and will catch fish. Countless times I have put my kicker fish in the boat with a biffle bug accompanied with the biffle hard head.
From: Cody: North, TX 5/27/14

Comments: LOVE this bait! Durability 9/10 the durability is great, i caught 4 bass until it actually started ripping, and i could still even use it! Action 10/10 on the fall the 2 little legs flap erratically and the bass just engulf it! Price 7/10 a little on the expensive side but its totally worth it. All in all if you are looking for a great creature bait to use any time of the year, the 4.25 inch biffle bug in green pumpkin is the way to go! Rig it on a VMC rugby jig head (5/16 oz) and go to town! I found my go to creature bait!
From: Colin: MA 4/24/14
Comments: Combined with the hard head, the Biffle Bug is an easy-to-fish hybrid between a texas rig and crank bait. Honestly, with the hard head it is a simple cast-and-reel lure, just keep it on the bottom. Buy any shade of green and you can't go wrong.
From: Richard: TX 4/18/14
Comments: I'm With Jay, fished the whole day with the Biffle Bug and caught 2 alright sized fish. first cast with the D Bomb, got a 4 pounder. Ended up catching 7 fish on the D Bomb. I was using the hard head jig on the Biffle Bug, but just a t-rig on the D-Bomb which may have made the difference.
From: Logan: USA 3/29/14
Comments: Oh boy I'm gonna get bashed (I don't care) but fished side by side with a D Bomb, the D Bomb gets bit more, every time. Now, this is just during a month-long pitching bite (and just casting them around too) but still...
From: Jay6: USA
Comments: Fantastic bait. Hard to fish wrong- I've caught big fish on the hardhead, flipping it, swimming it, T-rigging it, and recently starting rigging it sideways on a swim jig just to see if it would work that way. It did. Will be your next go-to bait.

From: John: Tulsa, OK, USA

Comments: The BEST creature bait on the market. I've tried lots, and none compare to the biffle bug. I can't count the number of bass I've caught on it, and I just started using it this year. Cons: A bit pricey at $5 per bag, because after about 3-4 fish, you gotta have a new one. Pros: IT CATCHES FISH. So who cares about the cons! 'nuff said! <

From: Eric: Mississippi, USA

Comments: What a great bait!! I have the 4.25" in Black Neon & Silver and Black & Yellow underside. The flapping legs are what set this bait apart and draw bass attention. Tip is solid, but body hollow to hold a rattle. Surprisingly durable. Caught a 20" 4.67# bass and one 18" 3.5# plus several smaller and the baits look like new. Great color selection. I throw mine on 4/0 Trokar swimbait hook with 1/8oz tungston bullet. Can also use as jig trailer. May 2013.

From: Ed: Champaign, IL.

Comments: I fished with the 3.5" version of this bait in the holston river in tennessee for some big smallmouth. I rigged it on a 1/16 oz shakeyhead on 6 pound test line and couldn't have been more pleased with the results. I swam it through pools and caught fish after fish. I got back from TN and tried it in a warm, grassy pond by my house and using the same method, I caught a solid 7 pound pre-spawn female. GREAT BAIT!

From: Baxter: Acworth, GA

Comments: These baits are SWEET. Just started using them this year rigged with the Biffle Hardheads and have caught a bunch of big bass, both largemouth and smallmouth on these, and have won 2 of 3 tournaments with a good amount of fish coming on these. I've caught them on deep rock piles, flipping docks, fish on beds and just swimming them like a swim jig, it all works with this bait

From: Jake: Boston, MA

Comments: The best their is. First cast with the jalapeno pepper, in about 3 seconds i get a hit from a 12# largemouth. So i got about 5 more colors and found that the Jalapeno and the blackberry work the best. But no matter what color you get you will catch the bass. GET THEM!!!!!!!!!!!!!!!!!!!!!

From: David
Comments: This bait is awesome!!! and I will continue to use it they work just perfect I practically use the bait very much with out changing the bait I have other good lures but like this bait I catch Bass after Bass I bag about 5 Bass in less than 1 hour 1/2 over the 4lbs. weight I use the Biffle Bug DRK WTRMLN / Neon/ Wtrmln Neon and won't give up the use of it I recommend this bait to those anglers that really love the action.

From: Johnny: Orlando, FL

Comments: Picked these up for my Kentucky Lake trip. Caught several, and my best bass of the trip on these. Brought them back to the cold smallmouth waters of northen Michigan and have been consistent on them. I've only used the Biffle Hardhead so far and love how it tumbles over gravel and rock with minimal snags.

From: Arin: MI

Comments: I bought a pack to just try and see what the hype was about. They are good baits. They are very durable and they will catch fish. I bought red bug and have caught some good fish on it. I will buy more colors and try them out. Still waiting to see how good it works when money is on the line.

From: Jake: Montgomery, AL

Comments: This is an awesome fliping and pitching bait. they are a little pricey at 5.00 bucks a bag but well worth it when you flip into a bush and hook into a big fish

From: Alec: Highland, IL