Gene Larew Biffle Bug - $4.99
Please Note: Bama Bug & Okeechobee Craw Are Imaged Correctly.
The Gene Larew Biffle Bug incorporates the best features of several top baits into one compact design. The Biffle Bug's body is slim yet wide, and covered with concentric ridges. The first 3/4 inch of the Biffle Bug is solid for hook support, while the rest of its body is hollow like a tube. The cavity is oval, not round, better fitting the shape of the body and also serving to hold a rattle in place simply through natural compression. The Biffle Bug's hyper-active swimming legs feature a special foot-pad to make them come alive with the slightest movement.
Pinch the legs off and the Biffle Bug becomes the perfect glide bait. The cupped tail provides unmatched action to the lure's descent. Although more compact and streamlined with the legs removed, the Biffle Bug retains an enticing profile that screams "easy meal."
Tommy Biffle won the BASS Ft. Gibson Elite Series throwing the "Sooner Run" colored Biffle Bug.
| | |
| --- | --- |
| Length | Quantity |
| 3.5" | 8 |
| 4.25" | 8 |
| 5" | 6 |
Comments: Combined with the hard head, the Biffle Bug is an easy-to-fish hybrid between a texas rig and crank bait. Honestly, with the hard head it is a simple cast-and-reel lure, just keep it on the bottom. Buy any shade of green and you can't go wrong.
From: Richard: TX 4/18/14
Comments: I'm With Jay, fished the whole day with the Biffle Bug and caught 2 alright sized fish. first cast with the D Bomb, got a 4 pounder. Ended up catching 7 fish on the D Bomb. I was using the hard head jig on the Biffle Bug, but just a t-rig on the D-Bomb which may have made the difference.
From: Logan: USA 3/29/14
Comments: Oh boy I'm gonna get bashed (I don't care) but fished side by side with a D Bomb, the D Bomb gets bit more, every time. Now, this is just during a month-long pitching bite (and just casting them around too) but still...
From: Jay6: USA
Comments: Fantastic bait. Hard to fish wrong - I've caught big fish on the hardhead, flipping it, swimming it, T-rigging it, and recently starting rigging it sideways on a swim jig just to see if it would work that way. It did. Will be your next go-to bait.

From: John: Tulsa, OK, USA

Comments: It is my honest opinion that this bait is the best creature bait on the market.Awesome when flipped as a stand alone bait. It's hollow, so you can insert a rattle or use a foam ear plug soaked with your favorite scent or use both in conjunction with each other. As a jig trailer, They dress up a football very very nicely. Okie Dokie color on a Santone football jig in Mexican Heather color is a go to on Rayburn for me. As a swimjig trailer, the legs on this thing pulse through the water very well. No need to shake the rod tip to get the skirt to flare and produce action, it's not needed.I wish Gene Larew sold bulk packs like Gambler does on their website. A+ and 5 stars for these.

From: Tim: TX

Comments: Great bait year around. Absolutely foolproof!

From: Rich: Tulsa, OK

Comments: The BEST creature bait on the market. I've tried lots, and none compare to the biffle bug. I can't count the number of bass I've caught on it, and I just started using it this year. Cons: A bit pricey at $5 per bag, because after about 3-4 fish, you gotta have a new one. Pros: IT CATCHES FISH. So who cares about the cons! 'nuff said! <

From: Eric: Mississippi, USA

Comments: What a great bait!! I have the 4.25" in Black Neon & Silver and Black & Yellow underside. The flapping legs are what set this bait apart and draw bass attention. Tip is solid, but body hollow to hold a rattle. Surprisingly durable. Caught a 20" 4.67# bass and one 18" 3.5# plus several smaller and the baits look like new. Great color selection. I throw mine on 4/0 Trokar swimbait hook with 1/8oz tungston bullet. Can also use as jig trailer. May 2013.

From: Ed: Champaign, IL.

Comments: I fished with the 3.5" version of this bait in the holston river in tennessee for some big smallmouth. I rigged it on a 1/16 oz shakeyhead on 6 pound test line and couldn't have been more pleased with the results. I swam it through pools and caught fish after fish. I got back from TN and tried it in a warm, grassy pond by my house and using the same method, I caught a solid 7 pound pre-spawn female. GREAT BAIT!

From: Baxter: Acworth, GA

Comments: These baits are SWEET. Just started using them this year rigged with the Biffle Hardheads and have caught a bunch of big bass, both largemouth and smallmouth on these, and have won 2 of 3 tournaments with a good amount of fish coming on these. I've caught them on deep rock piles, flipping docks, fish on beds and just swimming them like a swim jig, it all works with this bait

From: Jake: Boston, MA

Comments: Great for prespawn smallmouth. Fish it like a spinnerbait. Out performed spinnerbait 3:1.

From: Mike: Chicago, IL

Comments: The best their is. First cast with the jalapeno pepper, in about 3 seconds i get a hit from a 12# largemouth. So i got about 5 more colors and found that the Jalapeno and the blackberry work the best. But no matter what color you get you will catch the bass. GET THEM!!!!!!!!!!!!!!!!!!!!!

From: David
Comments: This bait is awesome!!! and I will continue to use it they work just perfect I practically use the bait very much with out changing the bait I have other good lures but like this bait I catch Bass after Bass I bag about 5 Bass in less than 1 hour 1/2 over the 4lbs. weight I use the Biffle Bug DRK WTRMLN / Neon/ Wtrmln Neon and won't give up the use of it I recommend this bait to those anglers that really love the action.

From: Johnny: Orlando, FL

Comments: Picked these up for my Kentucky Lake trip. Caught several, and my best bass of the trip on these. Brought them back to the cold smallmouth waters of northen Michigan and have been consistent on them. I've only used the Biffle Hardhead so far and love how it tumbles over gravel and rock with minimal snags.

From: Arin: MI

Comments: I bought a pack to just try and see what the hype was about. They are good baits. They are very durable and they will catch fish. I bought red bug and have caught some good fish on it. I will buy more colors and try them out. Still waiting to see how good it works when money is on the line.

From: Jake: Montgomery, AL

Comments: Swimed this bait in my pond and the 2nd cast , caught a 4.25 lbs largie! Thanks Gene Larew

From: Lucas: Glasgow, KY

Comments: This bait is "fool proof" to say the least. Not many baits out there with the versatility this bait presents. Whether flippin and pitchin or bottom buggin it's incredible! I couldn't guess the number of fish I have caught on this bait and the funny thing is it doesn't matter which natural color you throw... They bite'em all! Cast, let it fall, reel it with constant contact with the bottom, then HANG ON because you will catch fish! It's the closest bait in my arsenal that is good enough to guarantee! Enjoy!!

From: Jason: Wagoner, OK

Comments: This is an awesome fliping and pitching bait. they are a little pricey at 5.00 bucks a bag but well worth it when you flip into a bush and hook into a big fish

From: Alec: Highland, IL

Comments: Very productive right now! Our water temps are hovering around 60¡. Put this on a River2Sea Touch Down Jig head and flip around cover and structure. Very durable bait and lots of action.

From: Daniel: Spokane, WA

Comments: Clearly I must be doing something wrong because I've not gotten so much as a nibble with this bait whether I texas rig it, use a Biffle Hardhead or anything else. Weird.

From: Mike: Jackson, MO

Comments: This bait is completely amazing. Have been catching very nice largemouth on this bait. When the jig bite quits throw one of these. Nice job Gene Larew!!!

From: Clint: Pleasant Plains, AR

Comments: Great lure. Caught 12 lg. mouth bass in one area in 4 hours.11 bass over 2 1/2 lbs. and 1 pushing 4 lbs.

From: Kyle: Akron, OH

Comments: This is a dandy smallmouth lure.

From: V: Jamestown, TN
Comments: Great lure first three bass were all over 4 pounds.

From: Ben: St. Peters, MO
Comments: There is a reason these things are selling out fast, that's because they catch fish. Throw them Texas rigged and hold on.

From: Jason: North Charleston, SC
Comments: AMAZING! Threw this bait texas rigged and it was dynamite! First bass weighed 5 lbs. Went through the only bag I had in 10 minutes.

From: Chip: Stroud, OK
***Note: If you have questions about this product or need assistance with an order please email your questions to info@tacklewarehouse.com
View Large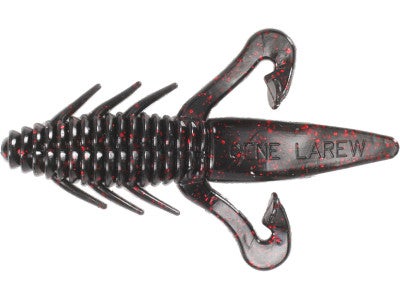 35 Available Colors
More Gene Larew Soft Baits