Gene Larew Biffle Hardhead 2pk - $4.99 to $5.99
The Gene Larew Biffle Hardhead is a powdercoated football head weight with a worm hook loosely attached. Tommy Biffle used the Biffle Hardhead which earned him back-to-back wins at the BASS Elite Series "Sooner Run" and Lake Cherokee PAA events in 2010. The Biffle Bug and Biffle Hardhead combo is responsible for the new crankbait style of fishing soft plastics called "Bottom Buggin." The Biffle Hardhead offers two wire loops, one for a line tie and the other connects to a pivoting hook. This unique offering allows the plastic bait to freely move during the retrieve, all while rigged weedless.
Comments: this head and any creature combination puts fish on the bank or in the boat.

From: Michael: GA

Comments: Pretty sweet football and swimjig trailer. Nothing negative I can say. Durability is pretty good, they catch fish.

From: Tim: TX

Comments: This is my favorite way to fish bottom contact baits like craws, beavers, creature baits. I've used it to great success with biffle bugs, money craws, mighty bugs (the best so far), space monkeys, sweet beavers, and more. If you can find the right bottom (rock bottom, hard ledges, or sand flats), it always catches fish....largemouth and smallmouth alike. I've gotten so much confidence in this that I have at least 2, if not 3 rods on the deck during tournaments with biffle hard heads. I tried another brand of "deflection jigs" like this, but for some reason it didn't have the same bottom feel that these have. So I'm sticking to what works. Thanks again Gene Lerew and Tommy Biffle!

From: Brian: Oak Forest, IL

Comments: A great way to get a reaction bite with a soft plastic bait. Very simple to fish and very effective. The only secret I've found with the bait is to reel instead of dragging it with the rod. When you hit some kind of obstruction when reeling the rod loads up a little and the bait pops free, that's when I get 90% of my bites. If you drag with the rod your impulse (or mine anyway) is to stop or slow down and feel your way over whatever you hit.

From: Jay: Grapevine, TX

Comments: Great head! Very durable too! Drug it through gravel all day and caught tons of fish and shown very little wear. Great alternative to a C-rig!!!

From: Travis: New Albany, IN

Comments: Wowsers. This thing gets bit. If you wanna keep it simple, put your favorite compact creature bait on there and just reel it back at a good clip, making sure to drag bottom. Set hard and to the side. I found that if you try a normal Texas rig hookset, you wont get em. BOMBASTIC!

From: Meatwad: out of town
Comments: The 3/16 size needs the 4/0 hook too! Great terminal rig for a sweet beaver or a chigger craw.

From: Curt: Georgia, USA
Comments: Awesome jig head. I was catching small keepers all morning long on a Texas rig and remembered that I had received a coupe of packs of these jig heads. Rigged it with the same soft plastic and began catching larger fish immediately. Dont know what made the bigger fish bite but I am sold! The head is very durable dragging the bottom all day.

From: Shawn: Peachtree City, GA
***Note: If you have questions about this product or need assistance with an order please email your questions to info@tacklewarehouse.com
Color:
3/0
View Large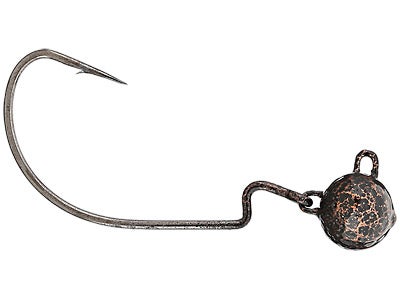 Place Your Order
More Gene Larew Jig Heads