Got'Em Coach Real Gill Swimbait - $49.99 to $69.99
When you want to put big bass in the boat, the Got'em Coach Real Gill Swimbait is the one for you. Designed to withstand abuse from jagged structure and monster bass, the Got'em Coach Real Gill Swimbait's detailed scaling, laser lifelike printing, and 3D eyes create a durable and attractive swimbait that gets bit. A multi-jointed construction brings to life the smooth, natural action and helps it maintain a consistent depth with a moderate-to-fast retrieve. Crafted with an incredible attention to detail and the utmost quality, the Got'em Coach Real Gill Swimbait comes with two Owner ST-41 hooks - the rear hook is positioned on a rotating swivel to prevent acrobatic fish from coming loose. Rounding out the design of the Got'em Coach Real Gill Swimbait is its fiber strand tail that adds an outstanding level of realism to the already impressive appearance.
| | | | | |
| --- | --- | --- | --- | --- |
| Got'Em Coach | Length | Weight | Hooks | Class |
| Real Gill | 6" | 2oz | Owner- ST41 | Slow Sinking |
| Real Gill | 7" | 3oz | Owner- ST41 | Floating |
| Real Gill | 7" | 3.1oz | Owner- ST41 | Slow-Sink |
Comments: I just got mine today. The detail on it is amazing! don't know how it swims yet but the video was the selling point for me. will def get more soon

From: Brandon: san diego, ca

Comments: Absolutely amazing i love it! my first day out i caught a 5 pound bass out of a medium sized pond. I expect to pull some big bass out with this big guy. And this bait is quite big. Even on my powell swimbait rod that can handle 3 oz plus. but if you can fish it its amazing.

From: TX
Comments: I just landed my PB on this lure and my first swimbait fish ever! She was a 7.70 lb post spawner. I was burning it like a lipless crankbait and just felt weight! This is one of my first nicer swimbaits so I'm so happy I can't stand it. My older brother in Ca. told me to throw this and he was right. I can't wait to get this on more of my favorite ponds when I get my first car next month! Like my bro keeps saying '' swimbaits will work on the east coast''!

From: Bryce: Richmond, Va.

Comments: Well made bait gets bit. Fun swimbait. I will be buying more.

From: Robert: Battle Creek, MI

Comments: @colton- yeah, I'm sure all your rods, line, reels & other baits are made in the USA too huh? Lol. Anyways- there's videos starting to go around the Internet of it swimming- this bait looks super sick. Big thumbs up for the swiveling hook hanger- a feature all big baits should have. I'll def be buying one this summer. Hope they have plans for a hard shad bait too, as there's a serious lack of quality hard shad baits out there.
Good job Get'em coach!

From: Brian: Atlanta, ga

Comments: They're cheap because they are made in China, wehere Rago and JSJ baits are made in the USA...I think I'll support a made in the USA company regardless of price.....

From: Colton: San Diego

Comments: I got red ear gill. wow very beautiful detail now i want order more gills and can't wait to see trout too.. must have it!!

From: Nick: USA

Comments: hey xai this bait sounds big @ 6" but its actualy got a nice thin profile,it looks more like a 4 1/2" size swimbait....its almost on par with a tylure gill.and with the detail and sturdyness and feel this bait has its well worth $50,im actualy surprised its not priced up there with jsj or rago baits....with the detail and build quality trust me.....ur gettin one bada## bait for the buck.i know im gonna be gettn me more...redear is next..wooop!!!!

From: tattoomafia: USA
Comments: WOW!!!!!! i ordered the bluegill n the peacock,and these r simply amazing looking baits and have an amazing quality to them.i have ALOOTTTTTTT of swimbaits and gill swimbaits,these hands down are prolly the,most realistic looking...blows most brands clear off the chart, like my matts lures,tylures,jsj,you name it.i havent taken them to the waters yet to see what the bass think,but played around with it the hottub to see the action....this thing looks real and alive in the water.these guys might be new to the swimbait game,but man did they hit a grandslam with this bait,cant wait to see the trout lures they r coming out with soon.

From: Steveo: USA

Comments: I love it. The best looking bluegill swimbait I've seen. Wish it was smaller. Never used it or have one. Too expensive for my blood. I will order one if they made one smaller like 4 or 3.5 inches and price it around $30. For this price, they shoulda made it out of titanium or plutonium.

From: Xai: Her

Comments: I just got mine in today, and I have to say that the detail and workmanship are xcellant! I tried it briefly to watch it swim and its really nice looking in the water Ill be posting a video and report later this spring.

From: Steve: Northeast, MD

Comments: I finally got 3 of these bad boys in Blue Gill, Green Gill and Redear and I'm floored!! These are so hyper realistic! I'm just dying to start throwing these once the water warms up... I tested them in the water and the swimming action is MONEY! Super realistic and they trick very well. The tail is much more impressive in person. I love how the back hook rotates. I've had many bass big kinda nip at the back hook on other gill swimbaits I fish and lost them shortly after. I'm quite positive this will greatly improve my chance of landing them this way. These are worth every penny. I'll post another review once I've stuck some big green fish on these real Gillz.

From: Ryan: Seattle, WA

Comments: man these things look hella sweet...def gonna be grabn me alot of these...that peacock gill is wicked.

From: Steveo: us of a

***Note: If you have questions about this product or need assistance with an order please email your questions to info@tacklewarehouse.com
Blade Style & Color:
Floating
View Large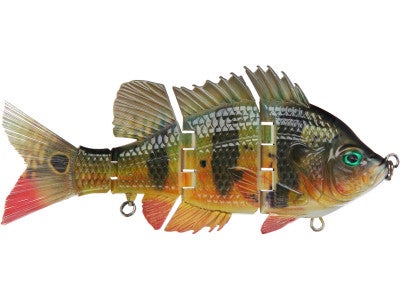 7 Available Colors
More Got'Em Coach Swimbaits