GrandeBass RattleSnake Worm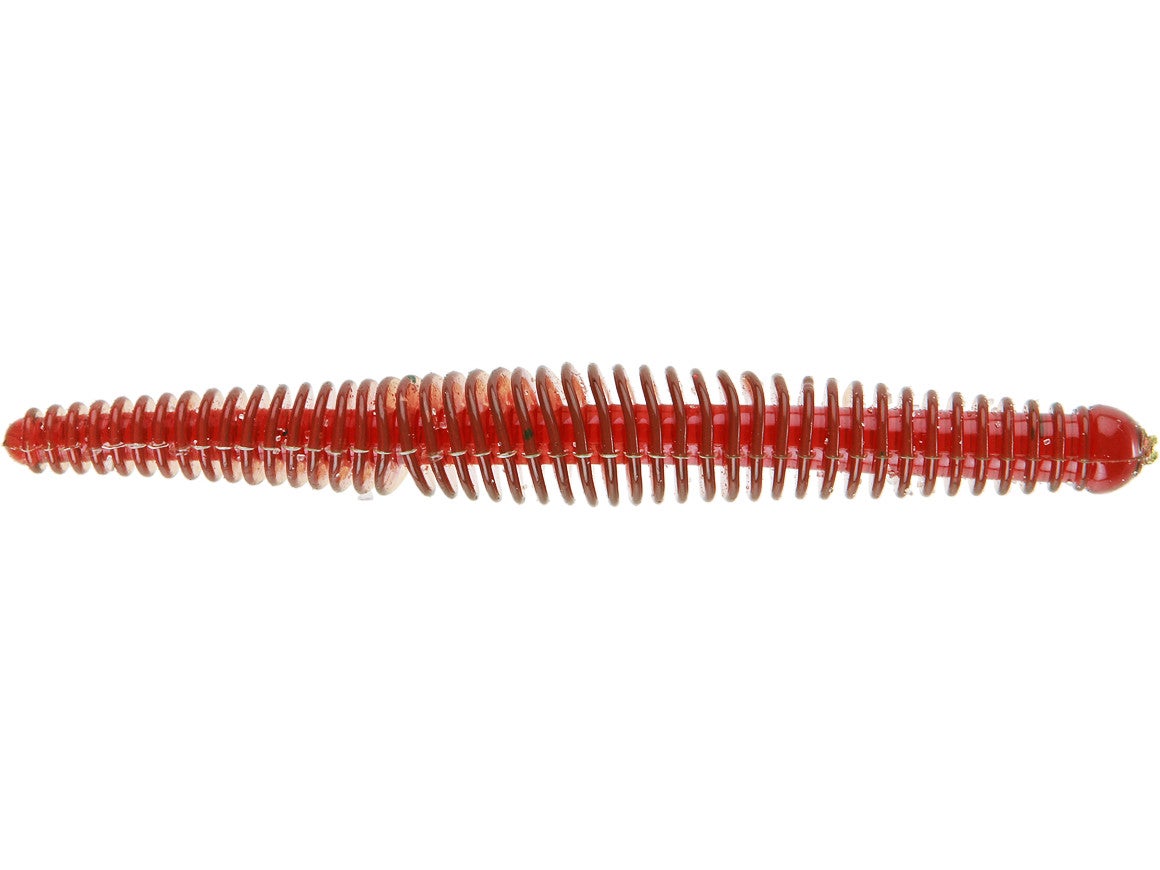 GrandeBass Rattlesnake's Simply Catch More Bass.... Rattlesnake's' are extremely versatile and can literally be fished in any condition and rigged for almost any application. Fish the RattleSnake on the deadly end of a Carolina rig, weightless, weighted hook, Texas-rig, shaky head, drop shot. And don't forget the wacky rig. The Baby & Regular Rattlesnake's add a life-like, tight swimming action trailer to the back of your favorite spinner bait, chatter bait or swim jig. The Rattlesnakes' ringed body creates a larger profile, extreme action and holds air and releases tiny bubbles like a living creature. Loaded with proprietary Mega3 scent that combines the most powerful bass attractants to make bass hold on longer and mask human scent. With several recorded donated bass to the Texas Toyota Sharelunker Program of 13 lb plus, its a big bass bait. Available in several productive and ever-growing color combinations. GrandeBass Rattlesnakes' Simply Catch More!
| | |
| --- | --- |
| Length | Quantity |
| 3.75" | 14 |
| 4.75" | 10 |
| 6.5" | 5 |
17 Colors
More From GrandeBass Soft Baits
Customer Reviews
Comments: i have a favorite bait for each rig & this bait falls right under the wacky rig this bait gives the best action wither your fishing it weightless wacky or weighted it is incredible it is an underrated bait but it has incredible action i throw it with 17lb flouro or 20lb mono
From: Frankie: Uvalde, TX 6/2/16

Comments: Love this bait,all around type of bait you can fish it on a c-rig, Texas rig, weightless, drop shot anyway u can think of this bait will come in handy. just got back from east Texas & caught a 6lber & a lot of other quality fish. Go & pick out a 4.75 inch in chartreuse pepper for clear water. You can't beat it!
From: Garrett: Highland Village, TX 3/11/16

Comments: Oh man, the Rattlesnake in Trophy Hunter color is my never leave home without bait. From bass, reds, specks flounder to river rainbows this bait works. Can rig it in many different ways and all work like a charm. GRANDEBASS is where it's at for soft plastics.
From: Eric: Austin, TX 10/1/14

Comments: my go to plastic. Fish it like a fluke, wacky, Texas rig, Carolina rig, shaky head, neko.... It don't matter. 20lb bag in under an hour at a Texas team trail tournament this year. Really like houdini color
From: Nute: TX 9/28/14

Comments: Great bait,bought the blackops blue,has caught many bass.holds up well an can be fished in alot of different ways.I like to fish it on owner shackyhead jigs the action is great without hardly any movement of the rod tip.great product.

From: John: knoxville tn.

Comments: I really like these baits. They have caught fish on tough days when fish were finicky and nothing else seemed to work. I like to fish them on a small shaky head and occasionally on a Carolina rig. They catch more water and have a slower fall than standard finesse worms so with a small weight you get a very natural life-like drift action. Just be sure to use a hook with enough gap so that the ribs don't bunch up when you set the hook. I think the TrophyHunter color works so well because the many different hues and the ribs camouflage the bait and make it look alive in the water. Give 'em a try especially when the bite is tough.

Comments: Love these on a shaky head. Works no matter where I use it. Seems to only catch fish over 3lbs! Caught a 6lber, and two 4s just yesterday.

From: Chris: Fallbrook,California

Comments: killer bait!! Me n my buddy landed three keeper in couple hours. We were fishing at grand lake oklahoma. This bait get big bass!!!!

From: Yeng: broken arrow ok

Comments: This bait is amazing! I can't leave without it. The smell is great. The most versatile worm out there. Trophy hunter is by far the best color. Get a few packs, and you'll love it.

From: Brantley: AR

Comments: An absolute mainstay in my box. Ssabednarg, Trophy Hunter, and GrandeBass Bomb are great colors!

From: Rusty: TX

Comments: This is this 1st thing I use and my go-to bait. Absolutely awesome action.

From: Lisa: St Charles, MO

Comments: Top bait any way you rig it. Good for perch and pike.

From: Marcel: Dubendorf, Switzerland

Comments: This is by far my favorite worm to go to. First cast caught a 5lb bass, caught 6 bass on my last outing with this worm. If your looking for a good worm to add to your tackle collection, this is one that you NEED to have. It WILL catch you fish!

From: Tyler: Texas, USA

Comments: my go to worm ...I love this worm...never was a zipper man dude glad I use these puppies ...the scent is terrific and gets you sayin Get the net!!! Favorite color is trophy hunter grab a few packs!

From: Brian: CA

Comments: These are awesome on t-rigs,c-rigs,and Shakey heads great action one of my go to baits in my boat.

From: Lance: Livingston, TX

Comments: This bait is hard to beat on a Carolina rig. It produced a 6.8 and a 7.4 in between the same bridge pilings. Let another one about the same size off. Will never be on a boat without some. Watermelon red is my go to color.

From: Zach: Vincent, AL

Comments: the very first time I saw this bait I said wow! I want it on a shakey head rig....a so I did, I bought a couple of bags and went to my favorite lake, El Cuchillo....and put it to work on a spinning gear + 30 lbs baid...the results have been awsome....lots of big bass.....now, when everything else fails....I always have this bait ready , it«s a fish on the boat ticket....period. colors....can«t go wrong with watermelon plus whatever and trophy hunter.....thanks for a great product

From: Nelson: Monterrey, NL, Mexico

Comments: I was skeptical about this product. but what do I know? Im just a pond city boy in a negative 300 dollar economy...anyways back to this awesome worm I used on wacky micro jig and its a blast with the o-ring last way longer I caught 3 fish out of the most finickiest pond here in santa ana ...wow im so happy for this bait cant wait to catch bucketmouth on a megacraw though!

From: Brian: Lake Forest, CA
Comments: Great to see Grande Bass baits at TW. Met Jerry Shinn (owner of Grande Bass) at Lake Fork a few years back. Great guy who makes a great line of soft plastics. The rattle snake has been my go to bait for years. Works great in stained water.

From: Glenn: Shrewsbury, MA
Comments: Great product. The Rattlesnake is one of my confidence baits, with Trophy Hunter being my favorite color. This bait will catch fish any way you rig it.

From: Monty: Texas, USA