HI-SEAS Grand Slam Braid Green 150yd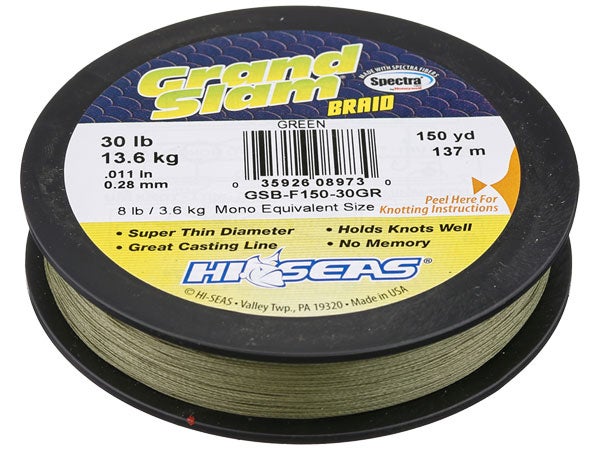 Hi-Seas Grand Slam Braid is a premium-quality braid made with the highest quality Spectra fiber. Hi-Seas' high pressure weaving process produces a small diameter, round line that is extremely manageable. Grand Slam Braid will lie evenly on both spinning and casting reels without burying on the hookset, and the tight weave allows for stronger knots without slipping. Hi-Seas Grand Slam Braid offers a reduction in line knotting and tip wrapping, along with an increase in casting distance and sensitivity. Hi-Seas Grand Slam Braid gives you the manageability and castability to reach the big ones, the sensitivity to detect even the most sensitive bites, and the strength and confidence necessary to get them to the boat.
| | | | | |
| --- | --- | --- | --- | --- |
| Line Diameter | 20lb | 30lb | 50lb | 65lb |
| Inches | .008 | .011 | .012 | .016 |
| Millemeters | .20 | .28 | .30 | .41 |
| Equiv. Mono Dia. | 4lb | 6lb | 8lb | 14lb |
Place Your Order
More From HI-SEAS Fishing Line & Leader
Customer Reviews
Comments: Not Impressed! I used this braid for about 2 months and never had a problem out of it, I actually loved this stuff. One day I was flipping with a OMTD flipping hook and when I set the hook on a fish, the braid slipped between the gap where the eye meets the shank of the hook. This has happened two other times since then. The other day in a tournament I pulled up to a spot and got bit right off the bat, but when I set the hook my line broke. I barely felt any pressure from the fish when I set the hook. Save your money and buy something better.
From: J.C.: USA 5/22/14

Comments: I have had zero problems with this braid. No dig. Casts great. I've only used it for flipping n pitching and sometimes throwing swimbaits and have never had it break on me. I will continue to buy. I would compare it to powerpro.

From: Dylan: San Jose

Comments: weak braid. Lost 5 lures in 2 days. Line snapped while casting my team daiwa baitcaster. Power pro is much better braid.

From: Justin: South Jersey

Comments: Great line i got the 50lbs/10lbs diameter for using it with my deep diving lures and in two ocations the lure got branched-snagged and I pulled up and the split rings opened up, the lure floats after that, handling is great but is a littlebit noisy on the guides and casts like a dream.....

From: Alejandro: Torreon, Mexico
Comments:This is by far the best braid I have ever used. I swam a jig in the grass at Eufaula for two days straight without one problem, it lays on the reel great, and it casts a mile with no wind knots. If anyone tries it and does not like it then they can send it to me and I will send them the power pro I have left.
From:Nick: Birmingham, AL