HI-SEAS Quattro Camo Fluorocarbon Line 200yd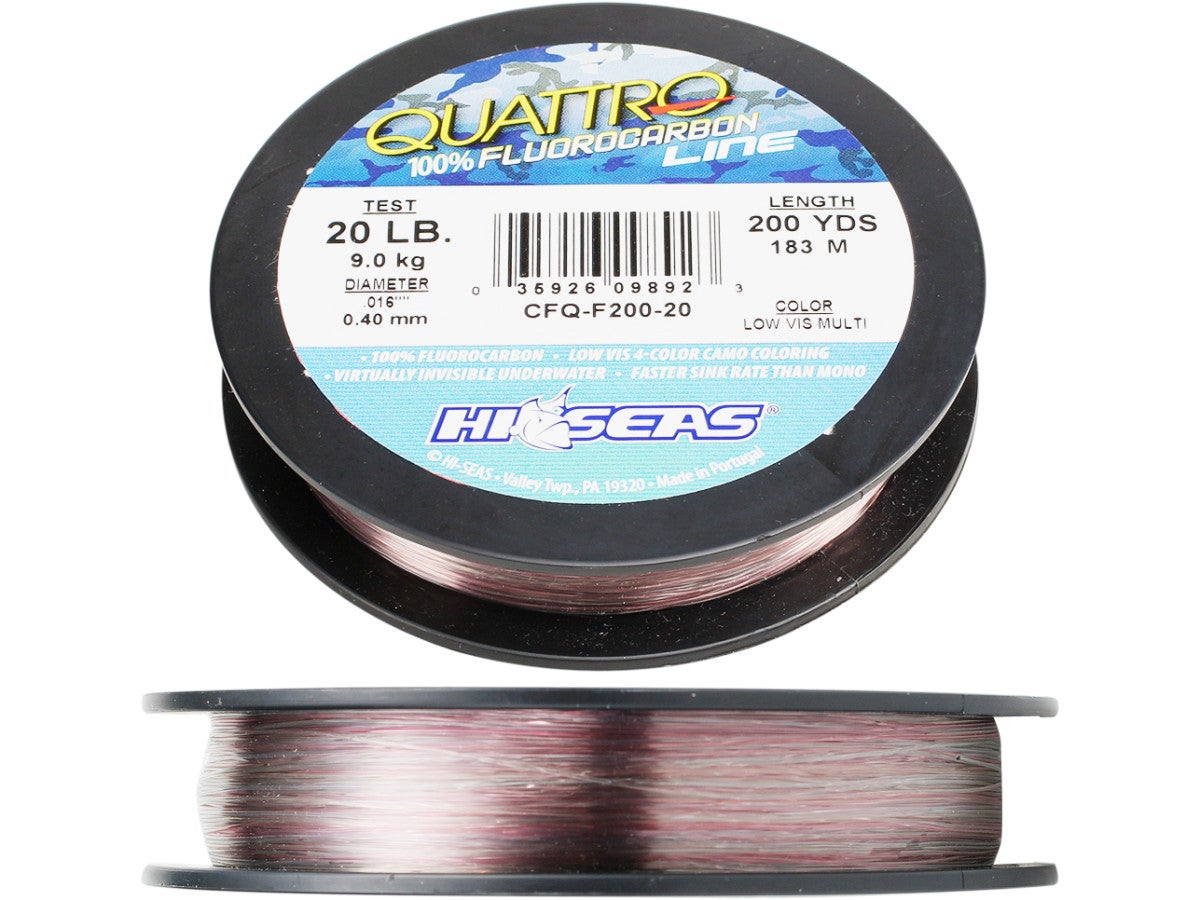 The HI-SEAS Quattro Camo Fluorocarbon Line combines HI-SEAS exclusive Quattro 4-color camo technology with fluourocarbon line. The unique coloring process alternates four scientifically selected colors along the fluorocarbon to reduce light transmission and create maximum invisibility. Rest assured, HI-SEAS designed the line to be smooth and supple, making handling and long casts easy and worry-free. Now with the added stealth of camouflage, the Hi-SEAS Quattro Camo Fluoro Carbon Line takes the invisibility of fluorocarbon to a whole new level.

| | | | | | |
| --- | --- | --- | --- | --- | --- |
| Line Diameter | 8lb | 10lb | 12lb | 15lb | 20lb |
| Inches | .011 | .013 | .014 | .016 | .016 |
| Millimeters | .28 | .32 | .35 | .40 | .40 |
Place Your Order
More From HI-SEAS Fishing Line & Leader
Customer Reviews
Comments: I have used the 10lb and 12lb on baitcasting reels, a Daiwa sv105 and a tatulaR8.1 & Revo Winch respectively. Both are VERY low memory, I honestly think they are on to something with the multi colored dye. I have used regular hiseas which is also great, but the memory is even less with Quattro fluoro. It is thicker so you can downsize diameter/pound test and still get the same strength. My greatest attest to the strength is I caught around a 9lb flathead catfish on a small football jig (12lb) and was dragged all through timber/rocks; had no problem landing the fish.
From: Weston: Batesville, AR 1/29/16

Comments: I have used the 8lb version for finesse & cranking applications & its strongest attribute is castability; very smooth & low memory for a fluorocarbon (it is better than Seaguar AbrazX in that department, probably about par with Seguar InvisX). It is slightly thicker than the same rated weight of Seaguar in the 8 to 15 lb lines. Overall, a good fluorocarbon that seems to excel in castability & perform well in abrasion resistance and strength, but lags behind a bit in thickness compared to other highly-rated fluorocarbon options.
From: Scott: AR 9/3/15

Comments: This Line really is the best flourocarbon I have ever used- and I have used it all (seagaur, Gamma, Sunline, Etc.). I used the 8lb Quattro Flouro to win a tournament on Lake Norman dropshotting in 45ft of water for big spotted bass. I was pulling up huge brushpiles and bending out hooks. Then I turn right around and throw 20lb Quattro Flouro on all my swimjig and hollowbelly swimbait applications on the Potomac River. Even in the thick grass- this stuff just will not break. It is SUPER smooth due to the dying process. Try it and you will absolutely love it.

From: Ben: Raleigh, NC