Hag's Tornado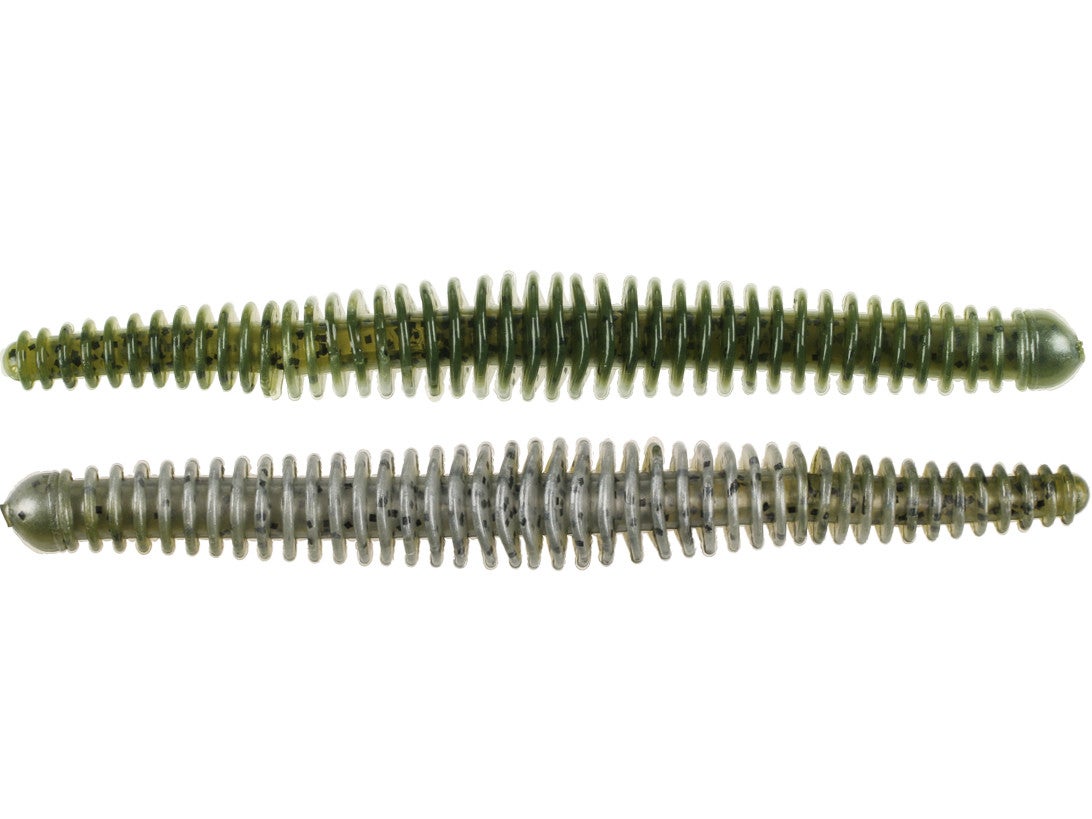 The Hag's Tornado is constructed in a manner to where it has an action like no other soft plastic worm. The Hag's Tornado has a built-in rattle chamber in the tail so that the fishermen can easily insert a rattle without damaging the worm. If this rattle chamber is left empty it will create an air pocket that will add extra buoyancy to the tail.
When rigged on a Texas rig, the worm will stand completely vertical. When rigged on a Carolina rig, the worm will float up off of the bottom. This will be deadly when fishing those deep grass beds or trees. Put the Hag's Tornado on a shakey head and watch out!
The Hag's Tornado uses a special formulated plastic that not only allows the worm to stand straight up and down or even float off of the bottom, but also makes it tough enough to hold up to numerous fish. A lot of competitor's products tear up with only one fish, costing the fishermen a lot of money. The Hag's Tornado are tough and you will love not having to put a new worm on each time you catch a fish.
| | |
| --- | --- |
| Length | Quantity |
| 4" | 8 |
| 5" | 8 |
| 6" | 6 |
| 8" | 6 |
26 Colors
More From Hag's Soft Baits
Customer Reviews
Comments: I've used these awesome baits for a while now, they ROCK. I love these on a shaky head. Plenty of colors to choose from, Tommy Hagler is the man, easy to talk to and he backs up his baits 100%. I'm a long time fan, glad the secret is out in California
From: Darkman: Lancaster 2/23/17
Comments: Awesome worms! Tommy Hagler is a great guy who makes excellent products. better durability than Yammamoto senkos at only half the price.
From: Brady: IA 9/10/15

Comments: Very happy with this bait. Although it can be hit or miss with durability sometimes that's the price to pay for getting bass to bite. I T rig this with a small billet weight and it is deadly. I'll be trying other colors and sizes.
From: John: USA
Comments: I'm a believer now. I fish a very hard to fish small public lake that gets a fair amount of pressure. The fish are known to be finicky. I hit my PB for this small lake (3.7#) on a F5. The Tornado will be on the 'must be in my bag list' for a while now.
From: Ed: Dallas, TX

Comments: I really like the concept of these baits and they catch fish but the durability is just horrible........ these rip up more easily than senkos. I put one on a shaky head and when I set the hook and brought in the fish, the back half of the worm (and my rattle) was missing. They even tear in half when attempting to take your rattle out. I'll try to use the rest on a wacky rig with an O-ring to save on durability.
From: Cullen: Ashburn, VA

Comments: Hag's Tornado F5 - Great bait, I use it mostly on T-rigs. Works exceptionally well worked slowly. Bass pick it up and don't let go.
From: Nick: Toronto, Ontario, Canada

Comments: Awesome Shakey head bait but it doesn't float off the bottom on a Carolina. Awesome weightless Texas also!
From: Will: Roswell, GA

Comments: These baits are absolutely awesome. We use them in the Central FL area and they are lights out! Make sure to use the rattle chamber though.

From: Michael: Tampa,FL

Comments: If you take any size Tornado bait and team it up with a Megastrike Shake2 Pro Model Shaky Head you will catch fish no matter what. I used this combo for a big fish win this past August. That head makes this bait look AWESOME!!
From: FIGJAM: Nashville, TN

Comments: Cant beat these worms rigged anyway you want I like them t-rigged and c-rigged just unbeatable action on these.
From: Lance: Livingston, TX

Comments: These baits are cool! I like to take the 8" size, wacky rig it with a Gamakatsu Weedless Finesse Wide Gap hook; and stick a nail weight in the fat end. The action is amazing, the way it goes over rocks is unreal; very unique bait. Love how the tail stands up! Not many locals fishing these baits either. They DO work!
From: ACH: SoCal

Comments: Recently bought a pack to try out. Not as durable as manufacturer claims. I threw a bait off on a cast. Will not be buying anymore.
From: Jim: Texas

Comments: I was using the Hag's toronado F5 while my partner was using a Senko. I caught 3 fish to his 1 and got bit more often with the F5 than he did. Thought maybe it had something to do with my presentation or line so I tied on a senko and never got a bite, as soon as I put the F5 back on I caught a 2 pounder on my second cast! This bait has been added to my go-to baits, excellent bait with a unique action. Worth throwing when the bite is tough!
From: Darren: Portales, MN

Comments: I have been using Hag's baits since Tommy came out with them 3 years ago. They are my go to baits, especially the F6.5 and Undertakers. Caught my PB on an Undertaker last year and consistently putting big fish in the boat with the Tornadoes. I don't tournament fish but do fish hard at least twice a week through out western Texas.
From: Bob: Big Spring/Abilene, TX

Comments: I have not used it on a shakeyhead yet but the 5 inch. texas rigged is great. Won one tournament on it and have caught lots of fish on it. So far tilapia and storm chaser have been the best colors. I just got some of the other colors and ready to give them a try.
From: Newel: Lawton, Okla

Comments: These worms work great when fish are not feeding well. They stand straight up when worked on a shaky head and never quit moving. Try the Tilapia in clear water.
From: Michael: Tuscaloosa, AL
Comments: Best worm ever! Never had a bad day when i have the F4 on a 3/32 or 1/8 oz. Shaky head or other hook with a cork screw. Highly highly recommended. Very hard bait/lure to find. One place in NC sales this product.

From: Dave: Kernersville, NC
Comments: These are absolutely great on a shakeyhead setup. They stand straight up in the water and generate a lot of shimmy with the slightest flick of the rod.

From: Jim: Paris, TN
Comments:Awesome worm!! Very effective and versatile, but got to go with a shaky head being my favorite.
From:Brian: New Jersey, USA