Heddon Spit'n Image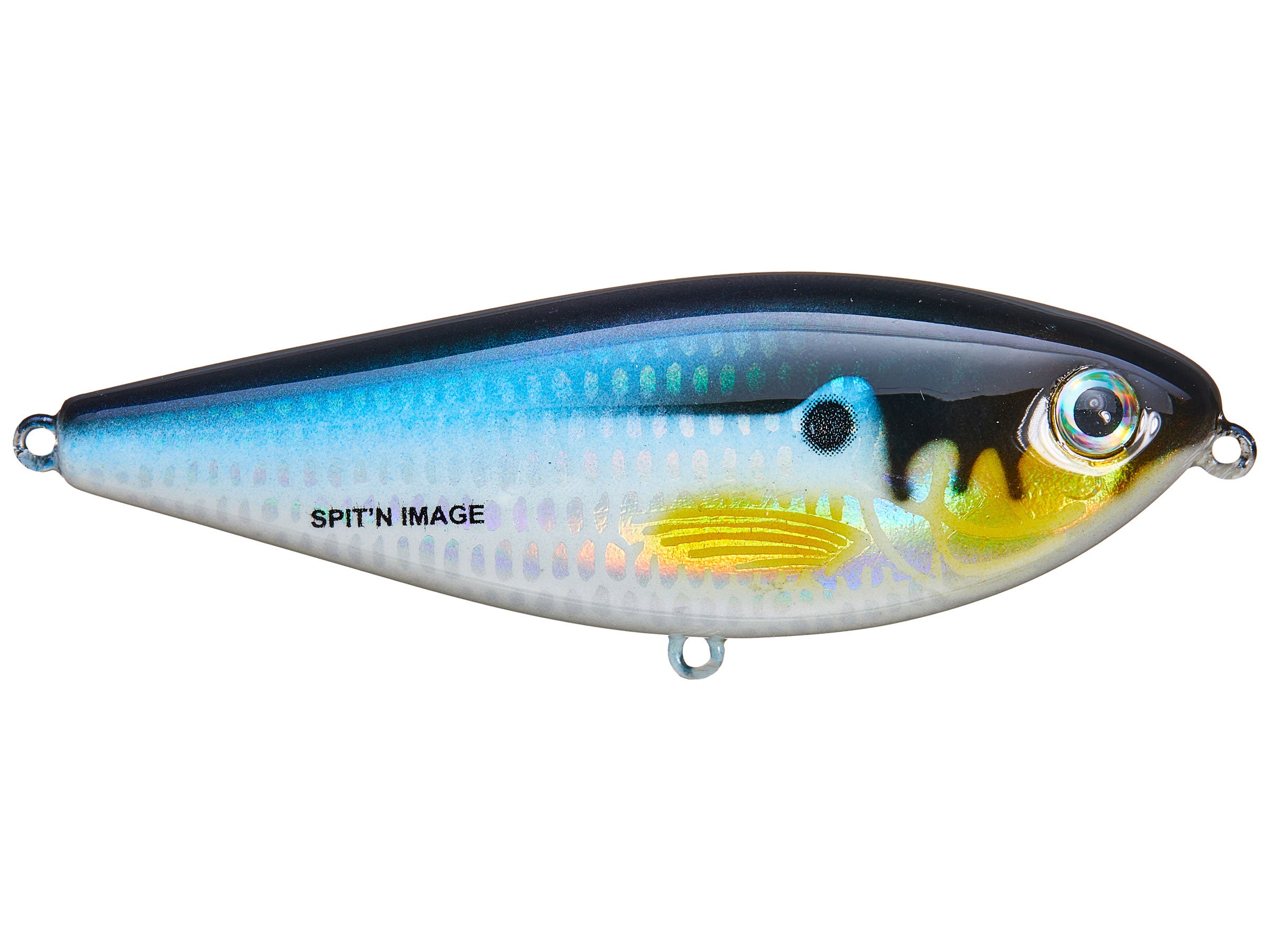 Perfectly mimicking the shape and movement of a fleeing shad, the Heddon Spit N' Image cruises on top of the water with a tempting action that lets bass know that it's time to eat. The unique walking action of the Heddon Spit N' Image generates a very distinct and enticing side-to-side motion across the surface. When paused, the bottom weighted construction causes the Heddon Spit N' Image to sit tail down in the water, and gives it a more balanced movement. Offered in an array of premiere colors, the Heddon Spit N' Image is an extremely effective topwater lure that will take the slack out of your line.
| | | | | |
| --- | --- | --- | --- | --- |
| Heddon | Length | Weight | Class | Hooks |
| Spit'N Image | 3-1/4" | 7/16oz | Topwater | #4 |
3 Colors
More From Heddon Topwaters
Customer Reviews
Comments: This little lure is definite a hidden gem. It casts a country mile, it has several BBs in the rattle chamber that attract fish from 50 feet or more and the walking action is incredible. I have caught everything from smallmouth, largemouth, catfish, pike, musky, bluegill, crappie, and even a few trout. This thing will out perform any other top water out there and just flat out catches fish.
From: Jack: Sumter, SC 6/10/16

Comments: This little lure will walk as fast or faster than any other walker on the market. It is a smallmouth killer for that reason alone. I used to only throw spooks or vixens & one day I tied one of these on that I've had for years and never really used. Out of boredom I started working this thing as fast as I could & had a huge smallie smack this thing right at the boat. After that I realized that the speed of this bait getting away was the trigger. I am no longer a believer in working my topwater baits slowly. Speed kills & this bait delivers. I also upsize the hooks to help it sit deeper which helps it walk by getting more surface area in the water otherwise it has a tendency to pop out of the water. Very underrated bait.
From: Mike: USA 12/19/15

Comments: Absolutely LOVE this lure. I can't express enough how deadly this is. I have just about replaced my spooks with these. I have caught my record smallmouth & record largemouth with this. It walks instantly with the slightest twitch of the rod, no wasting time waiting for it to start doing its thing. I've caught them around shallow bushes just letting it sit motionless as well, I think because the profile of it also matches that of a small bird falling off the bush? Not sure but they absolutely hammer it in that situation. I'm now going to buy one in every color because the side of my canoe decided to break my last one in half a moment ago :( This should seriously be in everyone's tacklebox!
From: Ian: Limington, ME 7/24/15

Comments: A great little walk the dog topwater, especially when the fish need a little finesse. Doesn't walk quite as easy as a spook or skitterwalk in choppy conditions, but still works great. Love it! Wish they still made it in all the other colors.
From: Tyler: Grand Junction, CO 5/22/15

Comments: If you can get this little thing to walk the dog it looks better than any top water bait I have ever used. It casts well and the profile is closer to matching the hatch in most cases. This thing is super deadly in clear water for that reason!
From: Brandon: OH 5/12/14

Comments: This lure is a classic !!!!!!!!!!! Dependable, catches fish and the strikes are amazing, the lure is tough and dependable. Fishing the lure is easy, if you purchase this lure you will NOT be let down !

From: David: Fort Polk, LA, USA