Hildebrandt Tin Roller Colorado Willow Spinnerbait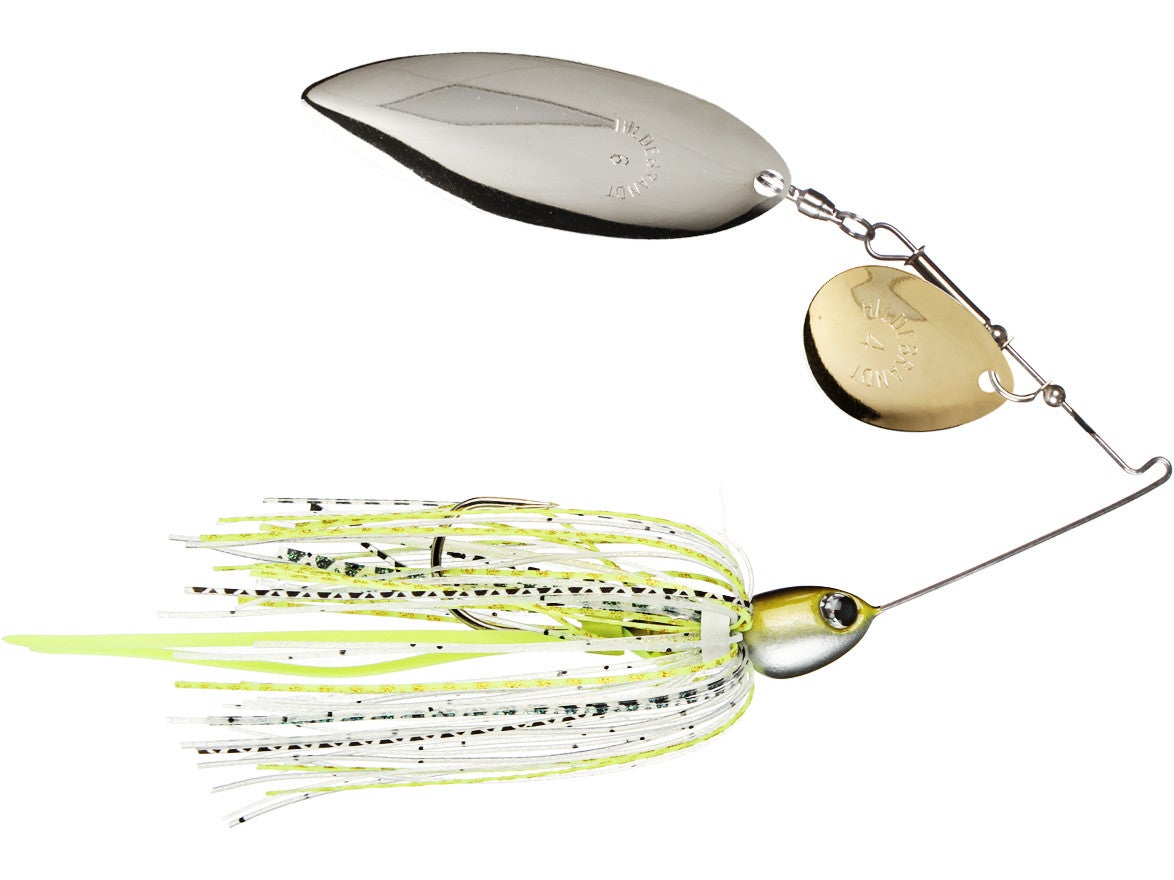 Designed by long-time professional bass angler, Bernie Schultz, the Hildebrandt Tin Roller Double Willow Spinnerbait is a tournament favorite designed for "slow rolling." Molded of pure tin instead of lead, it has a completely different action than its lead or tungsten counterparts. Because tin is less dense, the Tin Roller falls more slowly and can be retrieved more slowly as well. Its less dense tin composition also helps it not get mired in vegetation as easily as lead or tungsten. Featuring premium components, including Sampo swivels and XtraSharp hooks, each Hildebrandt Tin Roller Double Willow Spinnerbait is also painstakingly designed to mimic baitfish - from its profile and head shape to every cosmetic detail like accented gill plates, lifelike gel eyes and color grading skirt patterns.
"I designed this lure primarily for 'slow rolling' through deep structure such as submerged grass, rocks or stumps. The tin body will cast far and sink fast, and provide a very appealing action on the retrieve. Though intended for deep structure fishing, your Tin Roller will also provoke big fish in shallow water. If the water is clear, keep the retrieve quick and above the fish, slower if the water is stained. All you need is a little wind and a little cover, and the Tin Roller will tease them up." - Bernie Shultz.
2 Colors
More From Hildebrandt Spinnerbaits
Customer Reviews
Comments: WOW these are a big surprise they are awesome looks,, durable and handles lots of fish . I don't know why tackle warehouse don't have them in 1 ounce .If they did I would get mine here but they don't carry the 1 ounce so I have to buy these from other dealers and they are worth every penny . By far the BEST spinner bait strait out of the pack with no tuning or changing skirts.WAKE UP TK get 1 ounce in these .

From: Kevin: KY

Comments: Ole Bernie may suck but his blade is money! Sorry Bern but the truth hurts.

From: Meatwad: Truthin