HogFarmer Baits HogFarmer Rig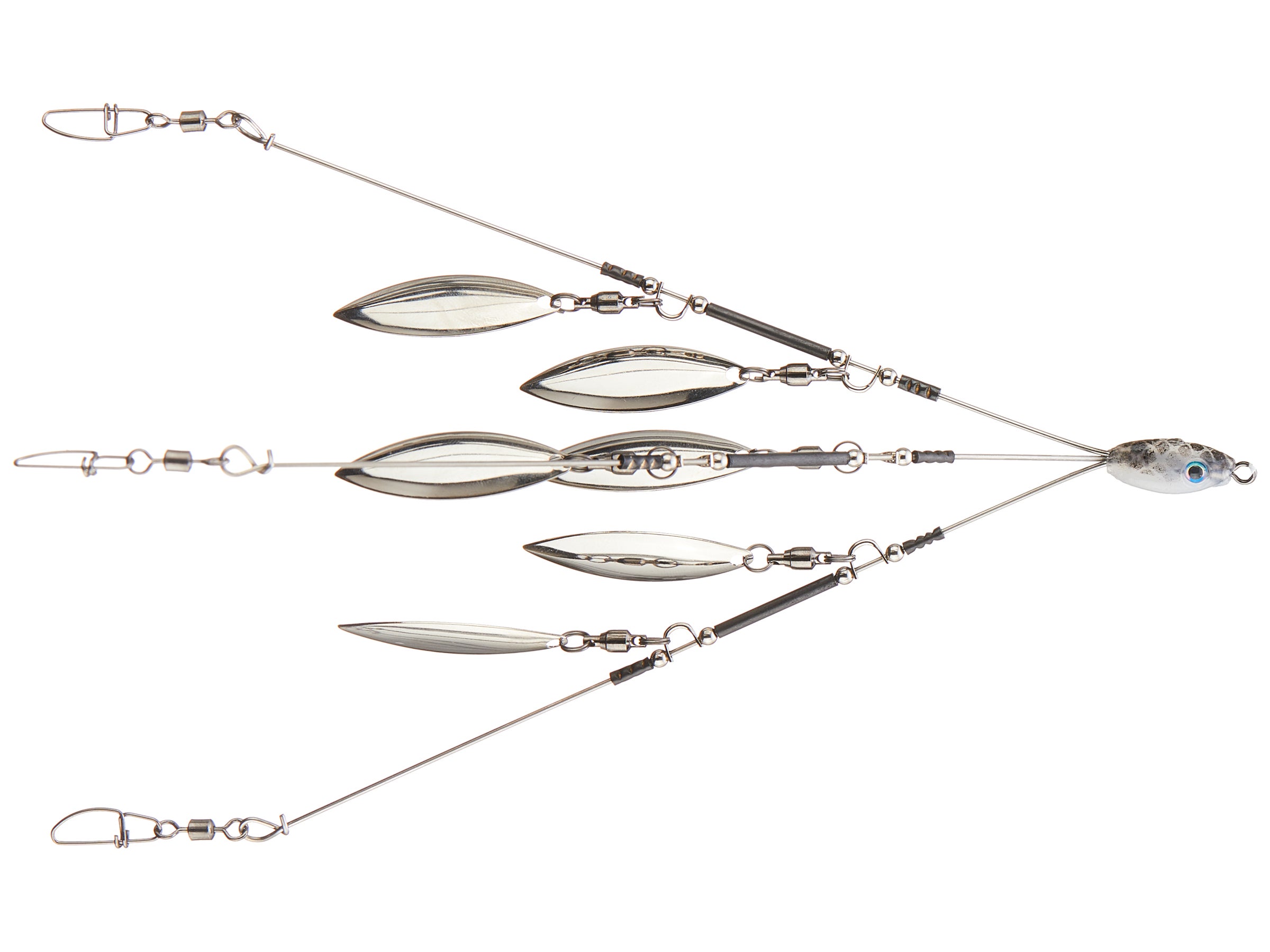 Built strictly from premium components, the Hog Farmer Baits Hog Farmer Rig gives anglers the performance and durability to fish confidently around big fish and thick cover. Made using ultra-tough, impact resistant plastic, the head of the Hog Farmer Baits Hog Farmer Rig features hand-painted baitfish details and a fully enclosed line-tie for hassle-free fishing.

In addition, the arms on the Hog Famer Baits Hog Farmer Rig are built using heavy gauge wire that's tough-as-nails and capable of standing up to multiple big fish. At the end of each arm, the Hog Farmer Baits Hog Farmer Rig uses heavy-duty 80-lb snap swivels that give your swimbaits a secure point-of-connection.

The bladed version of the Hog Farmer Baits Hog Farmer Rig only use high-quality swivels and top-of-the-line, rust-resistant blades to add a bright, fish-attracting flash. Designed with the best possible parts to deliver the best possible results, the Hog Farmer Baits Hog Farmer Rig is the only rig you want tied on when money is on the line.
**Don't forget to check your State's fish and game rules and regulations - a fully rigged umbrella rig is illegal in some States.
| | |
| --- | --- |
| Hog Farmer Baits | Wire Length |
| Hog Farmer Rig | 5.75" |
1 Colors
More From Hog Farmer Bait Company Umbrella Rigs
Customer Reviews
Comments: The bait seemed heavy duty but after 10 casts one of the blades fell off, the ones I received had only 3 swivels an 2 bait keepers on the arm ends. Not worth the extra money in my opinion. I will stick with Yum flash mob jr. for the money a better deal.
From: Pat: Prosper, TX 12/9/15
Comments: Hog Farmer is the best A-RIG hands down. It's built so well that you can use multiple sizes of baits and jig heads and still fish it well. Nothing like catching doubles and triples and wearing your arms out! Hog Farmer for the win!
From: Andrew: Richardson, TX 1/27/15

Comments: Went out to a small lake and absolutely murdered them. Caught well over 50 bass on one rig and actually caught four fish in one cast!
From: Jon: USA 12/4/14

Comments: I've won over $150,000 on this bait in the past two years. They are awesome!
From: Jimmy: Fort Worth, TX 7/3/14

Comments: I caught a double on this rig Sunday, two 3 1/2 pounders. It held up nice, caught several fish- I like it, it's expensive but it seems like it will last, very impressed with the rig...
From: HB: TX 5/28/14

Comments: Best A Rig on the market! The blades really put off a bunch of flash in dirtier water. They are also light and easy to throw.

From: Ryan: Bryant, AR 4/7/14
Comments: these rigs are by far the best rigs on the market today.the big fish love em ! Had over 25 lb 2 day's in a row.throwing the three wire 6 spinners awesome rig.
From: Jody: Murray, KY 4/2/14
Comments: The best rig produced to date! Only A-Rig I will use now and ever! Countless 5+ pounders have fallen while using this rig!
From: B: AL 3/21/14
Comments: Best rig period! The high quality components and durability make this one of my go to baits. No other rig compares.
From: Seth: Chattanooga, TN 3/16/14
Comments: Best A-Rig ever made, uses high quality durable components. This thing is well worth the money, tie it on and see for yourself.
From: Greg: Chattanooga, TN 3/6/14
Comments: Best Rig on the market! No other rig has the quality components of the Hog Farmer. If you fish for big fish, this is the rig you want. Have seen many rockfish over 30lbs and largemouth in the double digits caught on this rig! This rig has an indestructable head and a molded in swivel which prevents line twisting. Made in the USA too!
From: Churly: Chattanooga, TN
Comments: Best rig on the market ! Not only only does it produce , but it holds up against giant bass and even stripers! Worth every cent .
From: Chris: Chattagnooga, TN
Comments: Hands-down, the best umbrella rig on the market. Every single component is top-notch and these rigs will withstand amazing amounts of abuse and hauling in HUGE fish.
From: Maelstrom: Austin, TX
Comments: Hog Farmer baits use the best components. Without a doubt the best A-rig I've used. It is also the only A-rig you will find in my boat. Not only does it catch more fish, with the stiffer wire it does not seem to tangle as bad as the other Rigs I've thrown.
From: James: Richland Hills, TX