Hook-It Adjustable Hook Organizers 4pk - $4.99

The Hook-It Adjustable Hook Organizer are designed to organize and neatly store straight shank and offset hooks of any size. Hooks can be added or removed one at a time. Two Hook-It Organizers can be snapped together and fit perfectly in most plastic storage boxes.
4 per pack

DimensionsL 2.5" x 1"
Comments: I purchased a couple sets of these about a year or so ago! They work great keeping hooks in place...The best thing about them is they keep hooks from stabbing you in the fingers! They are durable, long lasting and easy to use! You can use them on all sized hooks...Including: Trokar 6/0 flipping hooks! So if you're looking to keep things organized and neat, these hook organizers will do the job right

From: Shark: Area 51

Comments: this is a great concept but not very practical, no good way to store/organize them.

From: Andy: IN

***Note: If you have questions about this product or need assistance with an order please email your questions to info@tacklewarehouse.com
View Large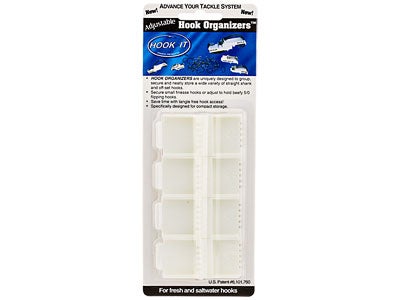 Place Your Order
More Hook-It Accessories