Huddleston Deluxe 68 Special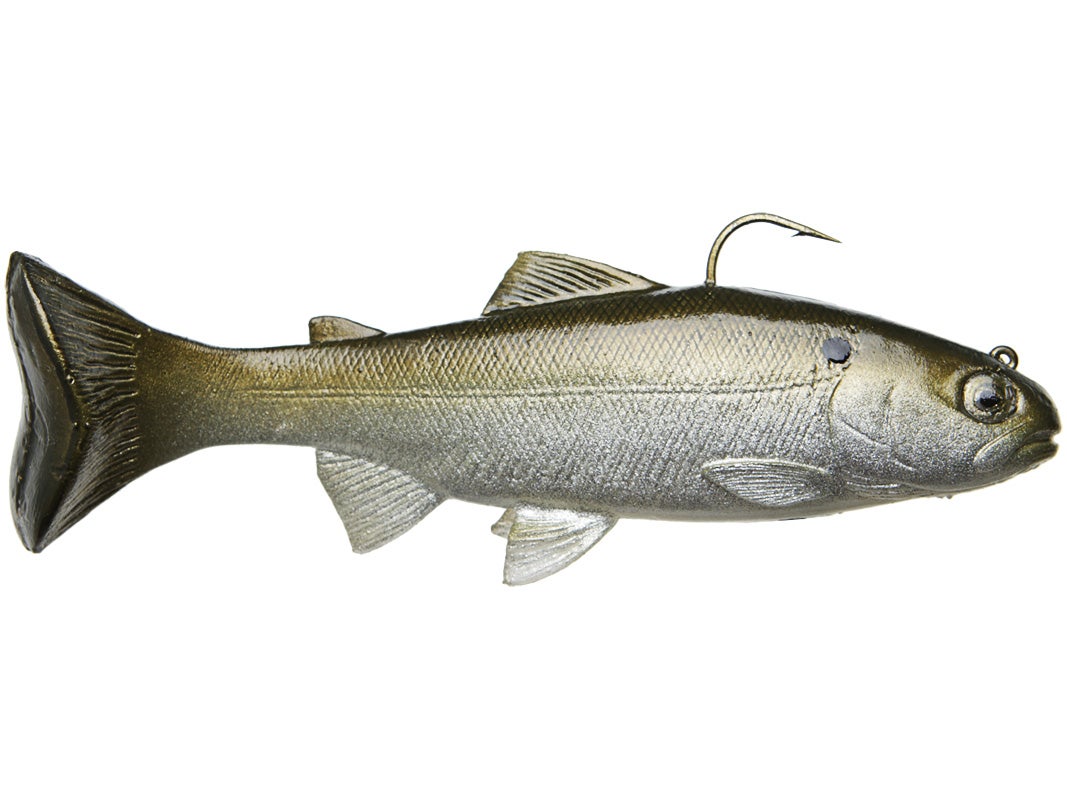 Please Note: Swimbaits are hand-painted and colors may vary slightly from those imaged.
Some savvy tournament anglers have been secretly modifying the 6" Huddleston Deluxe Trout by cutting off the tail and replacing it with the tail of an 8" Huddleston Deluxe Trout. So to save anglers time, money, and hassle, Huddleston has developed the Huddleston Deluxe 68 Special – a 6" Huddleston Deluxe Trout with a big, hard-thumping 8" tail.
Like the rest of the Huddleston family, the Huddleston Deluxe 68 Special features an unsurpassed level of realism and an action that is in a league of its own. In addition, the Huddleston Deluxe 68 Special comes equipped with a razor-sharp top molded hook and a ring underneath the pectoral fins for attaching an optional trailer hook. A must-have for trophy hunters, lure collectors, and swimbait enthusiasts, the Huddleston Deluxe 68 Special is sure to boost taxidermy sales in the coming years.
| | | | |
| --- | --- | --- | --- |
| Huddleston | Length | Weight | ROF |
| Deluxe 68 Special 5 | 6" | 2oz | 5* |
| Deluxe 68 Special 12 | 6" | 2-1/3oz | 12* |
*ROF (Rate Of Fall) - Approximate amount of feet the bait falls in 10 seconds.
9 Colors
More From Huddleston Swimbaits
Customer Reviews
Comments: Best soft swimbait on the market for sure caught a 5 and an 8 in two days with this bait would recommend the 68 to starter fishermen
From: Noah: Kansas 1/16/17
Comments: a lot of people say big baits like huddlestons will only get bit down south or in california but anywhere where bass are eating big gizzard shad this bait excels. I live in kansas and i bought this bait for a trip to el salt mexico, i took it out to a local pond with no confidence at all, just seeing how it would look in the water and how my new swimbait rod could handle it. I caught a 6 pound bass my first outing with this bait in JANUARY in KANSAS. fish will eat big baits like this any time anywhere. Highly recommend it. Definitely get the 68 instead of the regular 6 inch model because you get a lot more action out of the hard thumping tail
From: Chris: Kansas 1/29/17
Comments: I sure hope they keep producing these baits. They flat out get bit. Buddy & I have logged some serious hours throwing this bait, slow reeling through grass and the bass choke it down. Water temps low 50s High 40s and the action is perfect to illicit a strike. A slight delay definitely helps with the hook set.
From: DBreck: Hampton, VA 12/27/15
Comments: Throws easily, and you HAVE to see the swimming action to believe it. This isn't just for 10+lb fish, those 2 lb limit fillers will munch it too.
From: Jay6: USA 1/3/15

Comments: Most realistic life like swim I have ever used, the 68 with he big boot tail is awesome. A buddy of mine and I were using them (i had the 68 he had the regular) a small trout followed it in, we were totally fooled. Very hard to tell a real trout from this. We fish the CA delta alot and do very well with the gold shiner and green gizzard. A must have for anyone wanting to catch a double digit bass
From: Mike: Ca 4/22/14
Comments: Been doing this "SecreT" modification to my Huddlestons for quite a while. I'd take the 8" n cut off the tail and cut the tail off a 6" Hudd' and fasten the 8" boot tail to the 6" body w/ a little bit of heat/flame (melt the plastic n join then let dry) then I'd strengthen it with a little clear plastisol. I'd also use the 6" tail n melt it and then flatten it into a straight/do-nothing style tail and use the 8" for 'd-sticking...on tough days it produces. But the 6" w/ the size 8" tail produces big fish. I always heard ppl say they wished the 6" had more action well here it is...awesome outside the herring runs here in MA. Phantom Green Shad is my fav so the "Green Gizzard Shad" should work well w/ this new d68 version. Smashes the vicious, swim-bait GORGING Bronzebacks we have in abundance here in MA...These are not ur token "tube-nibblin'" smallies...not at all. Used to eating 8-14" stocker trout stocked 2-3 times a year and the HUGE sea-run herring/alewive that work upstream from the oceans/bays/estuaries into the herring runs that feed into the lakes/ponds where they spawn...if they don't get ambushed by the obese bass staged waiting at the mouth each spring... :)
From: Unknown: USA
Comments: An amazing lure but get the huddleston 6'' trout and save some money but I have the black gizzard shad and it's amazing I just caught a 12 pounder on okochobe worth it!
From: Scott: USA
Comments: The 68 simply just get bit. However, the material for the 68 seems to be softer than the other hudds so it's not as durable. Bumping the bottom takes a toll on this bait so don't forget the Hudd Bond or any other type of swimbait/plastic repair glue.
From: Unknown: Bay Area, CA
Comments: The Huddleston Deluxe 68 Special is worth the money. Good quality, great action, and catches fish. Stinger hook on the bottom or top will always catch the fish. Personal best is an 8.11 lb bass in Westlake Lake
From: Chris: Thousand Oaks, CA