Huddleston Deluxe 6" Trout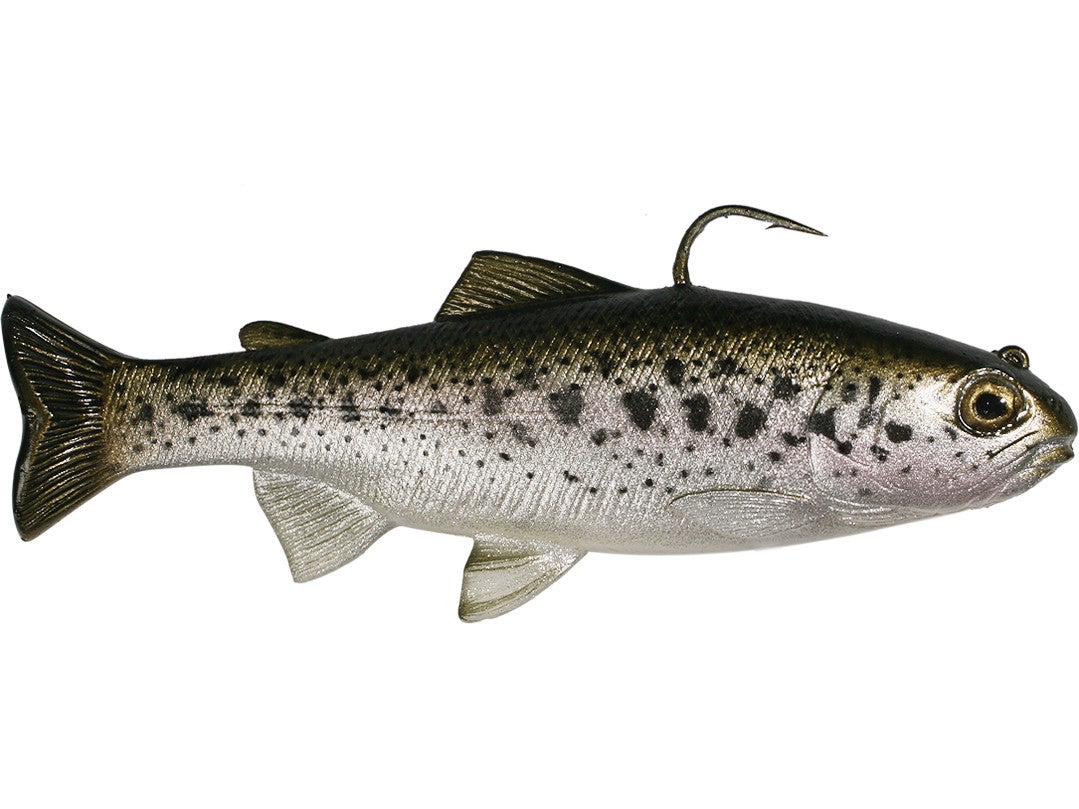 Please Note: Swimbaits are hand-painted and colors may vary slightly from those imaged.
The Huddleston Deluxe Rainbow Trout 6" has all the action of the original, just in a smaller package. Designed by one of the premier lure designers on the West Coast, Ken Huddleston, the Huddleston Deluxe Trout 6" is a versatile bait combining uncanny realism and a subtle swimming action with the correct movement and wobble, the Huddleston Deluxe will entice strikes from even the wariest of bass.
The Huddleston Deluxe 6" comes in two different rates of fall, 5 and 12. These numbers represent the approximate depth (in feet) the bait will run on a slow, steady retrieve.
The 6" Trout comes with a top hook molded into the bait and a belly loop for attachment of a stinger hook.
The ROF 5 excels as a shallow water swimbait or any time the trout are near the surface, especially when the water is still cool in the spring. The ROF 12 allows you to work deeper structure or a faster retrieve in shallower water.
The Huddleston Deluxe 6" Trout should be fished on fifteen to twenty pound test with a long, medium heavy to heavy action rod.
| | |
| --- | --- |
| Weight | Model |
| 2.0oz. | ROF 5 |
| 2.4oz. | ROF 12 |

Click the logo to view their review.
12 Colors
More From Huddleston Swimbaits
Customer Reviews
Comments: Prefer these over the 68s for some reason. Love how subtle and lifelike they swim. Don't get me wrong the the 68s are still very nice!
From: Manny: Sac, CA 1/5/17g
Comments: If you have ever considered using a 6"+ swimbait, you have to make sure it's a Huddleston. I've experimented with quite a few different options to try & find a high quality soft bodied swimbait to cater to finicky smallmouth in a few of the clear water mtn lakes of Tennessee & I have definitely found it with this bait. Those brownies eat that rainbow trout like its the last one in the lake! Best swimbait ever & there are a ton of customization options thanks to Ken H. & Butch Brown, they certainly have made an awesome bait. Buy one in every color!
From: Christopher: Tallassee, TN 3/2/16

Comments: Took this bait out for the first time and wow. I got to the pond I was fishing and within the first 20 casts boom. 4 pounder. Didn't even have to set the hook the fish chomped the bait! Throughout the day I caught a couple more 4 pounders and right before I was about to leave I caught a 5! This bait is a must have hands down
From: Blake: IN 9/1/15

Comments: easily one of the best baits, ive ever used, caught a 10 lb lmb first time out using it also my first experience fishing a swimbait, caught a handful of 4-6 lbers too. Recently, lost my baby bass huddleston under a rock, Ive been kicking my self all day, will definatly be buying more in the near future
From: Stev: Austin, TX 2/15/15

Comments: I bagged a 4lbs. SM this past weekend on this bait, first fish on the bait and it shredded the skin, was left with the weight and the hook, fortunately I found the skin (It floats)and was able to glue it back together, Get some MendIt if you buy this bait and keep your eyes open on where the strike occurs so you can get it back.
From: Tom: NY 6/5/14

Comments: I ordered 3 of these 2 months ago, just today got a chance to use them due to the bad weather we have. I got the rof 5's. I had zero issue with roll over I could burn it as fast as I could and wouldn't turn on it's side. These things are awesome, didn't catch anything and for the lake I was on should have used the rof 12. Great bait will be buying more.
From: James: USA
Comments: I love this bait!! Big pickerel and pike absolutely hammer this bait. I was fishing the perch rof 5 on a steady retrieve and it actually held up pretty good, just slashes on the side from pickerel teeth. The tail never tore off and never lost action. I highly recommend this bait.
From: Matt: ME
Comments: If you haven't noticed this bait has a belly weight, just like crankbaits, to keep them running true. For some reason all my huddlestons swam sideways, this is because the actual belly weight is sideways, not the hook or the eye to add a stinger hook. If yours runs sideways, physically grab the whole belly weight and move it in the opposite direction which your bait is leaning towards. This centers the weight and let's the bait swim straight, problem solved. You're welcome

From: Austin: FL

Comments: ken needs to start putting these in a bubble pack to help keep the tails straight. Switching from cheap mustad hooks to Owner would be nice as well. I'm sure we'd all happily pay a little extra for these upgrades. I've had 3 duds right out of the package (bent tail-swims crooked, dull hook), I'm just not confident in them anymore.

From: Big Jake

Comments: Have both the rof5 and 12's. I have found unless you creep the 5 as slow as possible it will swim off to the side. Have since switched to the 12's exclusively and you don't get the side role. And boiling the tail does help straighten them out if they are a bit kinked. Also make sure the fins are straight as well or it could pull it to the side. But you still can't beat the Huddleston's action.

From: Will: Long Beach CA USA

Comments: my first swim bait the bait that kicked it off, bought this hudd in ROF 5 in golden shiner color,took it to a private pond and on my 3rd cast I had a fish so big it over powered my heavy action ro, 9lbs. GET THIS LURE. period. might wanna get two because they get really torn up, no stinger needed.

From: George: SC

Comments: Had it for two days and I went to a Local pond filled with some decent LM Bass and pikes, Casted out into the middle let it sink and started reeling it in and felt a dink on the other end...And MY HUDDLESTON WAS GONE!!! Pretty sure it was a pike, I'm pretty PO'd, Use a wire liter when throwing this lure!

From: Pao: WI

Comments: On my first couple of cast I caught a five pounder and the bait was gone! it fell off the hook after one fish. I was very upset considering it was 18 dollars.

From: Luke: SC

Comments: This lure is so sick, I had it for a month and barley threw it because it just seemed so large. The first day I actually tried to throw it I caught an 8.5 pounder and caught about 10 more fish on it that day. I was amazed when I actually caught a 1 pounder on it. Give it a try, it produces fish of all sizes and is NOT to big!

From: Austin: FL

Comments: Got this in golden shiner and LOVE it! FL bass just smoke them in that shiner color. Can't wait to grab a couple more.

From: Mike: FL

Comments: you def want to add a stinger hook. do a google search for 'butch brown huddleston rigging' or something to that effect.

From: Brian: Atlanta

Comments: Just Purchased My 1st Hudd bait love the action... Just need some insight on the hookup ratio as is and does it need modifying. Thanks and Tight Lines

From: Mikey: CA

Comments: This baits good but i think my strike king is just a little bit better.

From: Jordan: Longview, WA

Comments: This lure is awesome ,the only problem is that on the hold over there was a big lump on the chin and you cant tell me thats not natural otherwise it was good i got loads of bites one of them was an eight pounder that was the biggest bass i ever caught!!

From: Dill: CA

Comments: in my opinion you only need 3 swimbaits, an 8 in hudd a 6in hudd and an ms slammer, with those 3 you can catch any big bass out there when swimbaiting

From: Nick: Avon, MA

Comments: Sick bait. here in maryland it gets very few bites, but the bites you do get are usually big ones. got a 5 lber on onw in baby bass color today in a golf course pond.

From: Justin: Bowie, MD

Comments: Pretty excited as this was my first huddleston bait. I Think I might have gotten a defective one. The tail on mine has a bit more plastic on the right side then the left and it seems like the right side pops out more. Hope this doesn't mess up the swimming. If it does I think I'll be buying them local so I can see the product before I buy.

From: Song Yang, Fresno, CA

Comments: Make sure to attach a stinger on the bottom of the bait for best hook up results... I cant hook one with the top hook only. I dont know why. But the bait is incredible and has good durability! only paint get scraped but it still will get drilled

Comments: this is awesome i got a rof 5 and i slit the bottom with a razor blade and cut right behind the stinger loop and got some pliers and cut out a lot of the led out and sealed it up with some hudd bond and now its a 6 inch floater. its super sick

From: Tyler: CA

Comments: this swimbait is great for those 10 pounders on golf ponds it really gets their atention.

From: Fernando, TX

Comments: I used this down in texas for bass, it works great for 5 lb+ fish, its a good around bait and should be in everyone box. The action of bait is good tail action but body does move slow or barely. Try one and tight lines.

From: Alex: KS

Comments: Absolutely beautiful! Great little bait that with an ultra realistic action and patter. I bought the perch pattern and was testign it and found that other real live perch were schoolin with it for a good ways. Feels very real too. Don't be intimidated by the ROF 5 if you are fishing shallow, it'll glide down gently and naturaly diagonally. I will definately buy more in the future.

From: Braedyn: Middlebury Center, PA

Comments: great size but not the same tail action as the 8". I really wish he would make the 68 tail the standard on the 6" rather than make them limited releases and charge a premium.

From: Jason: Clear Lake, CA

Comments: Man this swimbait does not move much. BUT WOW IT GETS HIT!!!

From: Sonny: East Wareham, MA

Comments: Got 3 big bites in Florida before loosing it! The first fish 6-7 lb broke off my 65lb braid trialer hook. I hate braid for trailers. I caught the next 2, 4 + 5 lbers . Unfortunately not wanting to tie a trailer on with braid I clipped both the bait and the treble hook onto the snap swivel. During the battle, the snap got all twisted up and sent the bait flying off. Gotta buy a new bait!

From: Bernie: Durham, NC

Comments: The best 6 inch swimbait around. Golden Shiner looks like a baby carp and bass crush it!! A lot of people rig a stinger, but (opinion) its easy for even 2 and 3 pounders to get that thing to the knot. All colors are awesome. Enjoy

From: Matthew: OC, CA

Comments: great bait i got the phantom shasta and juvenile trout they both look really good but the phantom is kind of see threw i know some people don't like that soo jest saying still works great

From: Sam: Mass
Comments: This bait is awsome! I dont think you can reel it slow enough to where it cant swim. We were fishing in a overflow of our private lake and we werent getting anything on worms, jigs, or even what always works there...spooks. So we were deciding to move to the actual lake so I tied on this in blue shad color and took one cast and watched a 4 come up and smash this...didnt get the hook though but at the lake I got 2 more slams back to back!

From: Drew: Westlake, CA
Comments: LOVE THIS SWIM BAIT ! Caught the biggest fresh water fish I've ever caught on this bait. The subtle action is key, the bait is soft in the right spots to allow solid hook ups. caught big bass and huge pike minnows river fishing.

From: Dave: Temcula, CA
Comments: Most realistic looking bait out there. Swims, when retrieved fast or slow, like a real fish. I can count on getting bit with this bait when I can't get a sniff on other brands. With so many brands and styles of swimbaits out there now, I would recommend trying this one before buying hundreds of dollars worth of 'wanna-be's". Keep up the good work Huddleston!

From: Ron: Oregon, USA
Comments:Great bait just got mine in the mail the other day had to go try it out.Got to the lake just as a tournament was ending still got bit. I just wish there were different sink rates.
From:Joshua: Blaine, WA