HullSpeed Performance Marine Coatings F-Series - $69.00 to $249.00
Caution: HullSpeed products are slick. Use precautions when lifting or trailering.
Improve your boat speed, fuel economy and hull durability with HullSpeed Performance Marine Coatings F-Series. It also makes launching and loading your boat easier, as well as, cleaning. A two-part epoxy silicone performance oriented coating developed for optimum surface energy and drag reduction, the advanced interlocking network or silicone and epoxy molecules yields an unrivaled hard, slick surface. F-Series can also be sanded for unparalleled smoothness and surface release. Perfect for any type of boat, find out what HullSpeed Performance Marine Coatings F-Series can do for you.
Performance Benefits:
-Improved Fuel Economy
-Improved Speed
-Improved Durability
-Faster Hole Shot
-Lower Rise to Plane
-Improved maneuverability and launching
-Added protection against osmotic blistering
-Improved cleanliness
-Eliminate waterline scum ring
-4+ years product life performance
Environmental Benefits:
-Less fuel burn = lower carbon emission
-Eliminates hull transfer of invasive species from lake to lake
-Easier washdown
-Eliminates solvent cleaners at season end for hull cleaning and stain removal
-Eliminates onsite toxic pollutants from bottom paint during hull cleaning/sanding
Please Note: Product is Drop Shipped and cannot be shipped outside the contiguous United States due to shipping costs.
No customer feedback has been added yet! Be the first to write something about this product.
***Note: If you have questions about this product or need assistance with an order please email your questions to info@tacklewarehouse.com
Color:
Quart
View Large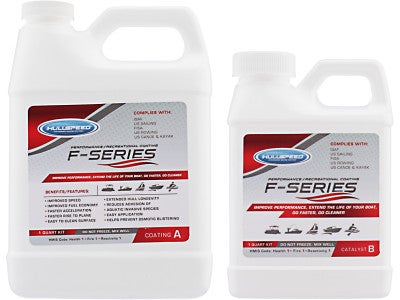 2 Available Colors
More HullSpeed Performance Coatings