Humminbird 800 Series Sonar - $849.99 to $1499.99
Featuring brilliant color and ultra-high resolution, the Humminbird 800 Series Sonar delivers it all in a high-definition 480V x 800H 7" display widescreen format. With multiple easy-to-read viewing options, the Humminbird 800 Series provides anglers with a huge advantage on the water - maximizing your fishing experience.
Dual Beam PLUS: Get the best of both worlds, with selectable narrow and wide beams you can view individually, or melded into one display. Features precision, 20-degree beam that is optimized for excellent bottom detail, and reveals fish hidden in bottom clutter, along with wider, 60-degree beam provides greater coverage for fish and baitfish. Beams may be viewed separately, side-by-side, or blended together for the most complete picture. 1x depth-bottom coverage allows you to find fish and structure in an area equal to your depth.
Down Imaging Sonar: Humminbird pointed their Side Imaging technology in a new direction - straight down. Now you can see the detail of what is happening below your boat. Timber, brush, bridge pilings, rocks and any other structure will pop with stunning detail as you patrol the water. (Available on select models only - see chart below)
Side Imaging Sonar: With its amazingly clear, picture-like images of fish, the bottom and structure is the ultimate structure-finding tool, and with its massive coverage (480 feet from side to side!) you can scan in mere minutes what used to take hours. High frequency sonar (not a camera) cuts through murk with crystal clarity. Allows you to mark the GPS location of promising structure directly onscreen. Units with Side Imaging still include traditional down-looking sonar. (Select models only, see chart below)
50-Channel GPS: With trackplotting, chartplotting, GPS speed, and Humminbird ContourXD, which is an enhanced professional mapping package with over 3,000 U.S. Lake Maps in its database. You will be able to find a lake close to any location you may want to wet a line. As an added bonus, it also features depth contour lines, so you can find all the drops, bumps and channels holding fish. Includes U.S. lights/markers, and major roads and interstates.
Additional advanced sonar features and user-friendly technology include: Freeze-Frame with ability to mark structure on Sonar, Instant Image Update, Real Time Sonar RTS Window, Selective Fish ID, Sonar Echo Enhancement, Sonar Recording, Sonar Snapshot, Split Screen Zoom, TrueArch Technology, Wide Narrow Cone Split Screen, Custom Digital Readout Selection, Custom View Selections, Large Digit View, Selectable Background, Temperature Alarm, Triplog, and an X-Press Menu System.
All 800 Series Units can be upgraded with WeatherSense, Wireless Sonar Link, CannonLink and InterLink.
Includes:
-Control Head
-Transducer with Temperature Sensor
-Power Cable
-Mount
-Transducer Mounting Hardware
-Unit Cover
Please Note: These models are not available for order outside of the United States.
Model
Display
Sonar
Power Output
Depth
GPS
858c
HD Combo
7" Diagonal
480V x 800H
16:9 Color TFT
Dual Beam PLUS
200kHz/20° @ -10db
83kHz/60° @ -10db
4000W(PTP)
500W(RMS)
1500 ft
50 Channel GPS
Included

858c

HD DI

Combo

7" Diagonal
480V x 800H
16:9 Color TFT

Dual Beam PLUS
200kHz/25° @ -10db
455kHz/16° @ -10db
Down Imaging
455kHz/75° @ -10db
800kHz/45° @ -10db

4000W(PTP)
500W(RMS)
600ft
350ft(DI)
50 Channel GPS
Included
898c
HD SI
Combo
7" Diagonal
480V x 800H
Color TFT
Dual Beam PLUS
200kHz/20° @ -10db
83kHz/60° @ -10db
HD Side & Down Imaging
(180-total coverage)
455kHz/(2) 86° @ -10db
800kHz/(2) 55° @ -10db
8000W(PTP)
1000W(RMS)
1500 ft
50 Channel GPS
Included
Comments: I got the 898c combo and it is the best investment i made to keep up with todays bass fishing. I was getting tired of getting beat when the bass went deep so now i can see them trees / rocks and all the deep water hiding places with the fish sitting there to. This is one awesome unit nice detail and easy to use and install. thanks TW for a great buy .

From: Kevin: KY

***Note: If you have questions about this product or need assistance with an order please email your questions to info@tacklewarehouse.com
View Large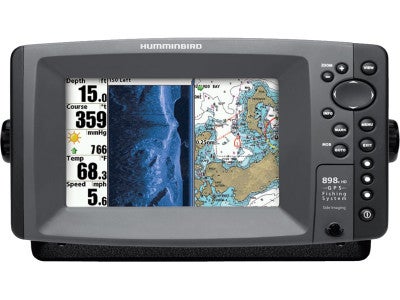 3 Available Colors
More Humminbird Electronics