Ima Skimmer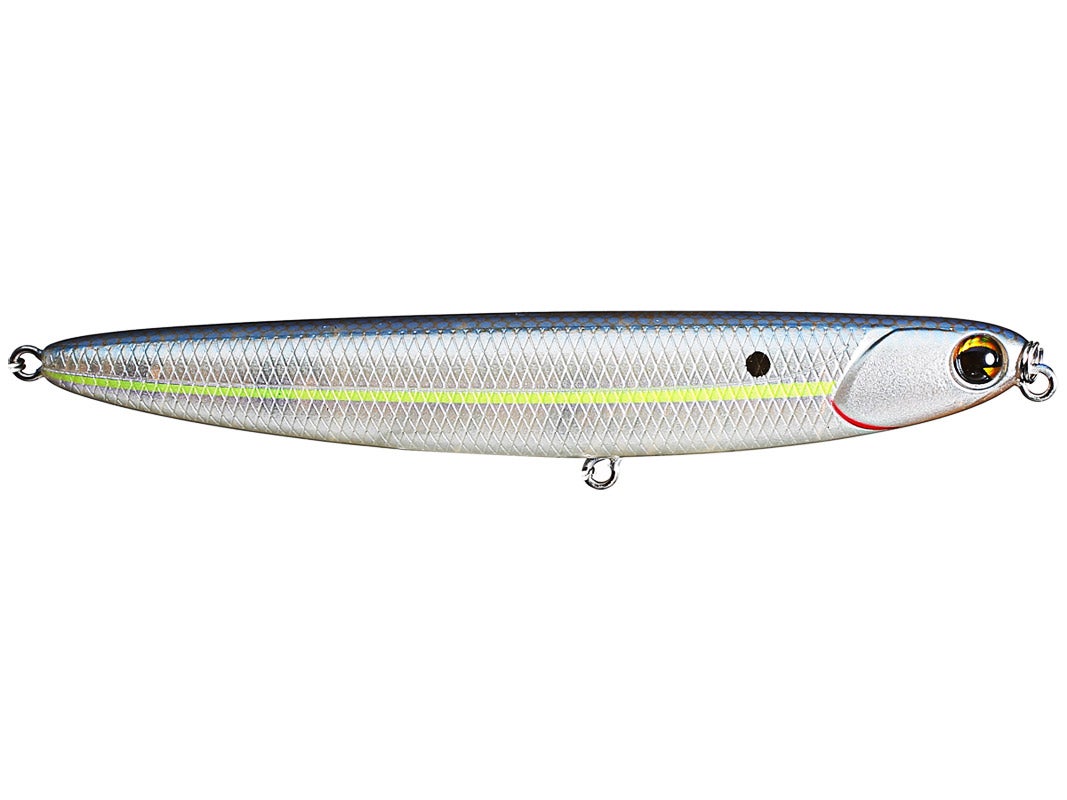 The ima Skimmer is unique among hard plastic topwater stickbaits in that only the ima Skimmer has the slender body shape of a 5" soft plastic stickbait. This slim profile has proven to be one of the most appealing bass lure shapes ever. There's a whole lot to be said simply for this slender profile and silhouette, and the ima Skimmer is really the only topwater hardbait that has it.
A large part of the Skimmer's action is caused on the ending movement of each zig or zag as the tail-weighted back end of the ima Skimmer stirs the water wildly causing a large boil. So every time that the Skimmer zigs or zags left or right, the final movement of the weighted tail stirs the surface into a large boil, and the Skimmer slips out barely ahead of the boil, just like a desperate baitfish narrowly escaping a bass's lunge. The Skimmer's action then becomes a non-stop series of ever-widening boils emanating behind it. It's like having a school of surface-feeding bass on the scene, all boiling the surface behind the ima Skimmer's tail. If there's ever anything that gets a non-committal bass to bite, it is other bass feeding in front of it - and that's the competitive feeding cue that the Skimmer's tail-stirring movement sends out to all bass within range of sensing the surface-feeding boils trailing out behind the Skimmer.
Click here for some video on IMA baits with Fred Roumbanis at ICAST '08.
| | | | | |
| --- | --- | --- | --- | --- |
| Ima | Length | Weight | Class | Hook |
| Skimmer | 4.50" | 3/8oz | Topwater | #4 Owner ST-36 |
7 Colors
More From ima Topwater
Customer Reviews
Comments: I'm fairly new to bass fishing and this was the first walking bait I ever tied on. Withing three casts I had it walking back & forth easily. Not sure how it compares to others but it was easy to learn.
4/25/16

Comments: one of The best top water i have used..but a down fall is that after atleast 10+ 2lb to 5lb in one day the ring for the hook broke off...need better ring but still my #1 top water to go to

From: Vang: CA Delta

Comments: Unlike most top water baits this one draws them out. I use it to upgrade for culling. Great for those windy days when other baits just won't throw. Sharp owner hooks insure the fish get to the boat.

From: David: Hiram, Georgia USA

Comments: I use this to give smaller profile for those finicky fish. It has a different kind of action than a spook or Sammy type baits. I use it on mono and a Dobyn's 704CB great combo. A big plus in when the wind is up it still cast great. No need to change the hooks out on this bait comes with great Owner hooks.

From: David: GA

Comments: This topwater is a great bait. I recently fished Lake Shasta in NorCal and slammed Spots on it. It does just as well with smallies and Largemouth. It does have a small profile which is great around the post spawn because most baitfish aren't of any size this time of year; so it mimics them very well. I think my favorite color is "Bone" because it is a very good, all around color and can match just about any bait fish out there. The Skimmer, like every other IMA bait come with great stock hooks and split rings so there is no need for swapping them out. Get your self one, you won't be disappointed.

From: Christian: NorCal, US

Comments: THIS IS A GREAT BAIT FOR THE HERRING LAKES THAT WE HAVE IN SOUTH CAROLINA. IMITATES A BLUEBACK HERRING PERFECTLY. STRIPER AND LARGEMOUTH EAT THESE BAITS UP WHEN THE HERRING ARE SPAWNING.

From: Adam: ROEBUCK,SC,USA

Comments: It takes some time and experimentation to get working the IMA skimmer down, but man is it worth it when the bass are hitting on top. It's a bit different than working a spook. You can work the skimmer so that it leaves a nice tail boil at the beginning of each walk/sweep. I have had strikes from deadsticking it also. My wife and I have caught some magnum spots on this bait using bone, bluegill and black widow colors. Largemouths like it too, even a few stripers. The Ima Skimmer is always in my topwater boxes now...still learning new retrieves with it.

From: Forrest: North Georgia

Comments: unique action, unlike any other walk bait, more of a finesse bait but shines when they won't hit regular walk baits, definitely a nice tool for the arsenal

From: Steve: Paducah, KY

Comments: Pretty cool design has lot of action cast great .If u like walk the dog baits u wonÕt be disappoint with skimmer love the blue black herring color.

From: Fishkiller01: Yonkers, NY

Comments: Had this for a week. After a short fishing session, gave it to my friend. Happier to stick it out with my Sammies and Gunfish.

From: Adam: S'pore

Comments: Just got back from a week on Lake of the Ozarks. Caught a bunch of nice fish throwing the Skimmer back behind the dock cables and on points. The bait works great on getting bed fish to bite as well. There is something about that zig zag action along with the splash after each twitch that calls them in. Along with great action bait was very durable. Hit a couple of docks and posts on errant casts and did not break which is a must for fishing docks!

From: Spencer: Florissant, MO

Comments: This is a great bait if you fish a lot of boat docks. Throw it under the posts and let it sit for a second or two then gradually swim it back and the fish will blast it. I have had 5lb bass jump out of the water to kill this bait. It will simply catch fish. I fish all different types of walk the dog baits and the skimmer is a bait that really excels in clear water. Fish it on 10lb mono with a medium action rod and you will catch some big bass.

From: William: Hohenwald, TN
Comments: A subtile bait with big bait castability, this bait Skims as its name says, but will also slash and spit, sits it the water at the perfect angle, sticky Owner Hooks, and Awesome Pro Colors, the Clear and Translucent baits work great in our Clear water Southern California lakes.

From: Doug: California, USA