Ima Bill Lowen Square Bill Crankbait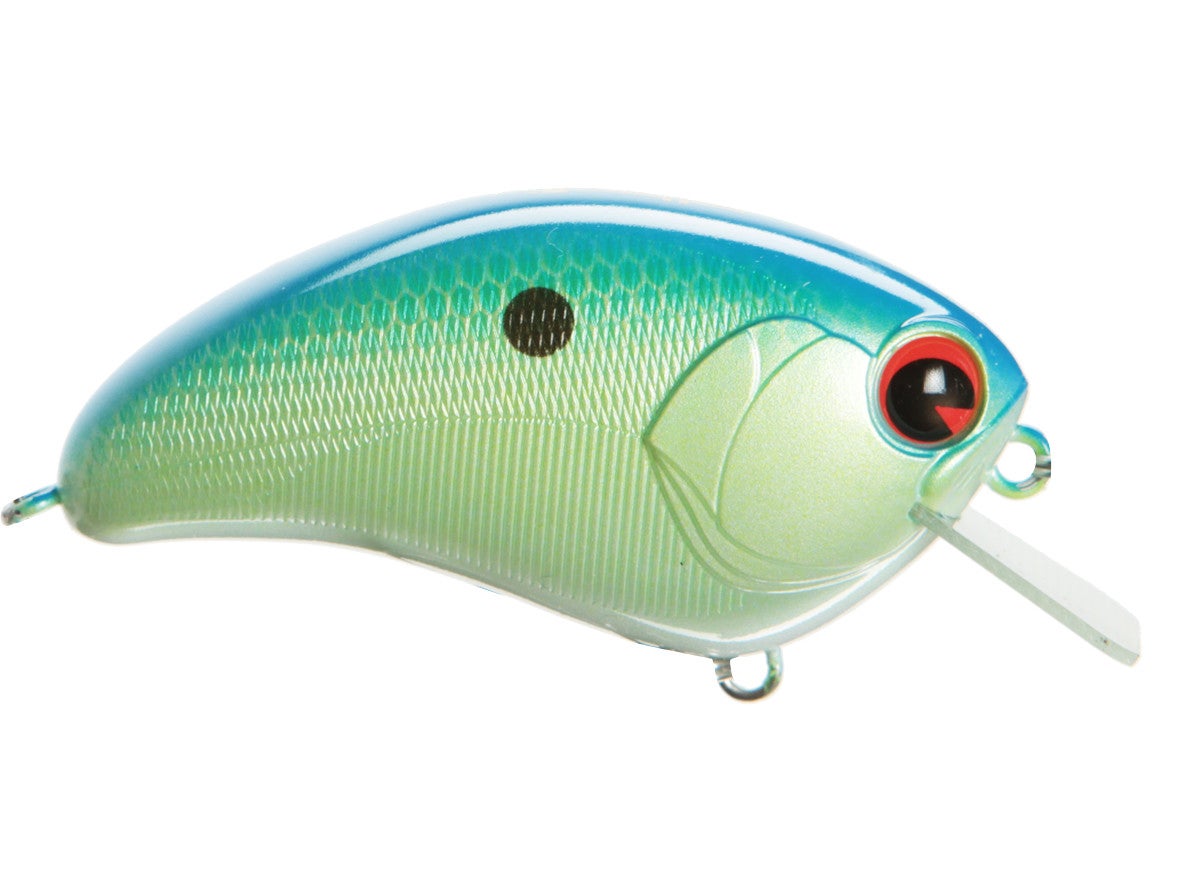 The Ima Bill Lowen Square Bill Crankbait is truly Bassmaster Elite pro, Bill Lowen's baby - a tool he's dreamed about for decades finally come to life. After countless back and forth conversations with IMA's engineers in Japan, and multiple refinements and prototypes, he's convinced that no other square bill can match his Square Bill. It has a stubby, rounded body that produces an earth-shaking wobble, bold eyes, a lexan lip, and two sticky-sharp #6 Owner hooks that'll nab even the short strikes, although most bass absolutely choke this bait down.
On a straight medium retrieve, it wobbles and will want to hunt, meaning it tracks left or right and works itself back to the center - triggering bites. It runs a bit shallower than some other crankbaits of its class, diving three feet on 12lb line and two feet on 15lb test. If you want to burn it over grass or in the shallowest water possible, upsize to 20 and it'll still maintain its hunting action. Waking it on top or twitching it like a jerkbait are also effective methods.
"The beauty of the Ima Square Bill is it's really three or four baits in one. While some other square bills are good burned, other are at their best when they're waked or twitched. Some do well deflecting off cover, while others are the best in open water. The Ima Square Bill can match each attribute and talent with no weakness. My favorite is to mix it ALL up on a single retrieve, going from twitching to waking, to reeling it down to three feet to burning it. It's not just a jack-of-all-trades - it's a master of each one, too." - Bill Lowen, Bassmaster Elite Series pro and Ima Lures prostaffer.
| | | | |
| --- | --- | --- | --- |
| Ima | Length | Weight | Depth |
| Bill Lowen Squarebill | 2-1/4" | 3/8oz | 0-3ft |
8 Colors
More From ima Crankbaits
Customer Reviews
Comments: Great bait but hooks are very cheap. I have broken the hooks on every one I have bought. With that being said I change the hooks out and flat out catch'em on this bait.
From: Jimmy: Bossier City, LA
Comments: When they are shallow I like hammering them with this bait. Great finish and owner hooks are super sticky sharp. Gotta love the black and yellow color for stained water.

From: David: Hiram, Georgia

Comments: This is a great lure, it has unique action which trigger the bite, excelent bait for Pressure fish also like the design. Some reason this thing catch fish when nothing else work. If u fish in shallow lake or flats u gotta try this lure, once u try it u will never put it down.

From: Fishkiller01: NYC, NY

Comments: Finally had a chance to fish these, out fished my friend with kvd square bill; fish do choke them down. Hooks are sticky sharp, however using standard needle nose pliers I snipped two trebles trying to unhook a fish.

Comments: nice little bait...hooks are kinda cheap though - even if they are owners...received a couple with bent out trebles and chipped black chrome plating. no biggie though...hooks are usually swapped out on most of my lures anyway. other than the cheaper quality hooks, these baits are great. get some...you won't be disappointed!

From: Cheng: MN

Comments: Awesome bait! Flat out fish catcher around cover or open water.Few hangups. Rolls right over logs.

From: Danny: Milan, TN

Comments: I used to eat, sleep, breath bandit crankbaits until I purchased a few of these. Just got back from a fall trip to Lake Eufaula and I out fished my partner 10-1. He was throwing multiple baits and I was only using the Bill Lowen. Hands down the Bill Lowen Square Bill crankbait out performed everything he pulled out. Ran true right out of the pack and the hooks are excellent. I hope they make a 8-12 ft diver in this model soon. Great job Ima!!

From: CMFT: Indianapolis, IN

Comments: a little spendy but if you really dig shallow crankin' this bait is ideal! it is extremely versatile...

From: Max: HB, CA

Comments: This bait runs great and is perfect when the fish are feeding in skinny water. You can make this bait dive about 2 1/2 ft with your rod tip down or you can hold it up and wake it. Great search bait on shallow flats. My favorite colors are the Barred Black Chart. and Splatter Sour Candy. A+

From: Trey: Athens, AL

Comments: Not worth the money. Like that it can be fished very shallow, but can not get the bait to run straight on a medium or fast retrieve. Only runs straight when reeled very slow. I tried to tune it for an hour in a swimming pool and it just will not run straight unless reeled slower than i have the patience for.

From: Chris: AL

Comments: Ordered these when they first came out on TW and I'll say...Went down south for a fishing trip and bass LOVE the old yeller and Black back Chart. Action is awesome!! BTW Bud from NY, no need to swtich out trebles because they are owner. I would switch out the split rings at most.

From: Damian: MN

Comments: Got a bunch of these baits in a couple of days ago prepping up for the northern thaw and pre-sprawn up here in NY, ordered them with a bunch of other similar cranks... OSP's, Blings, IMA Shakers and 1.5's and noticed that the paintjob and craft on these Lowen cranks are superior, consistent paint dispersal and a great silhouette. I only have prestine things to say about the guys over at IMA and Optimum Baits... only thing I would recommend is switching out the trebles for an upgrade, they seem to bend and weaken at a higher frequency then other factory cranks.

From: Bud: West Islip, NY
Comments: I threw this bait today and caught 35 bass up to 5 lbs! This is a great bait! I have it all on video at The Bass College site.

From: Steve: Lewes, DE