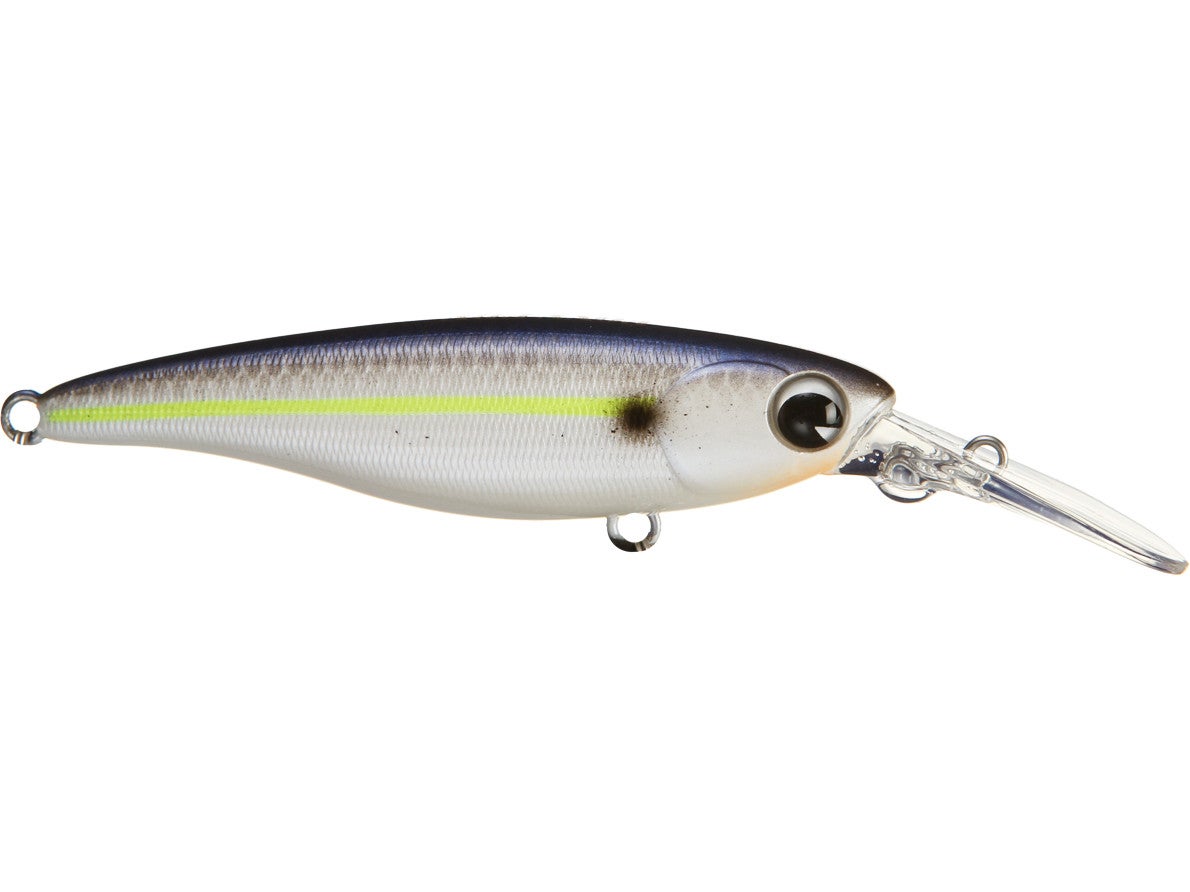 The IMA Foxy Fry is IMA's new offering in the realm of finesse. This total performance shad-style minnow can eke out limits when fishing gets tough, but it's also a big fish attractor. The IMA Foxy Fry was developed to succeed on Japan's pressured waters, but even US anglers who frequent power-fishing hotspots have the occasional need to downsize and "convince" the fish to bite.
At first glance, it may look like a diminutive jerkbait, but what makes this lure so special is that it has deadly action and appeal at any retrieve speed – from a slow twitch to a lightning-fast burn. It is designed to maintain its natural tracking and never roll. While most anglers will fish it on spinning tackle, the IMA Foxy Fry also has a fixed weight system that provides additional castability over a bait with a weight transfer system. The precision weighting also provides balance and makes the lure suspend at rest with its nose down. Available in a range of killer colors, the IMA Foxy Fry will get down into the five foot range with light fluorocarbon.
| | | | |
| --- | --- | --- | --- |
| IMA | Length | Weight | Class |
| Foxy Fry | 2.35" | 3/16oz | Suspending |
"It's a deep diving jerkbait and a crankbait rolled into one," says FLW Tour pro, Michael Murphy, one of the driving forces behind IMA's wildly successful Flit Series. "In the early, early spring, you can fish it slowly, it gets down deep in a hurry and presents a small package that those fish haven't seen before. Then when it warms up you can use it more like a crankbait. It's also a killer around riprap."
"This will come into play for me on the Bassmaster Elite Series in clear water situations," says noted power cranker Bill Lowen. "Especially on days when there's no wind and the water just slicks off. That's when they want something that goes a little bit deeper."
3 Colors
More From ima Jerkbaits
Customer Reviews
Comments: This is an amazing lure and will always catch fish. Great action and suspends perfectly. If fishing is hard put this on 6lb line and a spinning rig and you will catch fish!! Doen't not run well on casting tackle but perfect for spinning gear
From: Lourens: South Africa 7/31/14

Comments: Could not get this lure to run true, then I remembered a video I saw; use a swivel or a loop knot. Has some amazing action, I think given the right situation this will put a ton of fish in the boat. Very technique specific you need right rod, reel and line.. Very light, will try another similar product with a weight transfer system.

From: Brett: Rochester, NY

Comments: This is an awesome lure. What I like most is that it is balanced to grind back in finesse cranking situtations. Also perfect for a jerkbait bite as well. excellent in the cold water.

From: Nick: Prosperity, SC