Izorline Premium Spectra 300yd Spool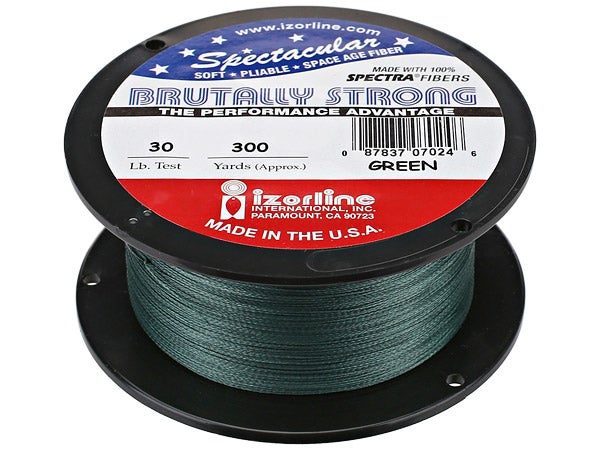 Izorline Premium Spectra was developed to be "Brutally Strong" for saltwater applications, so it has the strength to pull the biggest bass out of the thick stuff. Izorline Premium Spectra is perfect for casting swimbaits, frogs, jigs, buzzbaits, and much more!
Place Your Order
More From Izorline Fishing Line
Customer Reviews
Comments: This stuff is Junk. Bought the 12# for Kentucky Lake. Lost 1 rubber worming (maybe the line was frayed). Lost 1 from a crankbait (explosive strike could break the line. Lost the l using a topwater when the line broke between the guides. Stick with Power Pro, it doesn't break.
From: Tim: Wilmington, IL 5/10/14

Comments: I AM UBER PICKY BUT I STILL LOVE THIS LINE... THANKS TACKLE WAREHOUSE.

From: Michael: SAN JOSE CA

Comments: gota love it

Comments: Good to see you carry the lower test lines now for this line. I'll be getting a few spools for sure on my next order. Thanks.

From: Pat: San Jose, CA

Comments: great line for the price! It is is very pale but the plus side to that is that it doesn't lose its color. very strong and abrasion resistant. only braid i have used better than this is sunline FX2 but for the price this line cant be beat. fresh or saltwater.

From: Jonathon: TN

Comments: I have fished with most brands of braid and Izorline Spectra outperforms them all! For the last 6 years, I have used both 50 and 65 lb for a variety of bass fishing applications. It is super strong and very durable.

From: Todd: Sam Rayburn, TX

Comments: i was the first bass pro to ever be sponsored by izorline that was over 15 years ago.i still use it thanks pete and steve...

From: Frank: Santa Maria, CA

Comments: Dean Rojas told me about this line 2 years ago. i went found it at Tackle Warehouse and now 2 years later it hasn't been changed and still as strong as ever..great feel..cast a mile and best..almost never a backlash and when you get a small one..so so so easy to come out.. scale of 1-10 sure a 9...only reason not a 10 is for cost.

From: Big John: Stafford, VA
Comments:I like the Izorline Braid over Power Pro because it holds its color longer. I fish a lot of crank baits in the trees and stumps. I usually will bend my Gamakatsu super line hooks with 50# but get my Lucky Crafts and Megabass lures back. I even use it for crappie jigging, yes 50# braid. The sensitivity is what makes the difference. I'm glad I took someones advice and tried it. Tackle Warehouse is the only place I know I can get it.
From:Hank: Hurst, TX